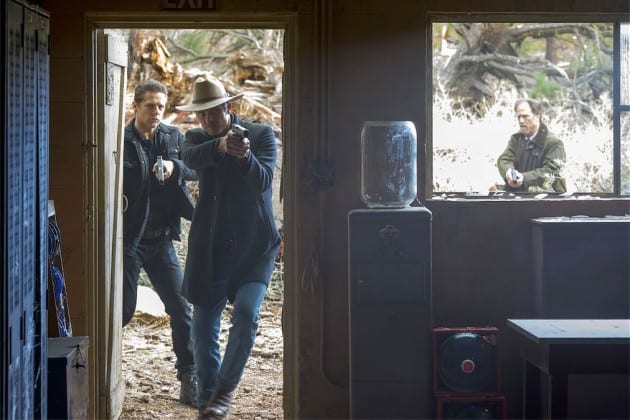 Raylan Givens has never been someone who has worked well within the strict confines of the law. While he hasn't done anything outright criminal (what happened with Nicky Augustine could definitely be seen that way, though, even if Raylan didn't pull the trigger himself), Raylan's method of doing things has almost always conflicted with the guidelines of his peers and, most certainly, his superiors throughout Justified's six seasons. To him, the most important thing is the end result, getting the bad guys off the street one way or another, and achieving that goal isn't always manageable when you have to cut throw so much red tape.
And that's because, in his heart, Raylan is an outlaw. He's not a murderous criminal like his father or Boyd (by the way, can we talk about how shocking and cold Boyd's killing Carl was?), but Raylan's at his best when he's able to maneuver situations in ways he sees fit. While he respects and cares for Art deeply, something we've seen him express many times throughout the years on Justified, the simple fact is that Raylan has never liked any kind of authority except for his own; it's what makes him the cocky, gun-slinging U.S. Marshal we've come to know and love, and it's also what makes me so excited as we head into these final two episode of Justified, with Raylan a fugitive going after both Boyd and Ava on his own.
But while the ending of "Fugitive Number One" was pretty fantastic in its own right, how we got there was even better, as tonight's episode proved to be one of Justified's most bloody and brilliant hours to date. From Raylan and Boyd's scene at the hospital in the cold open to Mikey and Katherine's violent brawl in the Wynnebago to Raylan revealing to Markham that his fiancé, the woman he truly loved, had died, every single moment of this episode was tremendous. And what made all of these sequences so great was not simply the fact that they were so much fun to watch (I could sit back and enjoy Raylan verbally digging into dirty cops for a whole hour) but how they illustrated who these characters are, even the show's more minor ones.
For example, let's look at tonight's most memorable scene: Mikey and Katherine's fight to the death. While the entire sequence was Justified at its best, from the brutality of their exchange to the classical music that scored it (Mikey's favorite), what it also did so well was, yet again, show the depth instilled into both of these individuals. In their final moments, both Mikey and Katherine proved who they really were. Mikey was a protector, not simply of Wynn as his boss but of Wynn as his family, and he believed that he was worth dying for. Meanwhile, Katherine was someone who always needed to be in control, to hold and wield the power she possessed, which is why she simply couldn't let Markham take care of Duffy–she had to do it on her own.
Ultimately, "Fugitive Number One" can be seen as an hour of honesty and clarity when it comes the characters of Justified, showing who they truly are and what they'll do to accomplish the goals they have set for themselves. Even though it's Raylan who is labeled a fugitive at the end of the hour while Boyd is wearing the police uniform, both of them remain who they've always been: men that will never stop striving for what they want in life. For Raylan, it's to arrest both Ava and Boyd and put an end to this chapter in Harlan County so he can go and be with his family in Florida; for Boyd, it's $10 million and a ticket out of Harlan, probably with his former fiancé somewhere six feet under.
The path ahead may be bumpy for both Raylan and Boyd, but it's clear. And it's most certainly clearer than Ava's, as the woman who drives so much of this episode's conflict, and who already has what she sought, appears to be the most lost out of all Justified's characters. She's not simply searching for a way out of Harlan but for a way back to the person that she used to be, and it seems unlikely that she'll be able to find that before Justified comes to what should be one amazing conclusion.
Other thoughts:
– Maybe I'm in the minority, but I'm still loving Boone. His scenes with both Raylan and Loretta crackle, although when it comes time for him to ultimately meet his maker, I hope it's Loretta who gets the chance to take him out instead of Raylan.
– Can we just applaud that scene in the Wynnebago one more time? So violent and bloody but also just such brilliant television. And Wynn's 911 call added some perfect black comic relief.
– In a way, Katherine sealed her own fate. If she had just killed Wynn right away instead of making her speech about partners and how they need to be avenged, she'd probably still be alive.
– And speaking of Katherine's death (it is the biggest one of the three we got in tonight's episode), how do you think Markham will respond to it?
– I was really hoping another amazing actor would be playing Grubes (my secret wish was for Ian McShane to be sitting in that cabin), but the old man being dead was a cold and cruel twist I didn't see coming. With both Boyd and Raylan on her tail, Ava seems pretty screwed right now.
– Timothy Olyphant was absolutely on fire tonight. He always strikes the right balance between compassion and cockiness with Raylan, but tonight he added something else, as each scene Raylan was in you could just see the determination to get Boyd and Ava burning in his eyes. Some really great acting from an incredibly talented performer.
– Only two episodes left. This final season has been even better than I had thought it would be, truly a perfect sendoff for Justified, but man, I'm going to miss this show so much once it's gone.
What did everyone else think about tonight's episode of Justified? 
[Photo via FX]