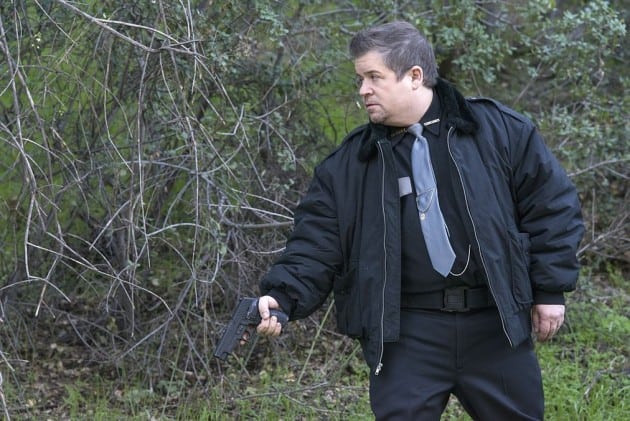 Throughout its six seasons, a large part of the story that Justified has been telling is about what type of man Raylan Givens truly is. The son of a criminal, Raylan is someone who could have easily found himself in the same line of work if he had stuck around Harlan County for too long; he has outlaw blood coursing through his veins, and it causes him to make some rather unorthodox or unwise decisions, such as becoming a fugitive and going after Boyd on his own. But does that make Raylan as bad as the evil men and women he tries to stop?
Raylan's habit for breaking rules is certainly born out of a desire to be an outlaw, to be the one calling the shots, taking the law into his own hands. However, when you get down to it, as Justified showed us in tonight in its penultimate episode, "Collateral," Raylan only defies authority in the interest of saving lives. Sure, he gets off on having showdowns with the likes of Boyd and Boon, but as tonight's Justified illustrates, he's willing to drop all of all the machismo crap in order to help good people. And that's because, despite what some like Vasquez may think of him, or what Raylan may think of himself, he is a good man that ultimately tries to do good in this world, even if sometimes that mission gets lost in his own bravado.
And that's why Raylan and Boyd's showdown in "Collateral" is such a pivotal scene, not only in this episode or this season of Justified, but in the whole series. Boyd shoots Bob and leaves him on the street, bleeding and dying, and when Raylan discovers this, he first tries to shake it off, saying how Bob can take care of himself. However, Raylan does let Boyd slip out of his sight in order to go and help Bob, proving that rescuing an innocent life is worth more than him than putting a bullet into a criminal.
It would be so easy for Raylan to ignore Bob's screams, convincing himself that there's nothing he could do for him, that Bob is already dead and gone, and that shooting and killing Boyd would be a form of justice, a way to make Bob's death mean something greater. But even though Raylan likes to think of himself as an outlaw of sorts, he realizes that he's something more than that, and that he needs to continue to strive be that good man, the type of person who gives the Hill People Arlo's house as a way to repay them for his father's wrongdoings and takes care of his daughter, especially after Winona's suffered from too many sleepless nights.
No, it's not Raylan, but Boyd who is the true outlaw of Justified, a fact he proclaims himself before shooting a man (played by Boardwalk Empire's Shea Whigham) in the head after he has used him and his truck to get where he needs to go. After having tried out so many roles throughout the series, from a miner to a preacher to a fiancée to Ava, Boyd is truly embracing his criminal nature in these final hours of Justified, as he will do anything and cut any person that's in his way down to get to that money.
Throughout "Collateral," there's a lot of discussion about legends, from Boyd being compared to Billy the Kid (and saying how "The Ballad of Boyd Crowder" will be a story told long after he's gone and buried) to Boyd telling Raylan that he could shoot and kill him so that he'd be able die a hero, and it speaks to this heightened world that Justified exists in, one that is gritty and raw and real but also evokes some of the best, old school westerns. While both Raylan and Boyd are these larger-than-life characters, the show's final hour looks like it will find both men with a very simple goal in mind: to make it out of Harlan alive. However, if the body count from these past two weeks' episodes is any indication, at least one of them won't be making it out of their showdown in the series finale, but no matter what the outcome is, it's sure to be a legendary conclusion to an all-time great television series.
Other thoughts:
– All that babbling above, and I didn't even mention Ava, who finds herself arrested by two cops that are in Markham's pocket. Just like Raylan and Boyd, Ava's future is certainly in question as we head into the finale.
– Boon continues to be one of the creepiest villains to ever appear on Justified, as he shows up and kills Loretta's ex-boyfriend in this week's episode, before continuing to hit on her. And speaking of Loretta, she strikes a deal with Markham in order to save her life, one that makes her remind him of Mags Bennett.
– While I figured Zachariah had a plan to take down Boyd, I did not figure that plan included blowing himself up with dynamite. How many near-death experiences is that for Boyd this season? It must be a record.
– Wynn is set free by Vasquez and appears to be buying a car (with Katherine's jewels) to get himself out of Harlan County forever. But my gut tells me there's something else he's planning. Wynn Duffy always has another trick up his sleeve.
– If the Justified writers wanted us to begin to turn against before before the finale, having him shoot (and possibly kill) Bob definitely did the trick. I still love Boyd, but come on, man. Nobody is allowed to shoot someone as awesome as Bob.
– Good to see Shea Whigham appearing in more series after Boardwalk Empire. He did some fine work in his guest spot here.
– "So it looks we can't keep the whole 'Raylan Givens gone rogue' thing in-house." Tim is the best.
– Only one episode left. I'm really, really not ready to say goodbye to this show.
What did everyone else think of Justified's penultimate episode?
[Photo via FX]