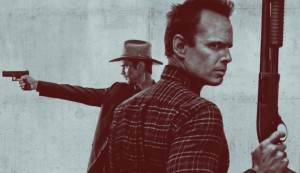 Justified's second season is a hard act to follow. The sophomore effort of FX's cop drama pushed the show from the realm of good to great. Season 2 was an improvement upon the first season in almost every way, and so the burden falls upon the third season to continue that steady climb. With the loss of Margo Martindale's Mags Bennett, one of the best parts of the second season, that climb grows even steeper. Luckily, if "The Gunfighter" is any indication, we've got nothing to worry about.
"The Gunfighter" is everything we love about Justified. The Ice Pick killer was one of the coldest one-off villains the show has ever seen, especially with his slow, calculated southern drawl. Unfortunately for Ice Pick, he just doesn't know when to stop. In a critical error, he targets Raylan, who is one step ahead of him. That scene is the epitome of what makes Justified fun. The tension of that scene wasn't whether or not Ice Pick would win — if he did it would mean the end of the show. The tension was on the how instead — how would Raylan defeat this guy? The payoff — a clever tug of the tablecloth — was quite satisfying. In fact, it was one of my favorite scenes in the show so far.
The Ice Pick was, unfortunately enough, a one-off villain. The show also introduced what looks to be the season's Big Bad: Robert Quarles (Neal McDonough), a chilling Dixie Mafia higher-up who makes a mark by killing recurring character Emmitt Arnett and his secretary in the show's first episode back. Quarles is a well-polished bad guy, and McDonough makes him captivating. While Quarles really gets to shine in the next few episodes, the highlight of his appearance here is how uncomfortable he makes Wyn Duffy. It's fun to watch that guy squirm.
It's also good to see Jeremy Davies back as the last member of the Bennett family. It'll be another couple of episodes before we see him really shine, but he'll be in the next few episodes as well, as he tries to escape the wrath of Boyd Crowder — a veritably dangerous man when scorned.
"The Gunfighter" is a strong season opener, and the rest of season 3 looks like it's going to be just as strong. A
Justified returns next Tuesday, January 24, with the episode "Cut Ties." Check back here next week for a review.