Today is Tuesday, which means that tonight there will be a bevy of fantastic shows on the air, including The Flash, Parks and Rec, and New Girl. However, out of all the series currently airing on Tuesday, the one I look forward to most is Justified, which is in the middle of its final season, and while some shows limp to the finish line when it's their turn to go off the air, Justified is sprinting, providing fans with all the fantastic writing and performances that they've come to expect from the FX series and then some. In fact, at the risk of feeling the wrath of Mags Bennett and her apple pie moonshine, I'd even go as far to say that Justified's swan song may even have the potential to surpass the heights of the show's all-time great second season, which gave us the infamous and aforementioned Mags and her sons, and did an excellent job at blending all of the characters' shared histories together with their present stories.
So what is causing me to make such a blasphemous claim? Why do I believe that Justified Season 6 could, when all is said and done, be the very best season of the series to date? I could simply bring up the Wiz going "kaboom" last week, or the fact that Patton Oswalt's Constable Bob returns tonight, but here are some other, more descriptive reasons.
First and foremost, Justified is back to focusing on its three most important characters, Raylan, Boyd, and Ava, and unlike last season, which had them in their own individual storylines that almost never intersected (and weren't particularly captivating, specifically Ava's time in prison), Season 6 has found a way to give each of them purpose. Raylan is going after both Boyd and Avery Markham (Sam Elliott); Boyd is trying to rob Markham; and Ava is caught between both men, spying on her fiance for Raylan to ensure she doesn't wind up back in prison, but also assisting Boyd if and when she can. Having these three characters be at the center of the series again, just like they were all the way back in Justified's pilot, has helped concentrate the show's storytelling, which has been somewhat scattered in recent seasons, while also making it richer; sure, we care if Raylan arrests Boyd at the end of the show or if Ava gets found out, but what matters most is the personal journeys these individuals, who have such long, shared histories together, go on.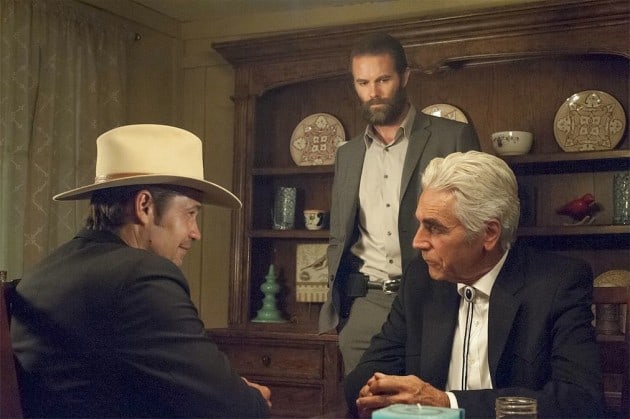 But just as compelling as our three protagonists are the opposing figures that they are facing. Elliott's Markham, Garret Dillahunt's Ty Walker, and Mary Steenburgen's Katherine Hale have already proven themselves to be more formidable and interesting foes than the Crowes were in all 13 of their episodes last season. Much like Mags in Season 2, the most dangerous attribute that all of three of them share is not any type of physical prowess but their devious minds, which appear prime to not just threaten our favorite characters but carry out those threats.
Furthermore, like the relationships between Raylan, Boyd, and Ava, the connections that Markham, Walker, and Hale all have are fascinating and complex. Even though Hale is currently sleeping with Markham, she's also trying to steal his money and possibly even have him killed, knowing full well that he was responsible for her husband's arrest (and most likely, his "suicide" while in prison). Similar to Ava's relationship with Boyd, Hale may hold more power than any of the men in her life simply because they trust her, and that trust is a wickedly powerful tool.
And yes, while strong central characters, well-crafted stories, and intriguing antagonists are essential to any good season of Justified, what has me so optimistic that Season 6 will make that push into the upper echelon of TV is how, in every episode, the series is reminding us how real, vibrant, and authentic this world of Harlan County is, whether its through Markham reflecting back on the time he met Boyd's father and Mags Bennett, or Dickie Bennett and Loretta returning to show last week. The environment that Graham Yost and co. have created over the past five-plus seasons is so rich and vivid that it's more interesting than any single character on the show; this vast universe, that has such a deep and dense history (not unlike Game of Thrones), is what makes Justified more unique than any other crime drama on television.
Although that uniqueness has been somewhat muted throughout the years by over-the-top villains or overly complicated mysteries, it's never disappeared from Justified. And like the light on top of a coal miner's helmet, it's great to see that uniqueness shine brightly again, lighting the path towards what should be an incredible conclusion to one of the best TV dramas of all-time.
[Photos via FX]