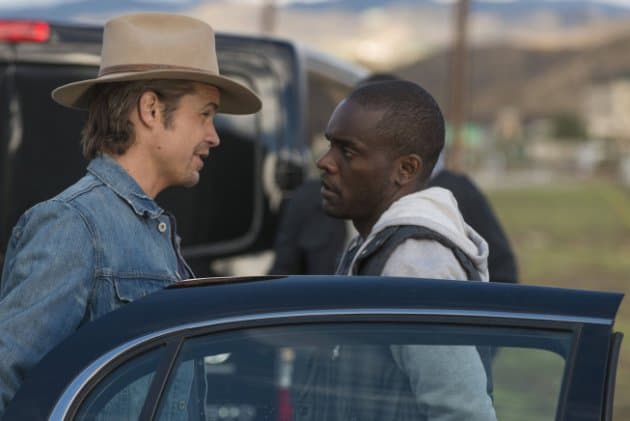 Last night's Justified was simply fantastic. There is no question that Raylan's approach to what he does is laced with an attitude and poise that is unlike anything seen on television, but we usually see Timothy Olyphant finesse through that swagger without revealing much in the way of noisy internal emotions. Last night, we got Raylan on a mission to avenge the death of a good friend and former lover, and the manner that Olyphant engineered Raylan's approach to the task was nothing short of award level.
The episode kicked us off with a "Six Days Ago" flashback, which showed Raylan handing over escaped convict Jody Adair over to Bounty Hunter Sharon Edmunds (Aja Evans), a woman Raylan'd had relations with back in the day–as you might say on Justified. What we find out is that Jody, with the help of his wannabee film-maker buddy, managed to escape from Sharon and kill her with a shot through her carotid artery. Not the best way to treat Raylan Givens' friends.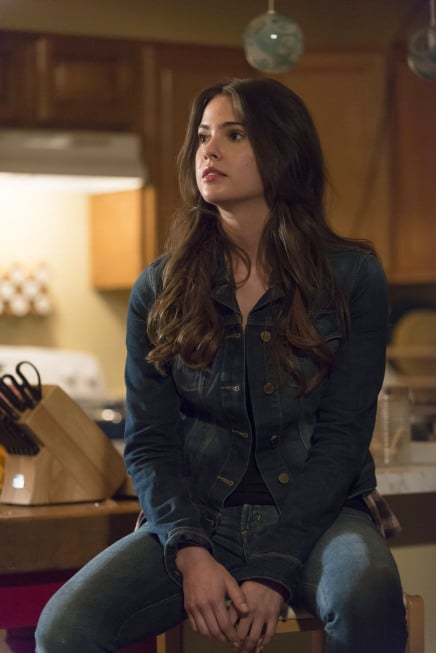 Naturally this puts Raylan in seek and destroy mode, but perhaps the best part of seeing Raylan in this mode is how subtle the difference is. We have seen him emotional while in the zone before, where Wynona was involved, but in "Money Trap" it was a different kind of activation on his face. The extra focus was mostly apparent in his reaction to outside factors, the most obvious being Shelley Hennig's Jackie Nevada. A fetching con-girl and poker ace, Jackie becomes involved when it turns out that Jody is looking to retrieve some dough he has stashed with his ex-wife, who Jackie happens to be house-sitting for. In any other episode, Jackie would have gone on to be another of Raylan's conquests, but in "Money Trap" he keeps his eye on the prize, even when Jackie is stripping down to her pink undies in the background.
On the more Harlan County centric side of things, Boyd and Ava got into the swinger's ball where they proceeded to rub elbows with Harlan's rich and famous in search of Drew Thompson, but Boyd discovered something a bit more disturbing than he anticipated. After the part Boyd was called back by a collection of the power-elite and ordered to execute a land owner who was refusing to participate in their scheme. Boyd treated the order at first like a business proposal, but was quickly put in his place when the men informed him that they ran Harlan county, and that it was them that allowed him to exist, and that if he didn't do as they told him, his existence would become tentative. Quickly. So it appears that the introduction into Harlan's elite may yet have some major fallout for Boyd, not to mention his plans to marry Ava and leave Harlan for good.
Back in the A story, It turned out that Raylan's thirst for revenge was requited by Jody, who had overheard Raylan stating where he lived earlier in the episode. They meet up and there is a classic showdown/duel setup with both men set to draw against one another. This is a situation we know that Raylan will dominate, however it is how he dominates it that punctuates just how powerful the emotion that he's been bottling up through the entire episode is. He draws and shoots Jody four times, a flash of grim satisfaction appearing on his face. Bad guy down.
The episode ended with a visit to the season arc, and Arlo. Raylan gives Arlo an opportunity to be transferred to a nicer prison if he identifies Drew Thompson, but Arlo refuses; insisting that eventually he will get the deal that will set him free. Raylan mentions Sheriff Hunter and Arlo fades, indicating that Hunter actually does know who Drew Thompson is. The episode ends with Raylan telling Arlo that he will die in prison, and when the news comes that he has it will be the happiest day of Raylan's life. Ouch.