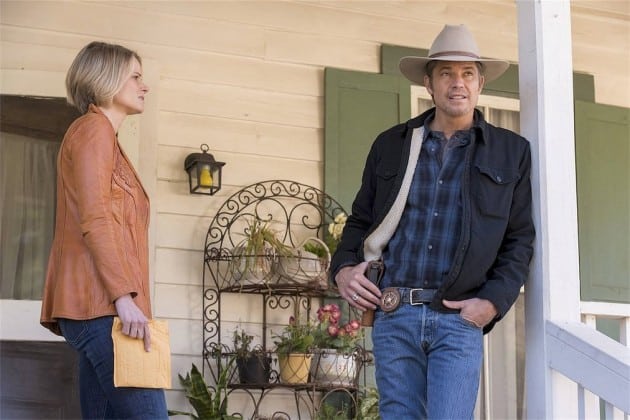 So I guess that Justified Season 6 teaser of Ava trapping Boyd and Raylan together in her house before lighting it on fire turned out to be kind of prophetic. While neither Raylan nor Boyd will be suffering from any third-degree burns, Harlan County's most infamous criminal will be recovering from a pretty nasty gunshot in next week's episode, as his fiancé turned the tables and betrayed both him and Raylan, driving off with all of Markham's $10 million as she tries to go and start a new life. Ava's double-cross was just one of many that made up tonight's excellent episode of Justified, another terrific hour in what is quickly becoming one of the best final seasons of television that I've ever seen.
Ava's decision in the final scene of "Trust" is both incredibly surprising and totally obvious. For several weeks now, she's been playing both sides, working for Raylan and Boyd, and so when it came time to choose, it makes sense that she would take a third option and go her own way, especially with her return to prison imminent. Ever since Boyd failed to help her get out jail last season, Ava's allegiance has never been to the criminal she loves, or the Marshal she used to; instead, she's always looking out for herself and the clearest, best escape route from the misery and death that is Harlan County.
With her actions tonight, Ava is really just attempting to do what she's always done: survive. We've known from Justified's very first episode that Ava is a survivor, as she's introduced to us as the fiery woman from Raylan's past who shot her abusive husband at the kitchen table. Over the course of Justified's six seasons, we've only seen Ava grow stronger and, in some ways, more detached. She doesn't let emotions cloud her judgment in "Trust"; unlike Raylan and Boyd, she has nothing left to lose, which makes her more daring and dangerous than either of them.
While Ava's double-cross in "Trust" is born out of desperation, Mikey's betrayal of Wynn comes from a place of desire. Unlike Ava, who has nothing to lose, Mikey only sees what he has to gain by giving Wynn up to Katherine. In his eyes, Wynn broke the sacred code of criminals; he ratted, and that means that he's perfectly acceptable collateral damage for Mikey's opportunist pursuits.
But even though Wynn is in a pretty bad place when we last see him in "Trust," I'm not too optimistic about Mikey's chances here. Wynn Duffy has somehow survived to see Justified's final three episodes, even though he should have most likely died numerous times throughout the past few seasons (like Ava, he's a survivor–see how it all connects?). At this point, I'm calling Wynn the show's cockroach; I'm betting he outlives everyone, maybe even Raylan.
And then there's Boyd's reveal to Markham that Katherine has actually been working behind his back the whole time, plotting to steal the money as an act of revenge against the man she believed had murdered her husband. By the look of Markham's smile in that final scene between the dysfunctional fiancés, it appears that he'll forgive Katherine, but I wonder if he's not setting himself up for a similar situation to Boyd's.
Between Loretta, Ava, and even Rachel, this final season of Justified is showing how the series' women are the smartest and most pragmatic characters on the show, while the men have fallen under their spells, believing in these romanticized or idealized versions of the show's females instead of recognizing who they actually are. Katherine seems to be the most cunning and cold of all of Justified's women, and as we've seen with Boyd over the series' run, being both crafty and ruthless certainly can carry a person a long way. It still remains unclear who will be making it out of Harlan alive when all is said and done on Justified, but I sure wouldn't bet against Katherine–more so than Ava and Wynn, she may be the show's true survivor.
Other thoughts:
– Jonathan Tucker is doing some phenomenal work as Boone. Every scene featuring the character is so tense and unsettling, even in his entertaining conversations with Raylan. You're not sure if and when one of them is going to pull out his gun and shoot.
– It was good to see Limehouse again, even if it was for a brief appearance in this episode. I'm glad Justified followed up on his and Boyd's sort-of partnership from earlier in the season, when Limehouse tipped him off about Ava.
– That final sequence between Ava, Boyd, and Raylan was absolutely perfection. I truly believed that each of them could have died at any moment. Justified has been giving us series finale-like scenes such as this in every episode for the past few weeks, and I'm loving it.
– One small thing I didn't completely buy in this episode: would Boyd really leave Dewey Crowe's necklace out in the open like that at his bar?
– Do you see any way that Justified ends with Raylan, Ava, and Boyd all somehow making it out of the show alive? Because I'll be honest, I don't at all.
– Only three episodes left. God, I'm going to miss this show so much when it's gone.
What did everyone else think about tonight's episode of Justified?
[Photo via FX]