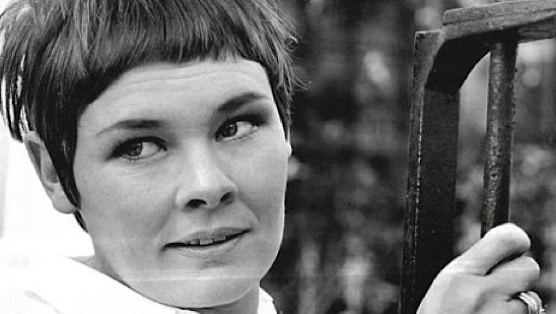 Judi Dench (or Dame Judith Olivia Dench CH, DBE, FRSA, if we're going to be precise) is one of the UK's most prolific and beloved actresses. Her 60-year career has taken in such highlights as M in James Bond, Queen Victoria in Mrs. Brown, Queen Elizabeth I in Shakespeare in Love, and Lady Catherine de Bourgh in Pride & Prejudice. It's also seen her play pretty much every female part that Shakespeare has written and scoop every type of trophy that's been awarded. At 84-years-old, Dench shows little sign of slowing down anytime soon. Later this year, we'll see her star alongside Jennifer Hudson, Taylor Swift, Rebel Wilson and James Corden in the hotly anticipated film dramatization of the musical Cats… get yourself in the mood now with the 20 Dench facts.
1. She had a Harvey Weinstein tattoo
In 2014, Dench decided to demonstrate her gratitude to Harvey Weinstein for helping launch her Hollywood career by getting his name inked on a certain part of her anatomy. When she turned up to a lunch meeting with the producer, she showed her feelings by dropping her pants to reveal the inscription "JD loves HW" tattooed across her backside. Fortunately, the tattoo wasn't permanent; however much she loved him at the time, it's doubtful any actress would want the beleaguered producer anywhere near her body these days, whether in name or otherwise.
2. She celebrated her 81st birthday with a tattoo
There're not many grandmothers who celebrate their advancing years with a tattoo, but then again, there's not many grandmothers like Judi Dench. To mark her 81st birthday, Dench decided to buck the trend for ageing gracefully by getting a lasting reminder of her motto in life stamped across her wrist. Unlike her previous tattoo in honor of Harvey Weinstein, this one is permanent- thankfully, "Carpe Diem" is probably a lot easier to live with than a declaration of love to a serial sex attacker.
3. She debuted as a snail
Dench's 60 years as a star of film, TV and stage can be traced back to her stage debut at the age of five. Proving that even the best of careers sometimes have the most inauspicious of starts, Dench's debut saw her take the part of a snail, complete with a full- on snail costume made by her proud dad. As you'd expect, the part didn't require a great deal of acting, with Dench recalling, "All I had to do was crawl across the stage under this shell. When my parents came to it, I can remember standing up — and I can also remember somebody at the side of the stage saying 'Get down! Get down!' My first critic," she said.
4. She was classmates with Vanessa Redgrave
After initially pinning her hopes on a career as a set designer, Dench had a change in heart and decided to purse acting instead. To this end, she enrolled in the Central School of Speech and Drama. During her time at the school, Dench studied alongside such future acting luminaries as Vanessa Redgrave. The two would become fast friends and even go on to star together years later in the 1985 film "Wetherby." Dench graduated from the school with a first-class degree in drama and four prestigious acting prizes, including the coveted Gold Medal for Outstanding Student.
5. Her sight is suffering
Age is no laughing matter sometimes. Over the last few years, Dench has been open about her struggle with macular degeneration, a progressive condition that over time, can cause sight loss and eventual blindness. As an actress, the condition is especially painful; while the scripts are still flooding in, Dench can no longer read them. Rather than conceding defeat, Dench is battling on, enlisting her wide circle of friends and family to read her scripts, describe scenes and help her to her markers.
6. She's no sloppy dresser
Her sight may be suffering, but Dench is still able to dress with the best. The Oscar -winning actress has become almost as renowned for her sense of style as she is for her acting- something The Guardian recognized in 2013 when it named her as one of their 50 best-dressed people over the age of 50.
7. She's a Dame
Don't go calling Judi "Mrs. Dench" … for the past 30 years, her proper prefix has been Dame. Dench ascended to the prestigious title in the 1988 New Year Honors. Prior to that, she'd won the title of OBE after her appointment to the rank in the 1970 Birthday Honors. Since claiming her dame-hood, Dench has been further honored as a Member of the Order of the Companions of Honor (CH) in the 2005 Birthday Honors.
8. She a multi- award winner
Oscars, Tonys, Olivers… no, we aren't taking boys name, we're taking the many, many awards Dench has racked up over the last 50 plus years. Dench won her first trophy at the 1966 BAFTA awards, coming home victorious after claiming "Most Promising Newcomer". Since then, she's been sweeping the board at pretty much every ceremony she rock ups at (so much so, in fact, that her long list of accolades have earned their very own Wikipedia page.
Perhaps her most notable win to date is her Oscar from 1998; her 8 minutes of screen time on Shakespeare in Love not only bagged her the Academy Award, it also marked her transition from a small screen star in the UK to a truly global superstar.
9. She had a beautiful romance
The tale of Dench's 30-year marriage to Michael Williams is the stuff of story books. The pair met in the early 1960's while Dench was touring the Shakespeare play, "A Winter's Tale", in Australia. After their meeting, the pair quickly fell head over heels in love and were married a short time later. In honor of the nature of their meeting, Dench had the Shakespearean quote "an 'twere a man born in April" carved into her wedding band. The couple remained deeply in love throughout their marriage, with Williams demonstrating his affections by sending Dench a single red rose every Friday from the day of their marriage all the way up until his sad passing in 2001.
10. She's enjoying an autumn-years relationship with David Mills
Following her husband's death in 2001, Dench stepped back from the love game for several years. In 2010, she decided the time was right to dust the cobwebs from her heart and open it up to a new man. The lucky man in question happened to be conservationist, David Mills. Dench met her new fella when he asked her to open a new badger and red-squirrel enclosure at his surrey Zoo. The two have been together ever since, but Dench has been keen to dispel any rumors of marriage: "He's not going to propose," she told the Daily Mail. "No, no, no, no, no! Let's all just pull ourselves together and be our age."
11. She's crafty
Actors love starring alongside Dench, and not just because of her superlative acting skills. Over the years, Dench has acquired a reputation for bestowing fabulous, hand- embroidered gifts on her co-stars… although the gifts aren't always quite so innocent as they seem, as her Pride and Prejudice co-stars Keira Knightley and Matthew MacFayden found out when they unwrapped theirs. Embroidered in flowing script around the beautiful cushions were the words "f**k 'em". Fortunately, the lettering was too small for most people to notice, let alone take offence.
12. She's a Quaker
Dench has been a committed Quaker ever since she was sent to a Quaker boarding school at the age of 14. Dench has credited the faith to giving her an inner strength and peace that's proved invaluable in both her professional and personal life. "It's very quiet, which is what I am not, and it makes you create your own form of Quakerism," she told the Huff Post. "It consists of sitting in silence with a lot of other people. That suits me very well, because I often don't give myself the time to get all the drawers organized inside my head."
13. She would never have plastic surgery
Despite indulging in the odd tattoo, Dench is otherwise determined to see out her senior years gracefully. Although she may once have considered plastic surgery, the actress has said she's both too old and too fearful to bother with it now: "I'm too old now," she's said. "Every time I go to America I wonder if there is some process where it could be all sucked out and I could be there in time for dinner, but I'm frightened it would all drop off under the anesthetic."
14.She doesn't want to be a National Treasure
"National Treasure" may be a description all too liberally applied these days, but in the case of Dench, it couldn't be more apt. Dench herself, however, is quick to dismiss any such claim: "National treasure? I hate that. Too dusty, too in a cupboard, too behind glass, too staid," she's said. "I don't want to be thought of as recognizable – I always want to do the most different thing I can think of next." Unfortunately for Dench, her status as one of the UK's most beloved stars means the title is unlikely to be leaving her anytime soon.
15. She's no diva
She may play snotty-nosed, upper-crust queens and aristocrats, but in real life, Dench is known for her down- to- earth personality and distinctly un-diva like behavior. "I think you should take your job seriously, but not yourself – that is the best combination," she's been quoted as saying.
16 .She's a rap prodigy
In 2017, Dench proved age is just a number by teaming up with grime MC, Lethal Bizzle. The unusual pairing came about after Dench spoke of her delight that Bizzle had chosen "Dench" as his slang world of choice for anything "nice" or "brilliant." The televised meeting saw Judi getting down to business with a specially adapted version of Bizzle's 'Pow"."Pow, yeah I'm Ju-to-the-di/Pow, if you don't know about me/Better ask someone quickly," she rapped. It may not be Shakespeare, but coming from Dench's mouth, it may as well have been.
17. She has more than 100 TV and film credits
Dench may have started her career on stage, but that hasn't stopped her building up a prolific portfolio in TV and film. Her debut on the big screen was 1964's The Third Secret, with her most notable works including GoldenEye (1995); Mrs. Brown (1997); Shakespeare in Love (1998); Iris (2001); Pride & Prejudice (2005); Philomena (2013); and Miss Peregrine's Home for Peculiar Children (2016). Over on the small screen, her most significant roles have come in As Time Goes By (1992); Cranford (2007); Love in a Cold Climate (1980); Roald Dahl's Esio Trot (2014); and The Hollow Crown (2016).
18. She's outspoken about ageism
Dame Judi has no intention of going quietly into that dark night and is fed up of Hollywood's insistence she should. Dench has spoken out frequently about her frustrations at the rampant ageism in the industry:- "I'm tired of being told I'm too old to try something," she told The Hollywood Reporter. "I should be able to decide for myself if I can't do things and not have someone tell me I'll forget my lines, or I'll trip and fall on the set. Age is a number. It's something imposed on you … It drives me absolutely spare when people say, 'Are you going to retire? Isn't it time you put your feet up?"
19. She wishes she'd had more children
Given the full and successful life Dench has led, it's unlikely she has many regrets. But there is just one thing that niggles her… that she didn't have more children. "I had planned to have six. Easily!" she told Good Housekeeping. "The rewards you get out of it. Finty (her daughter) and I are so close, and also Sammy (her 20-year-old grandson)."
20. She has a net worth of $35 million
Want to know what 60 years in show-business gets you? A fortune, that's what… well, it does if you're Dame Judi Dench, in any case. According to Celebrity Net Worth, the British actress is worth an estimated $35 million… not bad for someone who started their career as a snail.
Tell us what's wrong with this post? How could we improve it? :)
Let us improve this post!