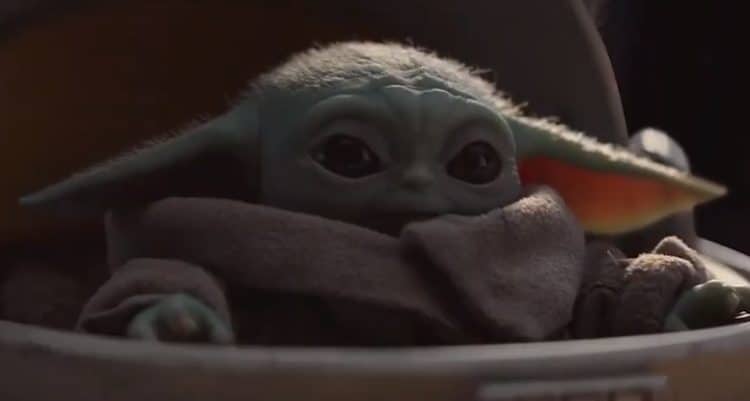 So is there anything Baby Yoda can't do at this point? Really, he's being shown to do things that are absolutely amazing and he's been pushing products for just a little over a month now and people are completely gaga over him. Putting him in a match with Count Dooku almost feels like they're pushing it a little too far now just for the novelty and the sake of it. Of course it's supposed to be fun and it's supposed to be ridiculous, that's been the whole point of introducing BY to the party after all since he's been shown to be powerful in the Force but not always judicial in the way he uses it. Keep in mind he was trying to Force choke Cara Dune at one point when it looked like she was hurting the Mandalorian, indicating that as powerful as BY is he's still not in full control since he's a child that doesn't have any real grip on what constitutes harm and what's just playing around. Just think what the little guy would have done if Cara and Mando had been in a sparring match, the fallout might have been nothing short of horrible.
Next thing you know we'll see BY going up against Darth Maul perhaps and taking him on effortlessly while it took two Jedi to fight him in The Phantom Menace. It's too obvious that BY is extremely strong when it comes to using Force powers, which indicates that as he grows, if there's someone to teach him wrong from right, then he could be on par or even greater than Yoda when his time comes to choose what he wants to do. Can you imagine one of Yoda's kind becoming a Sith or at least a dark Jedi? That seems like disaster waiting to happen, and unfortunately the longer he stays with Mando/Din the longer it's going to be that he'll be exposed to the Mandalorian's mistrust of Force users. Pitting him against Count Dooku was cute and all but in reality as the next season of The Mandalorian comes around one has to wonder if the timeline is going to be advanced enough to give the little guy some ability to move about and possibly fight on his own or if he's still going to need the mobile pram to carry him around. It'd be nice if things would move a little quicker but they can't go that far that fast for one very good reason, they have to stay within the timeline between Return of the Jedi and The Force Awakens.
The gimmicks that BY has been used for thus far have been pretty funny and cute for the most part but up against Count Dooku some people would argue that Dooku either wouldn't see a child as a proper challenge or he would slice the pram out from beneath the kid and finish it quickly since BY isn't much of a combatant despite the video. That's fans for you though, a lot of them want to be as accurate as possible and there's not a lot of room otherwise when it comes to dealing with the one story they happen to love so much that they'll obsess over it. Personally I think this is pretty funny since imagining that the pram could move like this and that BY could sustain himself long enough before needing a long nap is kind of unrealistic given what we've seen in the show. He's done some amazing things and accomplished impressive feats, but each time it takes a lot of out of his little body and he collapses soon afterward. It's wise to remember that the flipping and jumping that Yoda did while fighting Dooku in the original battle scene took a big use of the Force as well since there was really no other way for Yoda to reach his former apprentice without being chopped down in the process. Thankfully though Yoda's use of the Force was so masterful that it could sustain him even as he was using it in such a massive way. BY has a ways to go before he can work up to that level, but if he survives long enough he could be just as impressive.
It's likely that we'll continue to see BY in the coming future since season 2 of The Mandalorian is coming this next fall as Jon Fingas of Engadget has stated, but until then we'll get to see just how well BY holds up. After all there are many other characters bound to be showing up to take the attention away from him, especially when his show isn't going to be on for a while to come. Hopefully by next season though we'll get more information about him, maybe. Until then there will likely be plenty of videos like this for our entertainment.