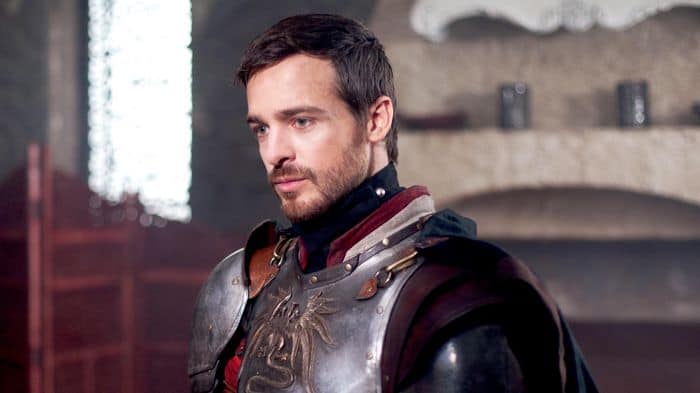 Jake Sotmoen's career has been a wild ride, but in the best way possible. After making his on screen debut in 2008 with an uncredited role in Step Up 2: The Streets, he went four years without being cast in anything else. However, after 2012, he began to hit his stride and has been working consistently ever since. Many of the roles in the beginning of his career were relatively small, he got a big opportunity when he was cast in a recurring role in the show Extinct. These days, he is best-known for playing Captain Garret Spears in The Outpost, and he has built a strong base of people who love and support his work. Continue reading for 10 things you didn't know about Jake Stormoen.
1. When He Was A Kid, His Dream Was To Become A Knight
Do you remember what you wanted to be when you were a kid? Jake Stormoen does, and in some ways his dream came true. His childhood wish was always to become a knight and his role in The Outpost has given him that opportunity. Not only did he defy the odds by becoming a professional actor, but he also defied them by living out his childhood fantasy.
2. He Loves Interacting With Fans On Social Media
One of the great things about social media is that it gives people the chance to connect more easily than ever before. Jake may not have the largest social media following, but he's grateful for what he does have and he loves using social media as a way to interact with his fans.
3. He Plays Dungeons and Dragons
Jake is a self proclaimed geek and he isn't afraid to let the world know. He told Nerd Alert News, "I played D&D as a kid and we (my friends and I) had no idea what we were doing–only that we had saved up to collectively buy the Players Handbook and were obsessed with it." Jake continues to play D&D (Dungeons and Dragons) today and he also enjoys Magic the Gathering.
4. He Loves Rock Climbing
Jake loves to stay active, but his favorite way to exercise doesn't involve going to the gym and lifting weights. He is an avid rock climber who initially gained interest after moving to Los Angeles and joining a gym with a rock wall. In addition to indoor climbs, he also likes to get outside and climb.
5. He Studied Acting In Australia
Despite being born and raised in Minnesota, Jake moved to Australia to study acting. He attended University of Southern Queensland in Toowoomba where he earned a degree in creative media. Shortly after graduating he returned to the United States and went to Los Angeles to pursue his acting career.
6. He's Also A Screenwriter
Jake is a multi-talented person who has done more than act. He has also done some behind the scenes work as a screenwriter and producer. At the moment, he has just two writing and two production credits to his name, but he hopes to get more involved with the production aspect in years to come.
7. He's A Big Fan Of The Fantasy Genre
If you couldn't tell from his dream of becoming a knight, the fantasy world has always been of interest to Jake. The fantasy genre has always been his favorite and he loves everything from books to games and TV shows. He is eternally grateful for The Outpost for giving him the chance to combine two of the things he loves the most.
8. An Instagram Post From Dwayne Johnson Inspired Him To Work Harder
Dwayne Johnson and Jake Stormoen have never worked together, but Johnson has still had a big impact on Jake's career. During an interview with Electric Entertainment, Jake shared a story about his first few months living in Los Angeles. He said, "I'd just started following Dwayne Johnson on social media. He'd posted something with his infamous slogan "Hardest Worker in the Room," and something clicked for me. I know it sounds silly to bring up a story like this, but it was a huge turning point for me mentally."
9. He Loves Traveling
Jake has always loved the feeling of visiting different places and experiencing new things and traveling has given him the way to do just that. He has been able to travel far and wide over the years and some of the countries he's visited include Ireland, Montenegro, and Hungary.
10. He Is An Archer
If you thought acting was the only skill Jake has, it's time to think again. He's got lots of tricks up his sleeve, one of them being the fact that he did archery for many years. He also did fencing for a while. All of these things came in handy when it came time to get into character for The Outpost.