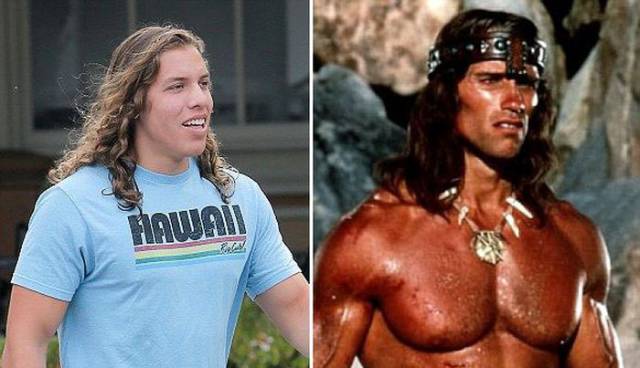 Not many love children get consistent media attention, particularly when they have decided to avoid all the media attention in pursuit of a normal life. If you were to ask 100 people who Joe Baena is, maybe 5 would be able to identify him as the love child of Arnold Schwarzenegger. He has been seen with dad from time to time, but in general has managed to avoid the public eye. He kept his mother's name of Baena, which helps add to his privacy level. To keep you up-to-date with some of the less salacious ongoings of Baena's life, here are 10 things you can catch up on.
1. He has his dad's genetics.
We know that is how everyone knows he is Arnold's son, but what we are talking about here is his dad's significant muscular build. We presume he has been working on it since these things don't grow by themselves. Whether his dad has encouraged him is unknown, but we don't see him competing in any Mr. Olympia competitions any time soon.
2. He has had a great relationship with his father for years.
Love children often find themselves out in the cold as parents often are focused on their own damaged lives. But despite the lack of media focus on the father and son situation, Arnold took Joseph to Germany for his 19th birthday to celebrate Oktoberfest. Dad also called him his favorite workout partner.
3. He has dabbled in Hollywood-type stuff.
IMDB has him credited for both being an actor and for a creator of visual effects. His movie credits include Wapakman in 2009, Aswang in 2011, and Shake Rattle and Roll Fourteen: The Invasion in 2012. Since those credits he has faded from the Hollywood scene, but somehow we feel he'll be back.
4. Joseph is already a philanthropist.
That seems strange given the fact that the relationship between father and son is still in its early stages, but as a freshman at Pepperdine University in Malibu he was awarded the freshman honor of Student Philanthropist. Part of this is because he comes from humble beginnings despite having a celebrity father.
5. He never met Arnold until he was a toddler.
The reason for this absent father event had nothing to do with Arnold but everything to do with the failure of his mom Mildred to let Arnold know he was the father. Once the two met, the relationship grew and later in life Joseph definitely had an interest in knowing his father better.
6. His major is Business and Business Administration at Pepperdine.
Now we don't know if this is where his future is headed, in part because when TMZ caught up with him and asked about his future plans in acting, he said he really didn't know. Ask most 20-somethings what their future plans are and you will likely find them going in a different direction in a few years anyway. Given the fact that Joseph has already dabbled in the world of film, there is an attraction to it.
7. He is currently dating Samantha Wix.
Like Joseph, Samantha is a Business major but has a more focused discipline — Integrated Marketing Communications. The couple may actually have a greater attraction to one another beyond the looks department. They have been seen together for about a year, but as any couple dating in college, their future remains uncertain.
8. He bears a much stronger resemblance to his father than Arnold's other son.
This is pretty strange, and part of the comparison is based on the fact that Joseph is very committed to the weightlifting regimen. But given the science of genetics it would seem that it's possible Mildred Baena looks more like Arnold than his ex-wife Maria Schriever. The only thing we know for sure is that Arnold is definitely the father of both children, right?
9. When he was 18 he did a remake of a Terminator 2 scene for an indie company.
Baena is the star of a two minute short film with the classic "Bad to the Bone" song playing in the background. The scene is where the Terminator walks out of the bar, snatches the rifle from the biker, steals the motorcycle, and wears the iconic shades that end up defining the T2 movie.
10. His birth certificate was never signed by his mother.
The issue of fraud regarding his mother's claim as to who the father was, was never signed by his mother. She suspected Arnold was the father, but according to neighbors there was another man living at her house as well. When the truth about who Joseph's father was came out, there was concern about the effect it would have on him. It seems everything turned out OK.