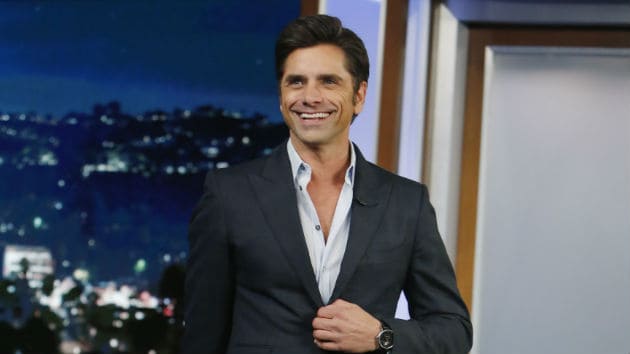 Michael Ausiello from TVLine seems to repeat the idea that John Stamos would be great at the role of a temperamental and disgraced college basketball coach that gets busted down to a much lower level with a team that he has to grow with and learn from, but I kind of beg to differ. It's not that Stamos can't do it, it's whether he can be the kind of jerk character he'll have to start out as initially. He has a reputation of being one of the coolest guys in TV, and he also has a reputation of being the nice guy, even if his characters do get a bit egotistical at times, but a lot of the time it seems that he's too quick to smile and have a good time. Maybe it's a matter of personal perception, but the guy just seems too good to really be that much of a jerk.
Granted, he did guest star on an episode of Law&Order: SVU as one of the most pompous and arrogant buggers to ever come across the screen, and he did that part well, but it doesn't really seem that this is what's being asked of him in this coming role. If anything it sounds as though he's going to be more of a jerk than a guy that would poke holes in condoms and somehow be rich enough to pay child support to a dozen or more women. It's easy to establish that he can play a jerk and that he can also play the nice guy, but this role just seems as though it might be a stretch to accept since he's gone to extremes but his moderate roles seem to still lean towards him being the personable protagonist that you can't help but like even if he somehow rubs you the wrong way. There are those that don't care for Stamos for one reason or another, just as there are detractors of a lot of people in Hollywood, but with all that in mind it still seems as though he's just too chipper of a guy to really put in a role like this.
Plus, for a couple of reasons, this sounds almost like another attempt at the movie Rebound with Martin Lawrence. Anyone remember that one? Yes, no? It was along the same lines, Lawrence played a college basketball coach that had a seriously inflated sense of self and ego that didn't allow him to admit when he was wrong. When he was busted down to coaching a middle school team he had a lot to learn and had to realize that winning wasn't everything, and that the game was meant to be fun and built on fundamentals. If that's how this movie ends up going it will definitely be something of a copycat but still unique enough as Stamos' character is going to be teaching girls instead of boys. From a certain point of view at this time the movie does sound like something that might be worth watching simply because John is the kind of actor that makes a lot of things fun and engaging, but still, he's too good of a person it seems to really act like a convincing jerk, unless he takes it to an extreme that for this movie would be too much.
The comedy aspect of it however could be worth watching since where Lawrence went to teach boys, the act of a male coach going to teach girls does seem to come with other challenges, especially if the girls are old enough to be at the point in their lives where there are other things than the game to focus on. Some male coaches don't much care and let things happen as they will, staying out of matters that don't concern their coaching more often than not, but in a dramatic comedy such as this you can imagine that certain issues are going to crop up and will be seen either as impediments or a learning experience, or both. It does sound as though it might be an interesting project and could be something that continues to place Stamos in the public eye since he's been kind of here and there throughout the last decade or so. He's never up and gone away, but as far as his popularity is concerned it's been closely tied with Full and Fuller House episodes throughout the years since Uncle Jesse was such a loved character. John has most definitely shown that he can break out of that character without any trouble, but until I see this movie I might have to hold onto my expectation that he'll still be a little too likable to be that much of a jerk. There's just something about him that says 'nice guy'.John Stamos