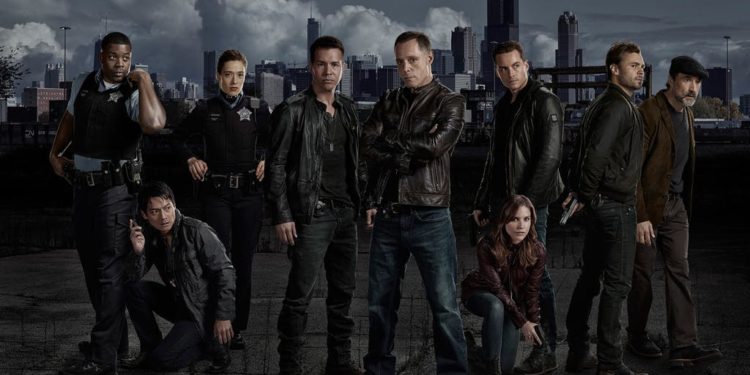 Chicago PD is currently in its sixth season. It's hard to believe that it's been on NBC since 2014 but time flies when you're having fun. As a matter of fact, the very beginning of the show started about a year before that, when Hank Voight ended up on Chicago Fire. Even though cops and firefighters usually work together for the greater good, that certainly wasn't the case here. Voight turned out to be one of the meanest and most underhanded people to come along in a very long time. He had a personal vendetta with Matt Casey, and things only got more intense from there. This is how Chicago PD was born.
1. Hank Voight is one tough son of a gun
There's no doubt that he's tough, and there are times when he can be so mean that it's just shocking. During the first couple of seasons, it wasn't at all uncommon to see him taking bribes or worse. He'd been investigated so many times that he didn't even bat an eye when the next investigation would start. If you crossed him, he might not think twice about killing you and dumping your body in a place where no one would ever find you. He's mellowed somewhat, but bad things still happen to people who get under his skin.
2. The cops aren't always the good guys
Okay, so you already know that Voight has a few issues with morality, but what about everybody else? The truth is, most of the people who work directly under him know that he doesn't always play by the book and neither do they. While their moral compass may not be quite as messed up as Voight's can sometimes be, they're not exactly angels, either.
3. Jay Halstead can be a very angry young man
There was an episode that aired several seasons ago where Halstead basically stalked a man that he knew was guilty of murder. He had investigated the case years before and during that time, he had grown close to the family of the victim. He knew who was responsible for the crime but couldn't get enough evidence to convict him. He stalked him and threatened to kill him himself. Eventually, he cleaned his clock for him letting all that pent up rage come out.
4. Erin Lindsay always served as something of a role model for strong women
She's not on the show anymore but when she was there, she was easily one of the strongest characters that you were likely to see anywhere on television. She served as a role model for young women who wanted to be seen as equals in a man's world. There is no doubt about it, she was more than able to hold her own with a whole department full of strong-willed men.
5. The unit might be corrupt, or maybe not; it can be hard to tell
There's really no doubt that the whole unit can and will do whatever they think they need to do in order to get the job done. Whether or not that means they're corrupt depends on your point of view. They're taking bad guys off the street, there's no doubt about that. They just don't always do it the legal way. Case in point: locking people up in a special cage and then beating them until they tell the truth or die, whichever comes first.
6. Viewers have had a chance to watch Kim Burgess go from rookie to veteran officer
When the show started, Officer Kim Burgess was a rookie working the beat in a uniform. She was determined to rise up through the ranks and she paid attention. Setting her sights on Voight's team, she went the extra mile to get ahead, volunteering for dangerous undercover assignments and making a name for herself. It didn't take long for her to end up on the team but there was a cost. Sometimes she's so anxious to get ahead that she steps on the toes of others (like her old partner) in the process.
7. Sometimes you get to enjoy a crossover episode
Every once in awhile, you can enjoy an episode that starts on either Chicago PD, Chicago Fire or Chicago Med. You then have a chance to watch all three shows that week so you can keep following the story until there's finally a resolution.
8. Alvin Olinsky had baggage but he was relatable
He never seemed to be an especially happy person. He had issues with his wife and his own kid would hardly even talk to him sometimes. He even used to live in the workshop behind the house. Nevertheless, he always remained a dedicated father, even when it wasn't easy. If anything, all of his struggles made him seem more human.
9. Show runners aren't afraid to kill off main characters
Speaking of Alvin Olinsky, you should stop reading this now if you're several episodes behind on your binge watching. You know that the show has a habit of killing off main characters. It happens on Chicago Fire too, and it happened on Law & Order before that. The same key people are connected to this show. Just when you think you're attached to a certain character, they're gone for good.
10. Antonio Dawson
Does anything more really need to be said here? He's smart, good-looking and unafraid to vocalize his opinions. He's a fan favorite and many think the show is worth watching just to get a glimpse of him.