I really love Private Practice, so please don't make accusations about being a mole and trying to turn people against the show or some such nonsense when I say that I was disappointed in "A Step Too Far." There were too many uninteresting (self-involved) patient stories for me to really enjoy the group I know and love.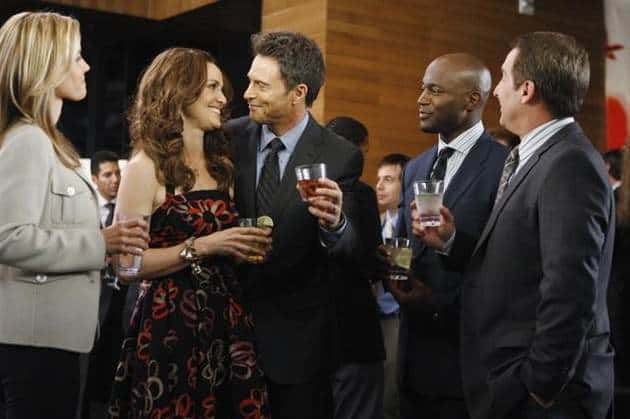 Breaking it down:
I hate that Addison isn't pregnant. Not that I wanted there to be a bunch of drama between her, Sam and Naomi, but just because I know how much she wants a baby. For the "star" of the show, she spends a lot of time getting the short end of the stick. We knew Sam didn't really want Addison. After one kiss with Naomi, he was practically begging her to tell him it meant more than it did. Addison is NOT a cheap substitute for Naomi. Here's hoping Benjamin Bratt is her knight in shining armor. They are head to head both physically and in terms of talent. If he's a good guy on the show, she deserves him.
Even one bad review of an otherwise lauded book can send a psychologist spiraling out of control. Violet's book was very well received, but she only focused on the negative. Funny thing is, when she was sitting on the couch with Pete analyzing herself, she was right. If it took a negative book review to give her that understanding, then good for her. Not to mention, I'd bet every one of us would lose sight of all the other reviews in light of the negative. It's human nature.
I didn't quite understand the fuss over Cooper wanting to go back to school. I hope he pursues it. While I liked the support Charlotte gave to him, it just seemed strange that she would even question his motives. If he wants to learn more to feel better prepared to help people, how can that have any negative connotations?
The surrogate pregnancy just annoyed me. It was an ugly story about how people can lose sight of their good intentions and think only of themselves, everyone else be damned. It did end well, but the babies birth was surrounded by misfortune instead of joy. No fair.
Wrestling and a getting a full scholarship with a bad heart is more important than being alive, healthy and getting school loans. I don't know what else can be said about that story.
Sheldon got a little action with the "evil" book reviewer. Cooper had the nerve to say he shouldn't do it. Easy for him to say when he got Charlotte. Sheldon was after Charlotte and Violet and came out empty handed. Good for him for finding an intelligent, sassy, attractive woman to spend time with. I hope she sticks around for a while.
There you have it. How did you feel about the episode? I just wanted more of my Private Practice family. I'm looking forward to a little happiness for my docs, how about you? Think we'll see any? Next weeks Grey's Anatomy is going to be full of singing during an uber depressing episode…we can only hope Shonda placed something a little cheerier in our path afterward!