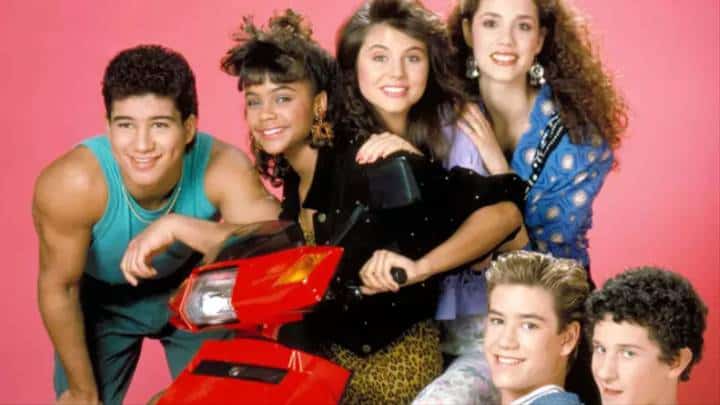 And originality takes another serious hit to the gut as yet another show that was popular back in the day comes back in an attempt to make something interesting happen yet again. Sam Warner from Yahoo seems pumped about it, but quite honestly it's hard to do anything but groan since like so many shows created back in the day, Saved By The Bell is one that's best left alone since not only is everyone from the show a great deal older, but a good number of them have been mediocre at best since their days as kid stars. Argue that one all you want, but even with the fact that a number of them have been in the news and have appeared in various shows and even movies it's not quite enough to say that they've been able to enjoy the same celebrity status that they had on the show.
According to Scott Baumgartner of ET it's not going to be possible to get all of the original cast members back, but it's likely that we'll see a few of them at least, though whether or not Zack, who's rumored to be governor now, or Screech and a few others will be back is hard to say. At this point though it's hard to get excited since this isn't the first show that's been bringing back old stars that haven't done much in the last several years. You could argue that Tiffani Thiessen has been around, as has Mark-Paul Gosselar and Mario Lopez. Dustin Diamond even had his fair share of screen time when he went the reality TV route, and of course Elizabeth Berkely had her brief but ill-fated stint at being famous with Showgirls. But apart from that, any argument that they've been as famous as they were on the show is kind of hard to say with a straight face.
It's taken a while to find someone that's ready to face up to reality since the main gist of any reboot or remake seems to be dominated by the idea of people being psyched about it since it means getting a part of their younger years back, in a way. But as Stephen Marche of Esquire tells it we can't get our favorite shows back no matter how well a reboot is done, and there's a very good reason why. You can't turn back the clock and make it all the way it was again. There are definitely arguments against this since some people would claim that of course you can turn back the clock, so long as you get the right cast, create the right setting, and in a sense do exactly the same things that were done way back when. Guess what, it still doesn't work. And another problem with trying to recreate the past in this way is that it's not just bound to fail, but it's bound to promote lazy writing and a lackluster performance no matter how much the new actors try to make it great.
Lazy writing has become an epidemic in big movies and TV these days and it's been persisting for a quite a while in fact. It's not the only problem, but it's definitely one of them that seems to be wreaking havoc on a lot of pop culture as people continue to accept it and readily take what should be story ideas that are ridiculous at best and abysmal on an average basis. It might seem that getting down on a show like SBTB would be beneath just about anyone, but it's yet another example of how apathetic people have become when it comes to reboots and remakes, especially since so many people seem excited about this occurrence. The show had its time and it was great for the era in which it was first brought in, but the actors have grown up, moved on, and the show should have been content to do the same. There are simply too many stories out there waiting to be developed to keep going back to a well that's run almost dry at this point. What's being brought up at this time is the muck and dredges that is being looked at like gold by the studio execs that are signing off on it. And the people that think it's just as good as those producing it do? Well, unfortunately they're just as complicit since they're putting on their time warp goggles to try and capture the magic of a show that had its chance and did very well for a while.
Think of it this way for a moment, every show made back in this era did well for a certain period of time, and some lasted longer than others. But the magic that was inherent within each show, y'know, the magic that makes it possible for them to gather fans, has been gone for decades now. It's time to admit that it had its time and place, but is no longer bound to be what it used to be. Put the script down and walk away. Oh, if only.