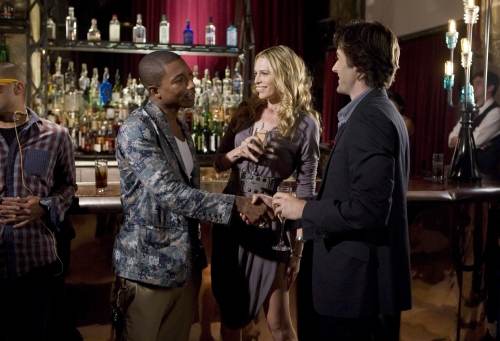 Lies were revealed and more deception was dealt on this week's installment of 90210 with one storyline hopefully dead and another interesting one starting up. It's sweeps and things are about to crazy as hell. I will be your tour guide through this tumultuous ride through teen angst for the duration of sweeps and your psychiatrist when it is all over.
Don't Mess With Debbie Wilson!
Dixon is overwhelmed with Sasha's pregnancy, but Sasha has went into "Martha Stewart" mode and just want to have dinner and a movie with Dixon. But Dixon wants to talk about the pregnancy and the options they can take with it. Sasha doesn't want to hear it and asserts that she is keeping the baby no matter what Dixon has to say. Dixon returns home and lies about being late for surf team practice, which Harry calls Dixon out on because the coach told Harry that Dixon was off the team. When the parentals demand what's Dixon been up to, Dixon gets frantic, needy IMs from Sasha and during the chaos he snaps and blabs out everything.
Debbie is highly upset and can't believe that Dixon could be so careless and Dixon declares that Harry had a kid when he was in high school. Oh like that is supposed to make it ok? :Smack!:
Dixon gets another IM from Sasha, which says that she is having cramps. Debbie tells Dixon to grab his coat, because they are going over there. When they arrive, Sasha is shocked to see Debbie and stumbles over her words profusely, especially when Debbie asks her if she seen a doctor. Debbie asks her how far is she in the pregnancy and Sasha says a month and that she got the sonogram done and everything.
Excuse me, what?!
Debbie notices what I notice, but she is thrown out the house after Sasha gets pissed about being interrogated. But Debbie is no dummy and uses one of the things that I love about women: a woman's intuition. The next day, Debbie remembers seeing Sasha at the salon way back and thinks that Sasha is lying about the pregnancy. In fact, she feels in her gut that she is right. Harry plays dummy once again and thinks that Debbie is overreacting. Idiot.
Debbie takes matters into her own hands and a page out of Sasha's own book as she follows Sasha to a coffee shop, where Sasha is having a cup of Joe. Debbie busts Sasha on lying about meeting her at the nail salon and tells her that its not a good idea to drink coffee while your pregnant. Debbie then asks Sasha if she went to the doctor. Sasha declares she did and when she tells Debbie the doctor's name, Debbie reveals that she is friends with that same doctor and will make sure that the doctor takes good care of Sasha. But Sasha is steadily growing uncomfortable, and Debbie eases her anxiety by asking how did she feel when she heard the baby's heartbeat for the first time. Sasha says it was a wonderful experience.
HA!!! Gotcha, Sasha! Because a baby's heartbeat isn't heard until week six! Debbie tells Sasha that this also means that A) she's not pregnant and B) stay the hell away from her son. Debbie kicks ass!
Later, Debbie and Harry find Dixon crying, because Sasha called to tell him that she miscarried and doesn't want to see himagain. Harry is about to drop the bomb on him about Sasha's lies, but Debbie covers and tells Dixon that things happen for a reason and that he can learn from this experience. After they leave Dixon, Harry wants to know why Debbie lied about Sasha to Dixon and she declares that it would be better this way and that she should just trust her in this. Harry is not so sure about this and neither am I about how this storyline ended.
While giving Debbie some delicious meat to chew on this week, are we to believe that 1) Dixon wouldn't have ran over to see about Sasha despite her not wanting to see him again and 2) that Sasha could be that damn stupid in the end?
Come on now, 90210 writers!
Jen Stinks, Ryan Matthews is An Idiot, and the Liams Who Deal With Them
Jen bursts into Ryan Matthews' house, totally oblivious to Ryan's date, who is sitting on the couch. Jen acts like she made a mistake, but Jen didn't take kindly to seeing that girl there, who was in fact the female bartender who tended to Harry and Ryan Matthews a few weeks back. Jen appears at the same bar the next day to tell the girl that Ryan is only talking to her out of pity and that she need not get her hopes up.
When Ryan Matthews confronts Jen about this she admits that she is jealous seeing Ryan with other women, like he is when Jen is dating "trust fund after trust fund". She agrees to be his one and only and the two kiss. Gag me.
Meanwhile, Ivy still pines over Liam, who dubs her one of the guys and Ivy decides to step her game up and start dressing like a girl more. She invites everyone to a Hollywood party, but Liam rejects, saying it's not his style. Liam gets info from Ryan Matthews that his essay got an honorable mention in a city wide contest, something that Liam should be proud in. Ivy and Teddy 'kidnap' Liam into going to the party.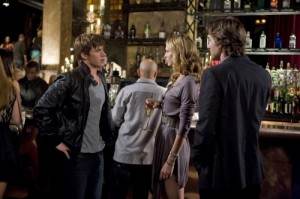 At the party, Jen introduces Ryan Matthews to the pop group N.E.R.D. (guest starring as themselves) as her boyfriend. He beams. I scream. Later, Ryan 'introduces' Liam to Jen as his favorite student. Jen immediately smears Liam's name to Ryan as she doesn't want him to have anything to do with Liam, but she goes to Liam for him to keep his mouth shut about everything. Liam only chuckles that he knows that Jen is scared of him, because if she wasn't then she wouldn't be in his face now. Jen goes as far as telling Ryan Matthews that Liam came on to her at a previous function. Ryan Matthews is livid and I can't believe that he is that stupid. Ryan Matthews later gets on his trusty high horse and confronts Liam, who doesn't care anymore and leaves the party.
While all that went down, Teddy gives Ivy the 411 on the situation between Naomi and Liam after Liam leaves when he sees Naomi with Jaime (guest star Travis van Horn) and tells Ivy that she needs to make a move if she wants in on some Liam action. Should I just start calling Teddy "The Eye" from now on? Because he sees everything! Ivy takes his advice and follows Liam back to his workshed and plants one on him. Liam says upfront that he doesn't want anything serious and Ivy accepts that and they go back to suffocating each other by their mouths.
Adrianna's Dilemma
Adrianna tries to win back Navid by serenading to him at school. First, I hope that was actually Adrianna's voice, because it sounded beautiful. Secondly, she should have tried something more to Navid's taste, because he firmly says that he doesn't want to have anything to do with her and he means it.
Was it the guitar?
Adrianna is a mess and will not leave her room. Naomi and Silver try to get her to come out of her funk, but she is no good and the two friends fear that Adrianna might start using again. They go to Navid for help, but he coldly says that Adrianna is no longer his problem. The girls reveal their concerns and Navid relents. He stops by Adrianna's house to only says that if she feels like using again that she needs to go to a meeting. When Adrianna asks for Navid to come with her, he says no and that she has friends for that and leaves Adrianna a crumpled mess. SO basically, Navid came to instill more harm than good.
Silver receives a message from Adrianna stating that she is coming to the party. Navid arrives and comes across Teddy, who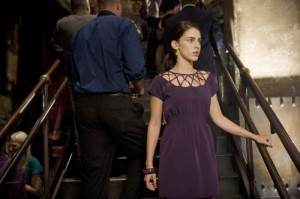 apologizes for everything. Navid accepts the apology. Then Navid is coaxed by Liam and Samantha Ronson (guest starring as herself) to hit on some girls. He does just that. Teddy meanwhile flirts with Silver and it is clear that he likes her. But Adrianna arrives to see Navid macking to some nice females, clearly trying to move on and her best friend talking to Teddy. It's too much for her and she leaves without letting anyone know she was there.
Never Let Me Down Again…
Jasper is still on his "You're My Muse, Babe" deal with Annie, who gullibly slurps it up. That is until Navid reveals that he has credible intel that Jasper is a drug dealer. Annie blows off Navid's claims, but later can't help but to notice Jasper's big wad of cash that he carries around on him. She then blurts out the question and Jasper frakking loses it! He tells Annie that he never questioned her when everyone thought she was slut and can't believe she would question him. Jasper declares their relationship over and leaves Annie in downtown LA alone.
That is when I would have caught a bus back home and called it a day. But Annie either can't decipher 'crazy' or is just plain stupid.
Jasper goes to the Hollywood sign to shoot more footage and Annie is there like a whore crying to her pimp about her money not being right. Jasper accepts Annie's apology and demands that she never doubts him again. Annie agrees. Later, Jasper gets a text and he tells Annie that he will be right back and that he has to get some equipment from his car. When he gets there, Jasper pulls out some pills revealing that he is in fact a drug dealer, but the real shocker is who he is selling the pills to.
Adrianna.
Checkpoints
– I really hated how the Dixon/Sasha storyline ended. It was too abrupt and too unbelievable that Sasha could be that conniving. But Kudos to Lori Loughlin for what they gave her this week and now hopefully Debbie can slap some sense into Annie as well.
– Navid, Adrianna screwed up. I get that, but you of all people know how fragile that girl is and shouldn't be treating her as if she was Naomi. I don't like the cocky Navid at all.
– Annie needs her ass beat. Period.
– Jen needs a blowtorch to the face. And throw one on Ryan Matthews face as well for good measure.
That is all! What do you guys think?