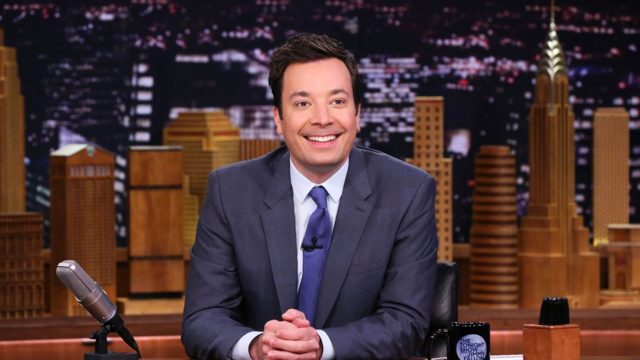 How could it get better than Super Bowl Sunday and This Is Us all on the same day? Jimmy Fallon just made it happen. Following an emotional Eagles win of Super Bowl LII, and an even more emotional special hour of This Is Us, Fallon broadcast live from the Orpheum Theater in Minneapolis with all the highlights. But it wasn't just special guests Justin Timberlake and the cast of This Is Us that grabbed everyone's attention.
Fallon surely got the best entertainment interviews of the day. In between interviewing the cast of This Is Us after the highly anticipated Super Bowl episode, and Dwayne 'The Rock' Johnson on his new summer blockbuster Skyscraper, he reunited with best friend Justin Timberlake in a special set called #songversations. We would advocate for this to become a regular segment on the show, but if it really took two hours to shoot, it might be better to get some other work done. Justin Timberlake may have paid tribute to Minnesota's own Prince at the Super Bowl Halftime Show, but Fallon himself had the most to say in his own special tribute to another Minnesota icon.
This isn't the first time that Fallon has impersonated Bob Dylan, but his rewrite of Dylan's iconic "The Times They Are A-Changin'" was as powerful a political statement as they come. Those listening did a double-take in the middle of the first verse, suddenly realizing that these were not the lyrics they knew. Dylan's 1964 call for change was revamped by Fallon in the same vein as before, but with a 21st century twist.
Fallon began with the first two lines of Dylan's rendition before his lyrics changed course. Here is a snippet of the big lyrics switch:
"Admit that our country don't feel like a home/And that silence speaks louder than those who condone/ If a tweet to you is worth saving/Then lift up your voices and put down your phones/The times they are a-changin'.

Come women and men who hashtag #MeToo/And believe me when I say that we believe you/For weak is the man who calls truth fake news/Times up, our silence we're breaking/And even though Mel Gibson was in Daddy's Home 2/The times they are a-changin'."
The rest of the song is a call to arms for journalists, mentions to "Internet trolls", "fire and fury", and even "New York Times, they aren't failing". Though these terms weren't coined in the 60's, we have a feeling Dylan would appreciate the updated references. Watch Fallon's performance below.
We'll put this to Bob Dylan himself. To Mr. Bob Dylan, if somehow you read this, what did you think about Jimmy Fallon's rewrite of "The Times They Are A-Changin'"?