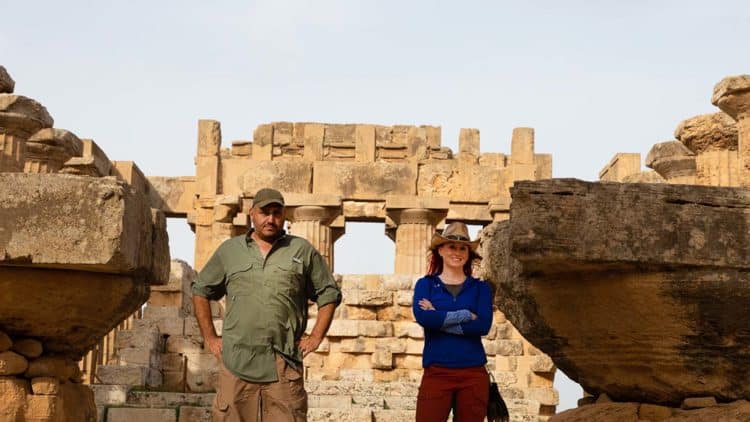 Jess Phoenix loves to get out and explore the world, and she's been fortunate to have been able to turn that into a career. Jess is a multi-talented person who has always been interested in learning as much as she can her and that passion has recently led to the opportunity to be the star of a new series. Jess is one of the hosts of the Discovery Channel show Hunting Atlantis and she is hoping to help uncover the mysteries surrounding the allegedly lost city. Not only will viewers be intrigued by the story of Atlantis, but Jess' fun personality and her dialogue with her co-star, Stel Pavlou, will add an extra layer of entertainment to the show. Keep reading to learn 10 things you didn't know about Jess Phoenix.
1. She's From Colorado
Jess was born and raised in Colorado where she appears to have had a nice upbringing. Both of her parents are FBI agents and Jess has always been a very curious person. Reading was one of her favorite ways to spend her free time, and the more she learned the more she wanted to keep learning.
2. She's An Author
Jess is definitely one of those people who is interested in a lot of things, and one of those things is writing. In March of 2021, she released her first book Ms. Adventure: My Wild Explorations in Science, Lava, and Life. The book currently has an almost four-star rating on Good Reads.
3. Hunting Atlantis Isn't Her First TV Experience
When Jess was younger, she didn't think she would grow up to have a career in the entertainment industry, but that's exactly where she is has ended up. She got her first TV opportunity in 2016 when she appeared as the volcanologist on a show called Trailblazers. She has also appeared on programs such as Shark Week and The Young Turks.
4. She Has Several Degrees
I wasn't exaggerating at all when I mentioned that Jess has always been a curious person. That curiosity eventually led to spending lots of time in higher education. After high school, she enrolled at Smith College where she earned a bachelor's degree in history. She also has a master's degree in geology as well as a master of fine arts degree in nonfiction.
5. She Started A Nonprofit
Jess is the founder of a nonprofit organization called Blueprint Earth. According to its website, Blueprint Earth is "cataloging all of the geology, biology, hydrology, and atmospheric conditions in a square kilometer of California's Mojave Desert. Our goal is to understand how everything functions together, as a system – from the microbes to the clouds. "
6. She Tried To Get Into Politics
In 2018, Jess ran to represent California's 25th Congressional District. Even though she didn't win, Jess felt like the experience was still beneficial. She told Science Mag, "I now have a voice, and a platform, and it's a national-scale thing. I can advocate for things I think are worthy and continue to be a good communicator for science."
7. She Loves To Travel
As someone who loves to explore, it goes without saying that Jess has never been the kind of person who is happy just staying in one place. She loves traveling and she has gotten the opportunity to visit places both in and outside of the United States. Some of the countries she's been to include Greece and Peru.
8. She Wanted To Be In The NFL
When Jess was growing up, sports were her main focus and she played as many of them as she possibly could. In an Instagram post she revealed that one of her biggest dreams when she was younger, was to make it to the NFL. Although that dream obviously didn't come true, she did get the chance to be a football player as an extra in a movie.
9. She Enjoys Riding Horses
Riding horses has always been one of Jess' favorite things to do. During her time at Smith College, she was a member of the equestrian team. Her days of riding competitively may be a thing of the past, but she still likes to ride for fun. When she isn't busy working, you can usually find her saddling up.
10. She's A Member Of The LGBTQ+ Community
Standing in your truth isn't an easy thing to do when who you are falls outside of what most people consider the norm. However, Jess hasn't allowed that to stop her from being proud of who she is. According to her Twitter bio, Jess is non-binary and uses the pronouns she and they.