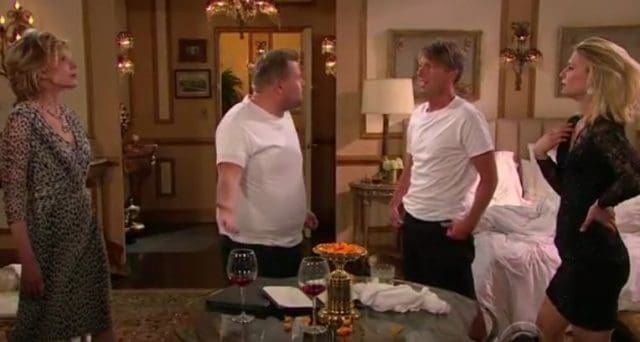 I must admit that the bar for late show ideas is getting pretty high. Is it me or is the production value of some of the skits they run getting up there? It seems for the past year or so, celebrities are being pushed to limits they're not used to on late night. They're getting embarrassed more and are constantly doing things that I think most of us didn't expect they'd do. P.S. this isn't a complaint. I absolutely love it but I wonder how some of the celebrities feel doing this. I have to think all of them or enjoying it because frankly it's hilarious.
Last night on the Late Late Show with James Corden, celebrities Claire Danes, Christine Baranski, and Jack McBryer stopped by to partake in a dramatic soap opera parody skit that got the crowd rolling. In the skit Corden and Daines are trying to recount the night before. But there was one hitch with the skit. Every single line uttered was a lyric from a Katy Perry song.
McBrayer and Baranski eventually join in and things get kind of weird when Jack McBryer slaps James Corden in the face. Good stuff.
Check out the full skit below and P.S. Claire Danes looks amazing in this.
Tell us what's wrong with this post? How could we improve it? :)
Let us improve this post!