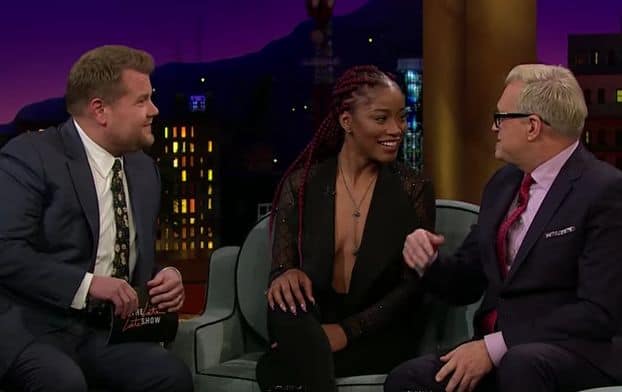 Keke Palmer, best known for her role on Scream Queens as well as being a successful recording artist, stopped by The Late Late Show last night. She was sandwiched between James Corden and Drew Carrey when the subject of competition arose. James asks Keke Palmer about her competitive streak and learns about the fateful night her family played a game of Family Feud and one of her father's answers left the family upset.
Just to be sure they weren't on the actual show. This was the home version. Palmer recalled playing Family Feud and going home together where there was nothing but silence in the car. Keke mentions how she and her mother couldn't even look at her father because "he was the reason why we lost." The question that her father gave a ridiculous answer to was "what object can you put on another person's body that the opposite sex would love?" Her father said "ice cream."
Her mother said that he never even tried ice cream before to which the audience laughed. Corden comically replies "I would say bacon." I happen to be in agreement with Corden here. Nothing would turn me on more than a nice juicy strip of bacon. I don't care where it's placed. Makes no difference. Bacon is bacon and if I smell bacon, I'm going after it.
Palmer laughed at the response and all in all it was a pretty funny exchange. Check it out below:
Tell us what's wrong with this post? How could we improve it? :)
Let us improve this post!