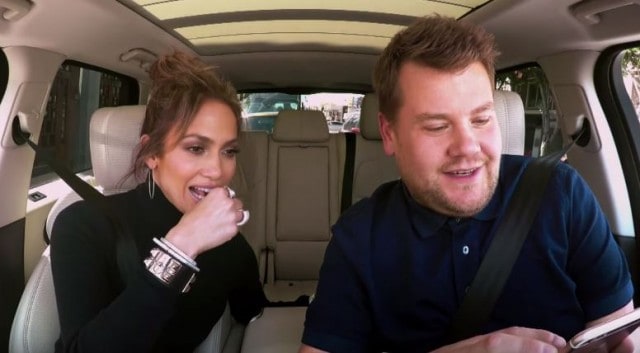 Carpool Karaoke is easily the most popular and beloved part of The Late Late Show With James Corden, and last night on CBS, Corden, along with Jennifer Lopez, led a special celebrating all the different Carpool Karaoke segments he has done in his year as the Late Late Show's host. However, the special wouldn't have been complete unless Corden had done an all-new Carpool Karaoke, which is why Lopez herself joined him in the car for 13 minutes of singing, laughter, and craziness, which was capped off by Corden sending a text message to the most famous person in her phone. So who exactly did he text? That would be Leonardo DiCaprio.
After the two of them sang several songs together, including "Love Don't Cost a Thing" and "Jenny From the Block," Corden turned to Lopez and asked her who the most famous person in her contacts was. She said she didn't know before listing names like Demi Lovato, Cristiano Ronaldo, and Iggy Azalea, who is simply in her phone as "Iggy."
However, Corden stopped when he saw Leonardo DiCaprio's name and sent the actor a message from J. Lo, telling him that she was trying to "cut loose" and wanted to know if he had any suggestions. He even signed the text "J. Lo, you know, from the block," which left Lopez hysterically laughing.
"I'm not gonna let you send that," she told Corden, but she was too late, as he had already sent it DiCaprio's way.
The best part of the entire ordeal, though, is that DiCaprio actually responded to Lopez, believing that the message was truly from her. The Revenant star wrote "You mean tonight, boo-boo? Club-wise?" Lopez and Corden's reactions to the message are absolutely priceless.
Watch Jennifer Lopez and James Corden in the latest Carpool Karaoke video below:
[Photo via YouTube]
Tell us what's wrong with this post? How could we improve it? :)
Let us improve this post!