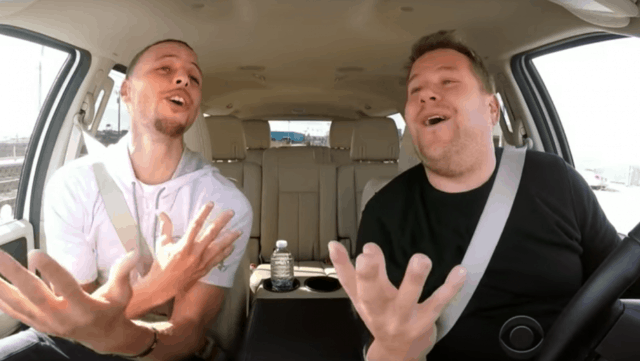 Steph Curry officially has a new life coach and it's not Tony Robbins. It isn't even someone associated with the NBA. It's none other than James Corden. The NBA's reigning MVP stopped by the Late Late show with James Corden to get a little bit of life advice while riding in a car. According to THR
James Corden took it upon himself to "center" perhaps the greatest 3-point shooter basketball has ever seen. Corden's left field approach took Curry first to the miniature golf course. "Be the ball, let the ball be you," was among the mantras Corden pushed on a skeptical Curry.
Corden suggested Curry "change up his image" as he was too nice, which was again met with derision from the squeaky clean Golden State Warriors star. The two moved on to other games including air hockey (Curry win), rock-paper-scissors (Curry win), Dance, Dance Revolution (Curry win).

Check out the video below:
I have to admit I'm still conflicted on how I feel about Steph Curry, but every time I see him do something like this it's hard for me to dislike him. Not to mention the clinic he put on the other night on Marcin Gortat. Watching him on the basketball court is like seeing Pistol Pete in the modern era. He's THAT good and that entertaining. But sometimes his press conference remarks and stuff I see him doing on the bench rub me the wrong way. I don't know. It's like he's too cocky but tries not to show it even though I can see right through it? Then again he's so good that it's perfectly legal for him to be this way. I don't know. I just don't know.
Put it this way, Kawhi Leonard's my guy. He's impossible not to like. Plays the game the way it should be plays and keeps his mouth shut. Silent assassin. That's the kind of player I like on my team.
Tell us what's wrong with this post? How could we improve it? :)
Let us improve this post!