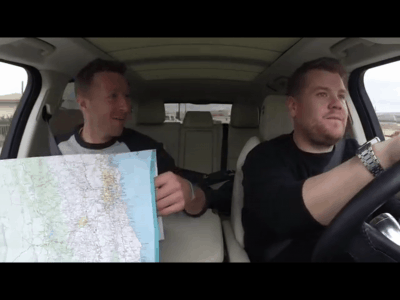 James Corden has driven with One Direction and Adele most famously before on The Late Late Show, but I think this latest car karaoke sketch with Chris Martin from Coldplay will be the next big viral hit.
Picking Chris up as a hitchhiker on the side of the road with his destination of the Super Bowl in San Francisco written on a sign, James wastes no time getting to the good stuff with the Coldplay frontman.
After belting out his own current radio hit "Adventure of a Lifetime" Chris is quizzed on American football by the talk show host, a fellow Brit. Let's just say it's a good thing they're both keeping their day jobs!
I have to give Chris Martin props for his celebrity impressions. His Bruce Springsteen was pretty great, but his Mick Jagger rivals the best of them. My favorite part of the segment is Chris playing "Us Against the World" on the toy keyboard with James joining him on vocals.
Their small talk about past Super Bowl halftime performers and commonly misheard Coldplay lyrics make this video worth checking out for yourself!