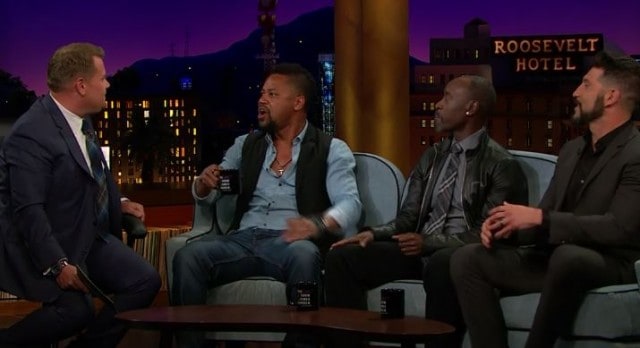 Jon Bernthal, Cuba Gooding Jr., and Don Cheadle were all guests last night on The Late Late Show With James Corden. However, only two of them ended up in a break dance battle against the show's host, as James Corden proved that he's not only incredibly funny and one hell of a singer, but that he can dance pretty darn well, too.
So how did this dance contest even come to be? Well, it all started after the four of them began discussing Bernthal and Gooding Jr.'s backgrounds in break dancing. After Bernthal displayed some of his moves, the crowd erupted into cheers, wanting to see more from the Daredevil star, and Gooding Jr. even issued a dance challenge to Channing Tatum.
"And that's right Chatting Tatum, or whatever your name is," Gooding Jr. said. "It's a challenge. Magic Don and Jon and Sweet [bleep] Willy."
However, Corden felt left out and was wondering why he wasn't a part of the crew that Gooding Jr. had created. The People v. O.J. actor told the Late Late Show host that he didn't talk about his dancing background, so if he wanted to be a part of the group, he needed to show them something, which is exactly what he does in the video below.
The best part of that video, though, besides James Corden shocking Cuba Gooding Jr. with his dancing abilities, is Don Cheadle's reaction to the dance-off.
"He wormed on you," Cheadle said to him. "He wormed on you, son!"
[Photo via YouTube]
Tell us what's wrong with this post? How could we improve it? :)
Let us improve this post!