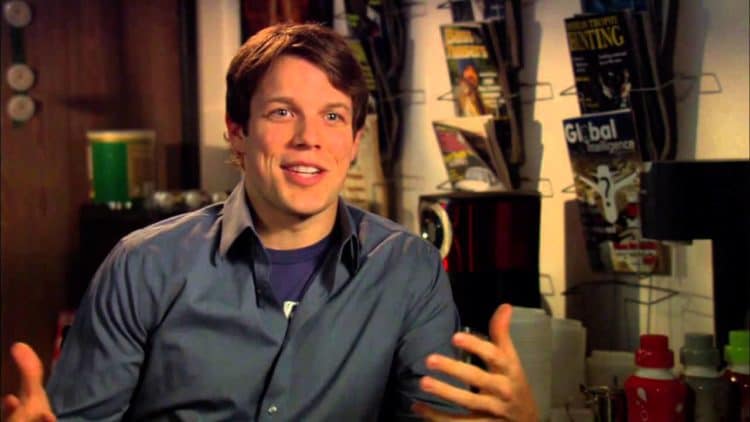 Since starting his professional acting career more than a decade ago, Jake Lacy has become well known for being one of the most popular on-screen nice guys in the business. However, just because that's what he's known for doesn't mean that's all he can do. He has also shown the world just how versatile his skills are and he hopes to continue to do that in the years to come. Most people will remember him best for his roles in shows like Better With You, Girls, and I'm Up Here Dying. Most recently, he has been in the HBO Max series, The White Lotus. Continue reading to learn 10 things you didn't know about Jake Lacy.
1. He Is From Vermont
Jake was born in Massachusetts, but he grew up in Vermont where he attended Otter Valley Union High School. While in high school, he began taking acting classes and his interest continued to grow. Eventually, he realized that acting could be much more for him than just a hobby.
2. He Was An Athlete
Before acting became Jake's main focus, he was really into sports and he participated in several. He told the Post Gazette, "It was a mix of playing hockey and soccer and baseball and slowly stopping that as those schedules began to conflict. I started choosing to be in plays rather than baseball."
3. He Is A UNC Alum
After high school, Jake knew that he wanted to take acting seriously. He went on to study at the University of North Carolina School of the Arts where he graduated with a BFA. The school boasts a long list of noteworthy alumni including Mary-Louise Parker and Jada Pinkett-Smith.
4. He Is A Devoted Husband And Father
Acting may seem like the most important thing in Jake's life, but it's really his family that comes first. He has been happily married to Lauren Deleo since 2015. The couple has one child together. When he isn't busy working, you can usually catch him spending quality time with his family.
5. He Loves To Travel
Jake is the kind of person who always looks forward to a good adventure. Thanks to his career, he's been able to have several. He has gotten the opportunity to travel to places all over the United States and other parts of the world. Some of the countries he's been to are Greece and France.
6. He Isn't Afraid To Express His Political Views
Politics are the kind of thing that most people shy away from discussing. However, Jake has had no problem making his opinions known. He is a very liberal person and showed his support for Bernie Sanders during the 2016 United States presidential election.
7. He Has Theater Experience
Jake has spent the majority of his career in front of the camera. However, during the early days, Jake got his start by doing plays. He has been a part of several theater productions including A Midsummer Night's Dream and Much Ado About Nothing.
8. He Was A Fan Of The Office Before Being Cast
Getting the opportunity to join the cast of The Office was a dream come true for Jake. During an interview with CBS, Jake said, "I was a huge fan of the British Office, I was deep into the UK Office. I was a little nervous when I heard they were doing a US Office. Greg Daniels and [Steve] Carrell are brilliant. I can't imagine a better pivot from one audience to the next and I was a fan of that style."
9. He Doesn't Consider Himself As Nice As Many Of The Characters He's Played
Jake is most popular for playing the classic nice guy, but in real life he tends to be a little different than many of his characters. While talking to GQ, Jake said, "Nice guy? Send it my way!" I don't know how it came about in a general sense. I don't know how that became the throughline for my work. I don't feel like my friends, or people I've known over the years, would be like, "Nice guy role? Jake Lacy. That's perfect."
10. He Worked Lots Odd Jobs Before His Career Took Off
Breaking into the entertainment industry isn't easy. Like many other actors, Jake had to work a lot of jobs to get by before he started making money as an actor. Some of his jobs including working at a bar, waiting tables, and being the receptionist at a gym. No matter what his job was, though, he was always going out on auditions whenever he could.