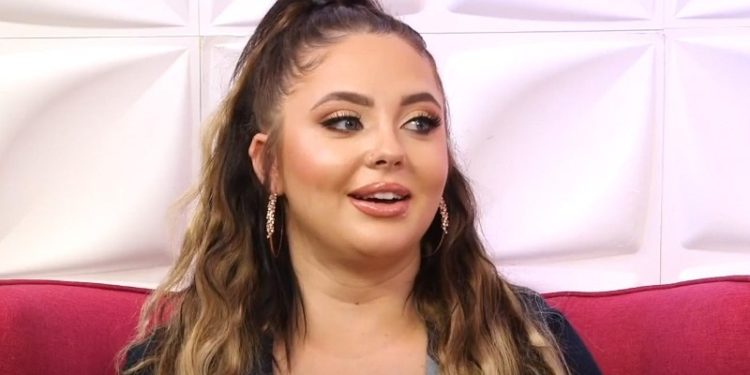 The rumors turned out to be true that Jade Cline has replaced Jenelle Evans on the second half of Season 9 of Teen Mom 2. MTV's rocky relationship with Jenelle Evans came to an end after her husband, David, killed their family dog when it snapped at their 2 year old daughter, Ensley Jolie. Jade may not have as much drama, but she has a good story. According to TMZ, Jade Cline agrees that her story is raw, and that she is trying to be a great mom to her little girl. Below is a list of things you need to know about Jade.
10. This isn't her first time
Jade has recently worked as a waitress, but that may soon come to an end. Season 9 of Teen Mom has finally premiered, and it features Jade Cline; a fan favorite to be. It seems things are looking up for the young mom Jane has done a number of shows on MTV including, "Teen Mom" and the "Young and Pregnant", which aired in 2018. By the time word hit the grapevine that Jenelle was getting fired, MTV had already begun shooting with Jade. This is probably what sparked the rumors. Had Jenelle not been fired, the footage would have been used for the new season of Young and Pregnant.
9. She has a daughter
Her daughter's name is Kloie Kenna Austin. This little angel was born on September 18th, 2017; Jade was 19 years old then. Her Instagram account is flooded with pictures of Kloie. According to Jade, she is obsessed with her daughter because she motivates her to be exceptional. Although she is no longer in a relationship with her father, Sean Austin, their love for Kloie is undeniable. According to Starcasm, both Steve and Jade are making co-parenting work smoothly. In a twitter reply about her experience with co-parenting, Jade pointed out that they always put their daughter first, and they communicate constantly with Sean Austin. She further added that co-parenting requires cooperation for it to be successful. In the course of their relationship, Jade Cline and Sean Austin have had their fair share of ups and downs.
8. Proposal
On April 23, 2018, Sean Austin proposed to jade during a romantic date night. However, towards the end of 2018, things took a turn for the worse in regards to their relationship. In an episode of ''Teen Mom: Young and Pregnant" which aired in November, Jade got suspicious of Sean after refusing to take a drug test. After taking the drug test, Steve failed it. This led Jade to kick him out their home. After some time, Steve returned with a promise that he would mend his ways. In an Instagram post on January 19, 2019, Jade stated that she was no longer with Steve and she was not going to give him a second chance.
7. Her family owned a restaurant
The restaurant is located in greenwood, Indiana. The restaurant is co-owned by her grandparents and the staff includes her immediate family, herself and Steve. The announcement was made two months after her grandmother was declared free from cancer. This put the entire family in a celebratory mood. In March, the ''Teen MoM 2" star opened the Sanders Family Restaurant officially. So far so good, the restaurant is doing well. Barely two months after commencing business, the Sanders family restaurant was closed.
6. Closing of the Restaurant
Initially, due to large crowds the restaurant used to be closed early. However, in July 2019, Jades Grandma Lori and Grandpa Chris announced that the restaurant would be closing its doors for good due to unavoidable circumstances. Jade, in her usual fashion, went to her Instagram story to announce that the restaurant was still in business. Later on, she accused her grandparents for spreading fake news. According to reports, the restaurant will feature on the show '' Teen Mom."
5. She has a rocky relationship with her mom
In the course of the show, Jade and her mother had been at logger heads due to her mother's unsavory habits. When ''Young and Pregnant" premiered, Jade talks about her issues with her mother. She claimed that if she found out that her mother was on drugs, she would not let her be around Kloei. Shortly afterwards, her step dad and mother, Chrissy, were arrested on drug charges. Jade revealed that she received the news while on camera, and that she was deeply hurt by the turn of events.
4. She had a controversial selfie incident
Jade posted a bathroom selfie with a line of white powder, an ID card and rolled up dollar bill. She came under serious criticism after the selfie; the selfie was pulled down shortly afterwards. Many of her fans believe that it was, merely, a bad publicity stunt.
3. She pursues a cosmetology course
When Jade announced that she would be working at the family restaurant, her fans wondered whether she had set aside cosmetology. Jade assured her fans that she was still a, full time, cosmetology student and that she looks forward to being a hair stylist. Her Instagram posts on women hairstyles always get excellent reviews from her followers.
2. Jade loves family
Jade was devastated when her grandma was diagnosed with cancer. In a bid to help, she set up a, GoFundMe, campaign with the hope of raising money to cover her grandmas' medical costs. Lori, her grandmother, needed surgery to remove the cancer from her uterus. Thankfully, the surgery was a success and Lori was declared cancer free.
1. She is a Gemini
Jade was born on June 10, 1996. She made her debut on T.V in 2018 on the show ''Young and Pregnant. 'Due to her personality and struggles, she was considered to be a favorable replacement for Jenelle Evans. Jade's mother and ex-boyfriend Austin have drug issues and this has seriously complicated their relationship. Jade's father committed suicide just after she was born.
Tell us what's wrong with this post? How could we improve it? :)
Let us improve this post!