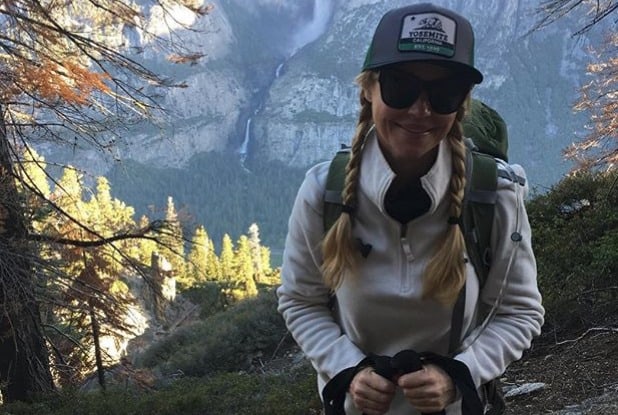 Few actors or actresses can go to Hollywood, hit the ground running, and put together a 32 year career that has made them successful and popular. Charlotte Ross, who is 50, has done exactly that. You may have seen her on Glee, in the soap Days of Our Lives, or even in TV commercials and infomercials. She can be seen as a physical actress or romantic interest, but even at 50 she is also known for her modeling various hairstyles. Though she is known for her many talents, there are some things that seem to contradict what you see her do on the screen. This list will sample 10 of those things that you may have never known about Charlotte Ross.
1. The best decision she ever made had nothing to do with acting.
In fact, it was exactly the opposite. She says when she decided to take time off from acting to begin raising her son it was exactly what she needed to keep her career going. This result was not planned by Charlotte, but it is a perspective from a rear view mirror. She could charge up her child raising batteries and recharge professionally at the same time.
2. She lost out to Christina Applegate for a TV role.
The series was the now popular, then not so popular Fox sitcom Married … with Children. Charlotte was the #2 choice right behind Christina, but again, in retrospect, it was a good decision to award Christina the role. It's hard to imagine a better Kelly Bundy.
3. Charlotte has visions of being a producer.
Not only does she have visions, she is passionate about exploring all the possible avenues of producing. At this point there have not been many opportunities for her to dive into, but expect when those opportunities come knocking she will give it her best shot — which is sure to be as successful as the rest of her acting career.
4. One of her acting roles almost cost a major network more than $1 million in fines.
The scene was in the police drama NYPD Blue in the episode "Nude Awakening." During the episode, her butt was seen naked as she was getting ready to take a shower. The FCC ruled that the scene violated decency laws for primetime television, and slapped a $27,500 fine on each of the 52 ABC stations that aired the episode. ABC challenged the ruling, and a court ruled that the FCC guidelines that were supposedly violated were vague, and the decision was overturned.
5. Her parentage screams for an academic career.
Charlotte was the daughter of two Ivy League graduates — one from Princeton, the other from Harvard. But early in her childhood she started to have an avid interest in acting, and instead of being involved in education she followed her youthful dream.
6. She didn't graduate from college.
OK, she didn't even go to college — or apply. After graduating from New Trier High in Winnetka, Illinois she bolted to go to Hollywood and pursue a career in acting. To say her parents were disappointed is an understatement.
7. She is a vocal animal activist.
PETA is one of the most well-known and vocal animal activist groups around. Back in 2002, she decided to support their anti-fur campaign with a risqué campaign where she appeared in ads captioned "I'd Rather Show My Buns Than Wear Fur" — naked. This was the second time her pair of buns got more than a little public attention.
8. The name of her son is both unique and creative.
Maxwell Ross Goldman, her only son, was named by combining the maiden name of her mother (Maxwell) and her own maiden name (Ross). The good thing about this is that some celebrities go weird with names, but this one makes sense even if anti-feminist critics have a problem with it.
9. She used a TV show to earn a Gold record.
Singing in the TV show "The Heights" one of her selections was "How Do You Talk to an Angel." The album soundtrack reached #1 on the Billboard charts in 1992.
10. She knows Tae-Bo.
Appearing with Billy Blanks on those TV Tae Bo infomercials was not just all glitz and glamor. She is actually a licensed Tae-Bo instructor, and has demonstrated that physicality by actually climbing Mt. Kilimanjaro.
Tell us what's wrong with this post? How could we improve it? :)
Let us improve this post!