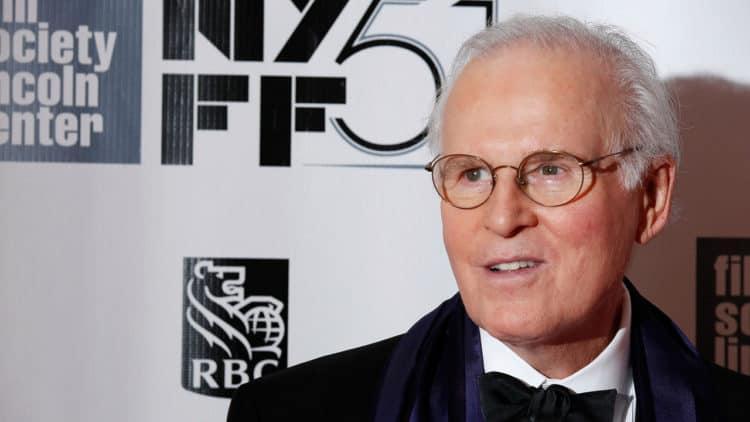 Charles Grodin was one of the most gifted actors of his generation. As a performer, he exuded clever charm and a restrained delirium that few could match but that many benefitted from. Grodin's tremendous career spanned over 60 years in entertainment. In addition to acting in film and television, he had a renowned stage career that included several stints on Broadway, serving as director, producer, and performer. He was also a recognized playwright and a bestselling author. But acting is his legacy and is where his abilities were both rare and underappreciated. There is no question that Grodin had leading man talent, however, his true talent was enhancing the performances of those around him. Sadly, Charles Grodin passed away on May 18 of cancer. He was 86 years old.
Born in Pittsburgh in 1935, Grodin first appeared on television in the late 50s, made his Broadway stage debut in the early 60s and received a Best Actor Golden Globe nomination for the film "The Heartbreak Kid" in 1972. He is perhaps best known for playing the father in the first two installments of the family friendly "Beethoven" franchise. Grodin was wonderful in those films but was never truly celebrated as his brilliance warranted. He never got the juicy lead roles that cemented Nicholson and Hackman. His cerebral humor did not hit the audience's funny bone like the manic stylings of Robin Williams or the farcical tones of Mel Brooks. Yet Charles Grodin was every bit the skilled thespian and comedic genius of his esteemed contemporaries. He was continuously overshadowed but never outperformed. Perhaps the best example of this occurs in a 1988 classic opposite Robert DeNiro.
"Midnight Run" is a genuine masterpiece and like Charles Grodin, is genuinely underrated. The comedy/thriller stars DeNiro as a bounty hunter hired to find a mob accountant played by Grodin. As a 1980's comedy duo, there are not many that can compete with DeNiro and Grodin in this film. It holds a Rotten Tomatoes score of 94% while Robert DeNiro has stated that "Midnight Run" is his favorite of all his movies. The film was not terribly well received upon release but has gained steady fanfare in the years since. In a 2012 interview, DeNiro attributed much of the film's eventual recognition to Grodin, stating, "The way Chuck Grodin is, it worked. His character was irritating and Chuck knew how to do that, to work that. I felt like that was a good way to go".
The Versatile Grodin was an extremely accommodating actor. He routinely made his costars look so good that it was easy to overlook how consistently great he was. "Midnight Run" is a prime example of one of his underrated performances, but he has more than a few. Here are just a few forgotten gems from the late great Charles Grodin.
Seems Like Old Times (1980)
As the Los Angeles district attorney, Grodin is thrust into a precarious position when his wife's ex-husband becomes a wanted bank robber. Written by Neil Simon, the film is equal parts romcom and screwball comedy starring Chevy Chase and Goldie Hawn. Grodin beautifully provides sanity in the absurdity and allows the comical talents of his costars flourish.
The Lonely Guy (1984)
This offbeat comedy features Steve Martin as Larry, a guy learning how to cope after being dumped by his girlfriend. Grodin plays Warren, an experienced "lonely guy" and a new friend to Martin. The audience thinks Larry is depressed…until they are introduced to Warren. Grodin's character gives hopeless a new low yet remains endearing and likeable.
Ishtar (1987)
Starring Warren Beatty and Dustin Hoffman, "Ishtar" is consistently referred to as an underachieving film. But it has a lot of funny moments too. As CIA agent Jim Harrison, Grodin manipulates two hapless musicians in Morocco (Beatty, Hoffman). This movie often loses direction but Grodin never does. His satirical CIA agent provides the straight-line comedy a movie like this needs.
Taking Care of Business (1990)
In a case of mistaken identity, Grodin's corporate executive is confused with an escaped convict played by Jim Belushi. This film was not a huge hit at the box office, but it was entertaining. And it was funny. And Grodin is particularly hilarious as he encounters one calamity after another.
Dave (1993)
Ivan Reitman directed this Oscar nominated film about an American presidential impersonator who must take over permanently when the real president falls into a coma. Kevin Kline plays dual roles as the president and the impersonator. Grodin plays Kline's friend and is the only one who knows the true state of the union. It is not a big role from Grodin, but it greatly uplifts Kline's performance, one of the best of his career.
My Summer Story (1994)
This film, also known as "It Runs in the Family", is the sequel to the 1983 classic "A Christmas Story". Grodin plays the father. By most accounts, the sequel falls short of the origin film. But it does contain some hilarious moments and most of those feature Grodin. His raucous and uproarious patriarch is also a tender and doting dad.
Clifford (1994)
This distinctive dark comedy features Martin Short as Clifford, a precocious and devious 10 year-old boy. Grodin plays Clifford's uncle, a successful architect who gets deceived into babysitting his mischievous nephew for a week. This movie was loathed by critics but has amassed a robust cult following since its release. Reminiscent of his chemistry with DeNiro, the interplay between Short and Grodin provides some of the most unique comedy of the 1990s. Grodin masterfully provides Short the timing and space to deliver an excellent performance in eccentricity.
Charles Grodin should have been a bigger star than he was. However, his subdued magnetism lent itself to being the perfect complement. He was also never afraid to make his costars better. Simply put, every movie Charles Grodin ever made was made better because he was in it.