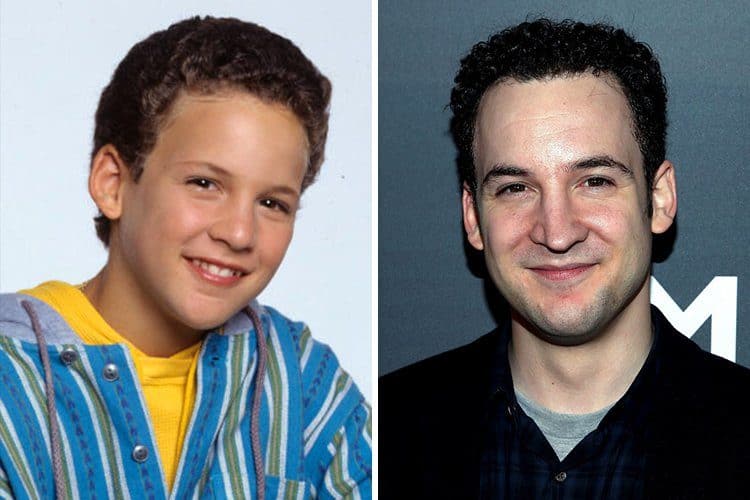 Anyone who ever turned on a TV in the 1990s is likely to be familiar with the name Ben Savage, the child actor who ruled the airwaves in his role of teenager Cory Matthews on the hit TV sitcom Boy Meets World from 1993 until 2000. 19 years after the show ended, Savage is still pulling in the gigs, having made the transition from child star to adult actor with none of the usual tragedies and tribulations we're used to seeing. To find out more about the talented actor, keep reading.
1. His brother starred in The Wonder Years
Ben, who was born in Chicago, Illinois, isn't the only child of Joanne and Lewis Savage to make a name for himself in showbiz. His brother is the actor/ director Fred Savage, a name you may be familiar with if you remember the late 80s/ early 90s coming of age comedy-drama, The Wonder Years. Fred's portrayal of the character of Kevin Arnold won him two Golden Globe nominations and two Emmy nominations for Outstanding Lead Actor in a Comedy Series (the youngest ever actor to be nominated). After The Wonder Years wrapped in 1993, Fred returned to high school and later studied at Stanford. After completing his education, he made his return to acting in the NBC sitcom, Working, and has since built a successful career as an actor, TV host, director, and producer.
2. His sister wrote the soundtrack to Daddy Day Camp
While Ben and Fred may be the two best-known names in the Savage clan, Ben's older sister Kala has also worked extensively in the entertainment industry. In addition to appearing in films such as Little Monsters (1989), Dead Write (2007), La Cucina (2007) and TV shows such as Undressed (1999), Santa Barbara (1989), and 8 Simple Rules (2003-2004), Kala can claim songwriting credits for the song "Hey Juanita" from the 2007 feature film Daddy Day Camp.
3. He made his film debut at 9
While it's coincidence enough that each of the Savage children pursued a career in entertainment, it's even more of a coincidence that all three appeared in the same film together as children. Both Kala and Ben got their first taste of big-screen success starring alongside their brother, Fred (who at that point was already an established actor) in the 1989 film Little Monsters, a black comedy starring Fred as the lead character of 11-year-old Brian Stevenson, and Howie Mandel as Maurice, a monster who Brian makes friends with.
4. He's best known for Boy Meets World
Ben's first major speaking role on TV was as the character of Matthew on the comedy series Dear John (1988). While the role bought a lot of critical acclaim to Ben's door, it was the character of Cory Matthews on the hit TV sitcom Boy Meets World that really made his name. Ben played the role from 1993 until 2000, winning numerous awards nods in the process (including nominations for Best Youth Actor Leading Role in a Television Series and Best Performance in a TV Comedy: Leading Young Actor at the Young Artists Awards, and an award for Favorite Television Friends at the Nickelodeon Kids' Choice Awards in 2000).
5. He made a guest appearance on The Wonder Years
Given that both Savage brothers were involved in 2 of the biggest TV shows of the 1990s, it couldn't have been too surprising when TV bosses decided to capitalize on the crossover appeal of the 2 series by having each brother make a brief appearance on the other's show. Ben made his appearance on The Wonder Years in the season three episode The St. Valentine's Day Massacre, while Fred debuted on Boy Meets World in the 1998 episode "Everybody Loves Stuart".
6. He interned for US Senator Arlen Specter
Like his brother Fred, Ben studied at Stanford University, although unlike his brother (who chose to major in English), Ben decided to major in Political Science. As part of his studies, he spent a portion of 2003 interning for US Senator Arlen Specter, before graduating the following year.
7. He returned to the character of Cory Matthews in 2012
In 2012, Ben surprised fans by announcing he would be reprising the role of Cory Matthews, 14 years after Boy Meets World aired for the last time. 2 years later, Girl Meets World premiered on the Disney Channel, featuring Ben and his Boy Meets World love interest Topanga (Danielle Fishel) as a married couple with two young children. As well as his on-screen duties, Ben took an active role behind the camera, directing several episodes of the hit show before it finally drew to a close in 2017.
8. He volunteers for the Elizabeth Glaser Pediatric AIDS Foundation
Over the years, Ben has used his celebrity status for good, using it as a platform to draw attention to some of the causes closest to his heart. Included in that number is the Elizabeth Glaser Pediatric AIDS Foundation, a nonprofit organization focused on preventing and eliminating HIV and Aids through research, prevention, and treatment programs. Ben is a regular volunteer at the organization and has also donated items to the talent agent Rocky Stone as part of his Toy Mountain Campaign.
9. His first ever job was in a commercial
While Little Monsters may have been Ben's first experience of film acting, his first-ever job was on a TV ad for a drugstore chain. Ben was just 5 years old at the time, but fortunately, the role wasn't too demanding. "All I had to do was sit in a pool and smile," he's since told People.
10. His Net Worth is $12 Million
Wondering what the reward for starting work at the age of 5 is? If Celebrity Net Worth is to be believed, it's several million dollars. Thanks to a career that's spanned 4 decades, Ben is now sitting on a very pretty net worth of $12 million.