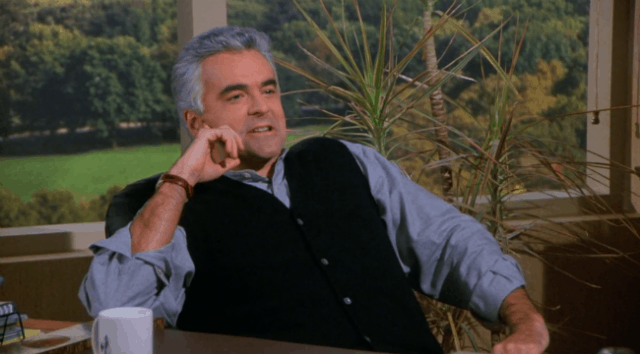 In real life, bosses can be dreadful. They're always telling you what to do, they can make work a miserable experience, and they're often difficult. If you're like most employees, you have a constant internal monologue about how you would handle things differently – and better, of course. At the end of the day, most of us just want to go home and forget about work, especially our interactions with the head honcho.
On television, however, things don't work exactly the same. Bosses on TV sitcoms, for example, can be among the most entertaining characters on the whole show, whether they're good, bad, or (as is usually the case) totally incompetent. The genuineness of TV bosses can be endearing, but more often than not, we find a great deal of comic relief in watching them stumble, bumble, and shout through just about any workplace situation. And really, when we're watching TV, we're less interested in seeing a good boss than we are in seeing a memorable one. Memorable TV bosses keep our attention, keep us talking, and keep us watching.
For a lot of us who have exhausting and strenuous relationships with a real life boss, watching a memorable TV boss is therapeutic. It might even help us get along better with our own boss because we can always tell ourselves that no matter how bad our particular lot is, at least we don't have to work with the incompetent fool on our favorite television show. If this sounds like you, then you'll love this list. Here are ten of the most memorable bosses in TV sitcom history.
10. J. Peterman
Fans of the 1990s blockbuster sitcom Seinfeld will remember John O'Hurley's portrayal of the memorable clothier who traveled the world to find exotic fashions. He was Elaine Benes's boss on the show, and he is memorable because of his amusing manner of speaking and his strongly held opinions. If you watched the show, you surely remember him for firing Elaine once for hating The English Patient, and then again because he suspected she had a drug problem. (She didn't – she ate a poppy seed muffin before taking a drug test.) Perhaps most impressive about the fictional J. Peterman is that he helped the real J. Peterman restart the clothing company after it went bankrupt.
9. Michael Bluth
Arrested Development has done much better as a binge-watch show on Netflix than it ever did when it was on television, and that's largely thanks to Jason Bateman's straight as an arrow portrayal of Michael Bluth. He becomes the CEO of the Bluth Company after his father is put in jail, and to say he's in a difficult position is an understatement. He continually has to deal with the repercussions of his father's poor and unscrupulous business decisions, but he mostly contends with the unrealistic demands of his family, who are also involved in the family business. Plus, it's all snarkily narrated by Ron Howard, which is just the cherry on top.
8. Dr. Bob Kelso
What makes this Scrubs boss so memorable is that as the series progressed, audiences actually got to see him evolve as a character and become a more endearing figure – much in the same way that we wish some real life bosses would! He goes from being the robotic, emotionless chief of medicine at Sacred Heart Hospital to a genuinely appreciated figure. When he's forced to retire, the other characters on the show miss him, and so do we as the viewing audience.
7. Jack Donaghy
30 Rock head honcho Jack Donaghy, played brilliantly by Alec Baldwin, is the perfect blend of narcissism and wit. He personifies the excess we all assume goes along with a career in television, and while he seems competent enough, his regular bad decisions (with women, with his underlings, and with just about anything) are enough to keep viewers interested. He's memorable for all of these reasons, along with the fact that pretty much any character Baldwin plays is one that's going to stick in your head.
6. Louie De Palma
He may not technically be the boss, but as the head dispatcher for the Sunshine Cab Company on the hit TV show Taxi, Louie De Palma pretty much runs the garage. Played by the always entertaining Danny DeVito, De Palma is crass, brash, and thoroughly entertaining to watch. It doesn't hurt his case that in the show, he's surrounded by well rounded characters portrayed by brilliant actors (Judd Hirsch, Tony Danza, and Andy Kaufman among them), but DeVito makes De Palma a memorable guy in charge.
5. Leslie Knope
The earnestness of Parks and Recreation's Leslie Knope, played flawlessly by Amy Poehler, is what makes her such a memorable TV boss. As the Deputy Director of the Pawnee City Department of Parks and Recreation, Knope's admirable motivation is often at odds with her overwhelming, blinding optimism. We see this unfold on screen through her interactions with others in the department, as well as with her romantic interests, and it's at once highly entertaining and perhaps a bit cringe worthy.
4. Sam Malone
Fans of the 1980s sitcom Cheers will fondly remember Ted Danson's portrayal of bar owner Sam Malone. He was a baseball fanatic (and former player), a total womanizer, and a loyal friend to regulars like Norm, Cliff, and Frasier. His witty one liners, along with the romantic tension between him and first Diane, later Rebecca, made this character one for the ages. When the show finally went off the air in 1993, audiences had spent more than a decade getting to know Malone, and no one was about to forget him.
3. Angela Bower
It was a pretty edgy idea for TV in the 1980s: a working woman hiring a male housekeeper? Somehow, though, it worked, and Who's the Boss? was a hit, thanks in large part to Judith Light's turn as advertising executive Angela Bower. She was firm but kind, and the dynamic she had with housekeeper Tony Micelli (played by Tony Danza) was one that audiences tuned in every week to catch. The light romantic tension through the first seven seasons finally culminated in a real relationship in season eight, but by then, the storyline was winding down. Still, we remember Angela Bower for being one of the first women in charge.
2. Mr. Burns
He owns a nuclear power plant. He's totally evil. He has four fingers. If you're a fan of The Simpsons (and really, who isn't?), you surely know Homer Simpson's memorable boss, Mr. Charles Montgomery Burns. He's a World War II veteran, but all of his life experience hasn't made him a good person. He represents all the villainous things we associate with ridiculously wealthy people: he has no concept of what Homer and the other characters on the show go through on a day to day basis, and when things go his way, we hear him say, "Excellent" in a low, satisfied voice.
1. Michael Scott
Michael Scott from The Office takes being boss from a job to an art. He embraces his position as Regional Manager of Dunder Mifflin and genuinely wants to do a good job (see his "World's Best Boss" mug that graces the show's opening), but his thorough lack of competence just gets in the way. He plays favorites, has odd habits, and doesn't know when to be serious, and we just watch and cringe and laugh – and feel grateful that we don't work for him.