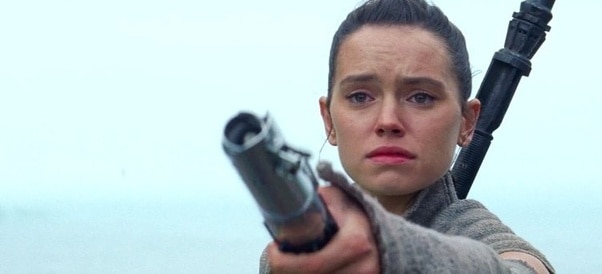 There are usually ways to tell if anyone is sick, no matter how much of a trooper they're being, and the camera can't hide all of them. Daisy Ridley is a good example since, during the last part of The Force Awakens, when she goes to meet Master Jedi Luke Skywalker, she was quite ill that day. It's hard to say if it was the trek up the mountain or something else, but more than once she had to be violently ill off-camera, and by the time this iconic scene came around she was simply miserable and likely was sick once again after the scene was finished. Actors tend to keep moving forward as long as they can since their paycheck and their reputation depends on being able to keep the project rolling along and, much like any average citizen, they want to earn that payday and will go to great lengths to do it sometimes. Granted, not every actor will put in the effort that's required if they're feeling ill. At this time it's obvious that if anyone is sick that production is going to suffer once again since safety protocols are going to have to be followed in order to keep everyone safe. But there are usually plenty of signs that indicate that a person is not feeling well, and looks such as the one that Daisy gave in this scene are among them considering one might expect that she would be a little more in awe of the man she'd come to see. But to be realistic, hearing that she was already retching on her way up the hill it's easy to ascertain that this was the best she could do at one point.
One can listen to the actor's voice, as a cold that has settled in their chest will often affect how they talk, as will an infection in the sinuses. Flu-like symptoms tend to leave people feeling weak, woozy, and possibly unbalanced, though of course, many actors are good enough at this type of thing that it's hard to tell. Some actors might be short of breath, unable to speak more than a few sentences or even words before needing to rest, which can indicate a cold or serious respiratory problem that colds can aggravate in a big way. Asthma is a very serious condition that, if not treated, can affect an actor and their performance, and many other illnesses can have a wide range of effects on an actor and how they practice their craft. From time to time when they're sick on a set an actor might need added makeup, or to be placed primarily in a shadowy location, or given leave to sit down and remain in partial view only. There are many tricks that Hollywood experts know about when it comes to hiding the fact that actors aren't feeling well, at least from the camera. But those that know their favorite actors will likely realize that something is wrong and that the individual is off in some way.
Actors get sick just like anyone else, as airborne bacteria and viruses can affect them just as easily no matter how healthy or secure they are in their own million-dollar homes or with their masks that cost more than the average citizen's. But the point is that they work in an industry where sick days are entirely possible to take, but end up being quite costly the longer they're out, and can even get them booted from a movie or a show if the condition persists for too long. As of a few months ago, COVID-19 became a huge reason for an increase in safety protocols that will keep actors from even being able to work if they're found to be sick in any way. How those protocols are going to work is a good question now that it sounds that many studios are hoping to be back in business eventually. But whether things will ever go back to the way we remember is hard to say since with the pandemic it's far more likely that we'll see a definite change in how studios handle sick actors and how they allow them back on set once they're feeling better. It's likely that even if things do calm down within the next several months to a year that the pandemic will have left its mark on the world in every way possible and things will never go back to the way they were before. At one time an actor could stay on set if they were sick provided they were able to remain on their feet and were reasonably certain that they could go on. Now it feels that production might stop if the lead actors are found to be ill in any way, while extras might simply be asked to not report in.