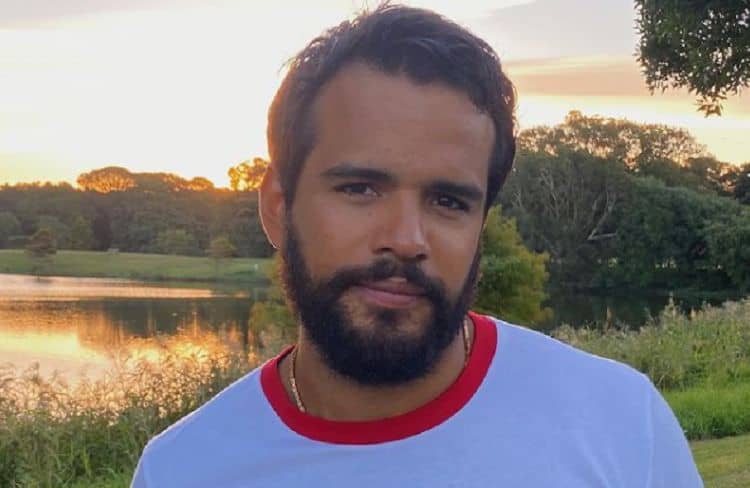 In what felt like the blink of an eye, Jacob Sipio went from doing mostly TV work to one of the hottest up-and-coming movie stars in Hollywood. After starting his career in the UK, Jacob crossed over into the American entertainment industry when he was cast in the 2020 movie Bad Boys for Life. Since then, he's done a great job of keeping the momentum going and he has some huge movie projects in the works. However, that doesn't mean that he's said goodbye to the small screen completely. Jacob also has a role in an upcoming Netflix series called Pieces of Her. With the way things are going for him, people should start getting used to seeing Jacob on their screens. Keep reading to learn 10 things you didn't know about Jacob Sipio.
1. He Comes From A Diverse Background
Jacob was born and raised in England, but his roots extend far beyond the United Kingdom. His mother is British while his father is Guyanese. Jacob is very proud of the cultures that have combined to make him the person and actor he is today. As far as we know, he is still based in England.
2. He's A Screenwriter
Acting is Jacob's first love and it has been his top priority for many years. However, he has also explored other areas of the entertainment industry. Jacob made his screenwriting debut in 2016 with a short film called Cowboys & Angels. He has since written two other short films.
3. He Started Acting When He Was A Baby
Jacob Sipio has been acting for almost as long as he's been alive. He was less than a year old when he made his first on-screen appearance in 1994. That said, we weren't able to find any information on what inspired Jacob's parents to get him into acting in the first place.
4. He Enjoys Taking Pictures
Taking pictures is one of the best ways to preserve memories, and it's something that Jacob really enjoys doing. He loves snapping photos when he's out on his adventures. Despite his love for photography, however, it doesn't appear that he has an interest in doing it as anything more than a hobby.
5. He Was A Fan Of The Bad Boys Franchise Before Joining It
Being cast in Bad Boys For Life wasn't just a great moment for Jacob on a professional level, it was also a big personal moment. In an interview with Comicbook Movie, Jacob said, " I was a huge fan of the films. I mean, I think I was like 1 or I don't even know if I was born when the first one came out, but I've got an older brother who had that on VHS and it was just on repeat at our house. So, I kind of grew up with the first one and the second one, I was old enough to experience it for what it was, which was kind of this incredible, action-packed, peak Michael Bay film, which was just so much fun to watch, the ultimate popcorn flick."
6. He's Open To Playing A Variety of Characters
Jacob has no intention of taking the safe route and playing the same kinds of characters throughout his career. He told Geeks of Color, "I'm not taking anything off the table. For me, it has to start with character. It has to be an interesting character I want to explore, but that could be in any universe on any planet. I could be wearing cowboy boots and riding the horse or I could be shooting a laser gun, it doesn't matter to me. I just want to work with great filmmakers and make my mark while I'm here man because I love movies".
7. He Loves Spending Time By The Water
Jacob's schedule is probably pretty hectic these days, but no matter how much he loves his job he needs a break just like everyone else. When he does get some free time, Jacob enjoys spending it by the ocean. When the weather is nice, you can usually catch him outside soaking up some sun.
8. He's A Voice Actor
Jacob's live-action work is what has gotten him the most attention, but some don't know that he is also a very good voice actor. He has worked on some noteworthy projects over the years including the UK version of Bob the Builder. It's unclear if he plans to do more voice work in the future.
9. He's Very Private
If there's one actor you probably won't see spilling all of his business in the streets, it's Jacob Sipio. So far, he has proven to be a very private person and he hasn't shared any significant details of his personal life. While this is a bummer for people who want to know more about him, it's easy to see why he's decided to keep things to himself.
10. He Would Love to Do A Superhero Movie
Superhero movies are among the biggest moneymakers in Hollywood and Jacob would love to be a part of that experience. While talking to Comicbook Movie, Jacob said, "I think superhero movies are true, amazing feats of entertainment. Pure popcorn cinema. So, to be involved with a Marvel or a DC, of course I would have to be directed through it, but, you know, I'd love to read some scripts for it. Yeah, I would love to be involved with a superhero franchise."the ocean
Tell us what's wrong with this post? How could we improve it? :)
Let us improve this post!