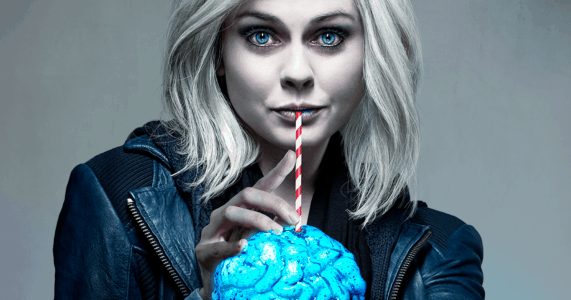 Producer, creator and writer Rob Thomas shared some hints about what's coming up in season 4 of iZOMBiE. In addition to iZOMBiE, fans may recognize Mr Thomas as the creator of Veronica Mars and a developer of the 90210 reboot. Mr Thomas is known for a unique vision that combines drama, comedy — and sometimes horror — on quirky shows with young(ish) casts. Mr Thomas talked with TVLine.
Mr Thomas said that in iZOMBiE season 4 his writers room will turn the show's world upside down. "Zombie-ism is out in the open, so it's going to be the top news story in the world. Seattle just became, effectively, a nuclear power. In fact, each of the 10,000 zombies now living in Seattle is its own sort of nuclear threat, if he or she wanders out of the city and scratches someone. I'm really interested in playing the dynamic of humans and zombies trying to live side-by-side. It's going to create all sorts of issues this coming season."
The show began with former medical resident, now zombie, turned medical examiner, Olivia, and Chief Coroner Ravi working along with Detective Clive to solve homicides. Olivia found that as long as she ate some human brains from time to time, her human personality remained in control. She could choose when and for how long to go full on zombie. Hence the job working for Ravi — plenty of deceased brains in the Coroner's lab. Olivia also found that she gained access to some of the deceased's personality traits and memories while 'digesting' their brains. Hence, Olivia would ride along with Detective Clive to solve the murder of the homicide victim whose brain she ate.
Along the way from the beginning to the end of season 3, we met black marketer and zombie Blaine. A zombie mutual protection organization called Fillmore Graves formed. Olivia and her ex-fiancé (still human) Major got back together and found out that human-zombie relationships are hard. Major became a zombie and Ravi cured him.
In season 4, Mr Thomas says, "Liv and Clive are still going to be solving murders, but now they'll be solving cases of murdered humans. Fillmore Graves will have their own detectives solving cases of murdered zombies. All of the detectives in the Seattle homicide division will have their own zombies helping them solve murder cases because they all understand the benefits of being able to use the memories of murder victims.
"It's all going to feel very different. It's going to feel a lot like West Berlin – God, we've used a lot of analogies – [and] like every day, you're in the middle of the Cuban missile crisis. There's going to be politicians across the globe wanting to nuke Seattle. Essentially, Seattle is holding a half million humans hostage. If you want to kill the 10,000 zombies in Seattle, you have to kill half a million innocent humans, too.
Liv and Major's respective roles will change as she makes a name for herself. Mr Thomas tells us this will change their relationship with each other. "There's going to be a political divide between the two of them going into Season 4. We keep using these analogies in which this new version of Seattle is like Israel, the humans are Palestinians, and that Major is lining up sort of in the [Israeli Prime Minister Benjamin] Netanyahu camp." So, in the long tradition of science-fiction, iZOMBiE will attempt to over some insight into controversial issues of the day. Mr Thomas is going to do this in a very personal way because "Liv can't quite deal with it." Taking two characters who have so much shared history, who like each other and care for each other, Mr Thomas puts them on sides where they don't quite see eye to eye. This sounds like he wants to really examine the issue. He may not be preachy about it. It sounds like Mr Thomas is trying to take a nuanced approach to the allegory, not a simple as 'all good' vs 'all evil.'
Regarding Blaine's role in the new zombie aware society, Mr Thomas also shared, "We keep calling [him] Rick from Casablanca. He's the man who can get things. He's going to profit from this new world. He is going to run the black market. Blaine is going to open a new restaurant. He's going to be doing very well. I believe the name of the restaurant is going to be Romero's." No doubt producers named Blaine's new restaurant after 1970s horror film director George Romero.
The CW renewed iZOMBiE for another season and it returns next year. TVoverMind will continue to provide coverage, so check back regularly.