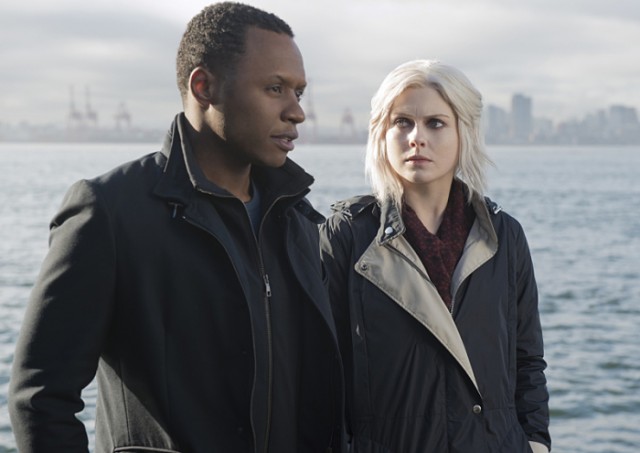 iZombie has the magical ability of being able to pack so much into one hour and almost never have the episode feel disjointed. Week after week, throughout Season 2, I've been continually impressed how impeccably paced and plotted the CW series is; it's a show that tells a lot of different stories but gives them all room to breathe throughout the season, while also ensuring that insightful and entertaining character moments aren't lost in the shuffle. "Reflections of the Way Liv Used to Be" is another excellent example of how iZombie has been able to balance exciting plots and compelling character arcs throughout its second season, and it also provides us with one hell of a cliffhanger as we head into next week's two-hour finale.
For some reason, I never expected that Major would get arrested; I always thought his friends would discover the truth about what he was doing as the Chaos Killer before Clive or Bozzio ever did. Turns out that I was half right, as Major fills Ravi in on the details near the beginning of tonight's episode, but by the end of the hour, he's in handcuffs, as Bozzio arrests him before he can enact his and Ravi's plan against Vaughn. It's not a totally shocking twist, and yet it still surprised me for how ballsy it is. iZombie is throwing a zombie version of Major (who will most certainly get hungry sooner rather than later) into a prison full of unsuspecting victims, making Liv learn what her ex has been up to in a very public way and possibly forcing Major to become an actual killer unless he can find a way out jail.
That's why the ending of "Reflections of the Way Liv Used to Be" works so incredibly well. It's not only a fantastic closing scene to cap off another great episode, but it provides iZombie with so many questions and options moving forward. How will Major's innocence be proven? How will Liv and Ravi get him out of jail? Will Clive finally find out the truth about zombies? One story development involving just one character will impact so many of iZombie's other major players in what are sure to be some pretty big ways, and that proves that, despite how disparate some of Season 2's storylines may have felt originally, they are all colliding together in one crazy and wonderful crescendo.
But it's not just the serialized story arcs that make tonight's iZombie one of the best episodes of the season; it's also the smaller, individual character moments that the show sprinkles throughout the hour. In particular, Clive and Liv's moments during "Reflections of the Way Liv Used to Be" are infused with even more emotion than usual; Clive shares his experiences of working on Vice with Liv in an effort to lessen her worries about Drake, and he also wonders if he compliments her hard work enough as he considers Bozzio's offer to potentially join the FBI but still searches for a reason to stay.
Furthermore, there's also Major's conversation with Ravi about why he would want to take the cure. As Major points out, even if it did prevent him from dying, the cure could potentially erase all of his memories. He wouldn't know who Liv, Ravi, or Peyton were anymore, and if he couldn't recognize the people that he loves, would that truly be living? That small scene the two of them share serves as a nice reminder that, despite all the craziness that surrounds them, these people are a real, grounded group of friends, a family of sorts. It also reinforces why Major has kept his secret hidden for so long throughout this second season: he just wanted to keep Liv safe and knew that, if she found out, her passion for solving and stopping crimes could very well end up getting her killed.
These authentic emotional moments are what elevate iZombie from a entertaining genre show to one of the very best dramas on TV. The CW series can be wacky and funny (just look at all the moments involving Brody and positive-thinking Major tonight) but also thrilling and moving. To quote the illustrious words of Hannah Montana (never thought I'd write that in my life), iZombie truly is the best of both worlds, and that's perfectly illustrated throughout "Reflections of the Way Liv Used to Be."
Part procedural, part sci-fi drama, part comedy, this funny, heartfelt, dark, reflective, electrifying, and wholly unique series has continually impressed me all season. Let's just hope iZombie can up the ante one more time for next week's finale.
Other thoughts:
I didn't mention it above, but the case of the week in tonight's episode was also really solid, as it not only gave us a chance to see the old version of Liv after she ate Bailey's type-A brain but also brought back Veronica Mars alum Enrico Colantoni as Drake's boss, Lou Benedetto. Having Benedetto in the episode nicely tied the case-of-the-week elements with Liv's worries about Drake and also Clive's decision about leaving the Seattle P.D.
So Vaughn has Rita locked up in Max Rager's basement, and he plans on creating a cure for her only after he launches Super Max. He easily wins the award for Father of the Year, right? Also, who wants to bet that his mistreatment of Rita will come back to (literally) bite him in the finale next week?
The employee from the pet grooming store being the person to cause Major's arrest was such a smart and unexpected move by the iZombie writers. I loved it.
Don-E and Chief are dealing Utopium again while Blaine still has amnesia, and after the way Don-E spoke to Blaine, not to mention the fact that what they're doing makes them all major targets for Stacey Boss, I can't wait to see the former zombie take back control of his criminal business. Also, are Don-E and Chief feeding any of Blaine's old clients? Are we about to have a whole lot of hungry zombies in Seattle next week?
Brody's reaction to Liv was hilarious. Unfortunately for him, she's not the same fun-loving, beer pong-playing girl she was when he met her back in "Zombie Bro."
My two Ravi standout moments of this episode: his Godfather impression and his explanation to Blaine about he ruined Major's life. Both were such terrifically funny scenes.
"Bro, it's me. The only thing I murder is a**."
What did you think of this week's iZombie? Are you excited for next week's two-hour season finale? Comment below and let me know.
[Photo credit: Diyah Pera/The CW]
iZombie Season 2 Episode 17 Review: "Reflections of the Way Liv Used to Be"
Summary
Liv and Clive investigate the murder of a college student, and Major finds himself in major trouble in a terrific iZombie.