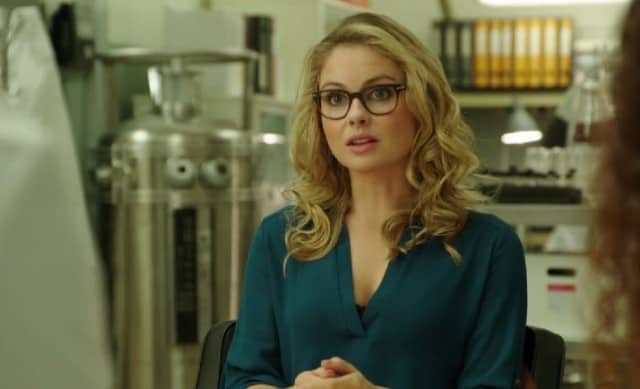 Both Liv and Blaine will be looking like their old selves in this next week's episode of iZombie, as she goes undercover while trying to infiltrate Max Rager, and he does everything he can to try and not stay a zombie. Will either of them be successful? We'll have to wait and see.
In the all-new hour of iZombie, titled "He Blinded Me With Science," Liv tries to utilize her new look to gain information about Vaughn Du Clark and his evil company. However, all she ends up doing in the sneak peek video below is creeping out Ravi, who isn't a fan of the more human-looking Liv.
And speaking of Ravi, he'll be stuck with Blaine for most of the episode, as he considers whether or not he should give the criminal, who just reverted back to his zombie state, the cure he's currently working on. Most of the rats that Ravi has tested have died after taking the cure. Is Blaine willing to take that risk?
iZombie returns next Tuesday, March 22, at 9 p.m. on The CW. Check out the sneak peek video and The CW's official description for "He Blinded Me With Science" below:
Blaine and Liv are back to their old looks when #iZombie returns next Tuesday. Catch up FREE https://t.co/mJTfAEFdlLhttps://t.co/HWBo8czRtQ

– iZombie (@CWiZombie) March 15, 2016
BLAIN DROPS IN ON RAVI AT THE MORGUE – While investigating the murder of a research scientist who was recently demoted at her job, Liv (Rose McIver) and Detective Babineaux (Malcolm Goodwin) are shocked to learn where she had been employed. Meanwhile, Blaine (David Anders) pays Ravi (Rahul Kohli) a visit at the morgue, and Liv discovers something new about Drake (guest star Greg Finley). Lastly, Vaughn du Clark (guest star Steven Weber) confronts Major (Robert Buckley). Dan Etheridge directed the episode written by John Enborn.
Additionally, in the video below, which is similar to the video of the Flash cast from yesterday, the iZombie cast also chooses sides in the battle between Batman and Superman and picks which hero they think will win in Batman v Superman, which hits theaters next Friday, March 25. And while pretty much each member of the cast is able to make a decision and has his or her own reasons for picking Batman or Superman (with Rose McIver's being my favorite), there's one person that just can't choose.
"Odds are it's probably going to be a draw," Robert Buckley says when asked which hero he thinks will win the fight. "Friendship is the real winner. Hashtag that."
[Photo via The CW]