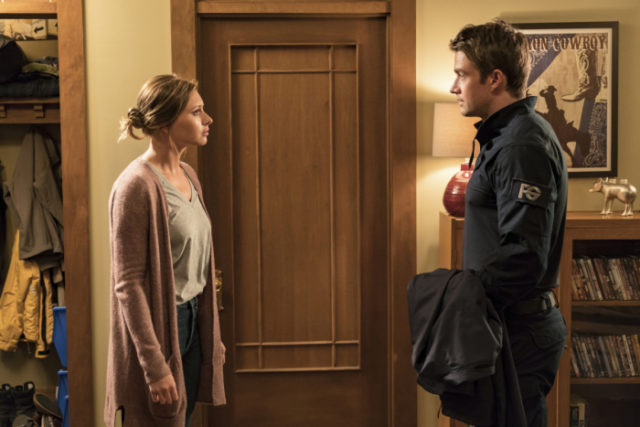 This week's iZombie, "My Really Fair Lady," features standout moment after standout moment, both big and small, some that are important to the plot and some that are flat-out fan service. Similar to this season's "Brainless in Seattle" two-parter, it's a perfect mix of what makes iZombie special, a wonderful combination of humor, heart, and drama that had me laughing, cheering, and biting my fingernails throughout the hour. Is "My Really Fair Lady" Season 4's best episode yet? That's up for debate, but I can say, without a doubt, that it's my favorite installment from this season so far.
And it's my favorite for myriad reasons. If this episode had just given us the humans stuck at the docks storyline, with Liv taking charge and becoming the new leader of Mama Leone's coyote group, I would have been happy. If this episode had just been Ravi eating the brain of a heroin addict to find the victim's missing dog because Peyton needed a win, I would have been happy. If this episode had just been one extended scene of Liv distracting the security guard by pretending to be a New Zealand extra in Lord of the Rings (and using Rose McIver's natural accent finally), I would have been happy. Instead, we got all of these things and a confrontation between Blaine and Angus and Clive attempting to explore the "open" part of his open-relationship with Bozzio and Peyton and Ravi kissing and Liv confronting the fact that, even with this new leadership position, she can't save everyone and the hilarious return of Johnny Frost. If that's not an embarrassment of riches, I don't know what is.
But let's dive a little deeper into some of these storylines, particularly the ones involving Liv and Ravi, who eat two very different brains this week that lead to both of them being heroes in their own ways. As hinted at by the title, Liv gets the more fun brain of the two, consuming a brain-infused cinnamon roll that gives her the personality of musical theatre director and star, Nelly (Crazy Ex-Girlfriend's Rachel Bloom, who shows off her acting and singing chops during the episode's opening five minutes as her character stages a new, zombie-focused version of Rent). Unlike usual episodes of iZombie, Liv doesn't eat Nelly's brain because she's a murder victim; this week, it's purely because she's hungry and needs some form of sustenance, but Nelly's passion for the arts ends up driving Liv's actions with Mama Leone's group, helping her to shape a fool-proof plan that will allow them to rescue the humans at the docks. Liv's newfound confidence and bravado inspire Mama Leone's downtrodden crew members and restore their faith in their mission. With Liv instructing them like a Broadway director, Levon and the rest of the group commit to their roles and believe in the heist they're organizing, despite how dangerous and complicated it appears to be. So many different things can (and, at some points, do) go wrong as they try to pull off their operation, but Nelly's enthusiasm transmitted through Liv, combined with Liv's own desire to do good and her experience with these types of missions in the past, provides them with the courage to persevere, whether that means ad-libbing a line like Suki or knocking out a Fillmore Graves guard like Levon.
However, even though Liv's musical theatre brain leads to plenty of hilarious moments, such as her improvisation with Johnny Frost during the sexual harassment seminar or her adjusting a lamp so she receives the right lighting while Levon is filming her, the humor it provides doesn't take away from the more serious nature of Liv's journey throughout "My Really Fair Lady." Ultimately, during the hour's final moments, Liv makes a couple decisions that she can never come back from. She scratches the humans from the docks, a capital offense that could lead to her execution if Fillmore Graves found out, and then takes the flash drive with 300 possible human candidates from Levon, understanding that, as of right now, she can only choose to save three. By assuming Mama Leone's role as leader of the Railroad, Liv is also taking on the weight of all of her responsibilities. Even though this risky life leads to satisfying moments, such as watching families reunite together, it also comes with a great deal of heartache, as you are forced to decide who comes to New Seattle and lives and who remains outside and most likely dies. It's a much more complicated and taxing role than what Liv has been doing the last few years as a murder-solving zombie, and watching how she handles the burden of being this new leader over the course of the rest of the season is the story I am most excited to see unfold.
In addition to Liv's arc, though, I'm also pumped to see what's in store next for Ravi and Peyton, both individually and together. Ravi's "time of the month" was played for laughs the first time we saw him eat a brain earlier this season, but in "My Really Fair Lady," it's much more serious and selfless, as he consumes a heroin user's brain in order to help Peyton. Rahul Kohli, along with the iZombie make-up and costume teams, do a terrific job at transforming Ravi into a sweat-drenched addict suffering through withdrawal, desperate for his next fix.
While Peyton winds up caring for Ravi, even offering him Fillmore Graves brain tubes so that he can stop feeling the terrible effects he's enduring, Ravi's act is never portrayed as a type of "nice guy" action that should be rewarded; he understands the pain he's about to endure but is willing to go through with it not to try to convince Peyton to give him a second chance but to simply make her life just a little bit better. It's a decision that reflects Ravi's true character, his constant willingness to help others despite what it might cost him, and Peyton recognizes and remembers that this is the "real Ravi" by episode's end, which is why she goes to his and Major's house and kisses him back. This Ravi is the guy she fell for back in the first two seasons of the show, not the scared, impulsive, selfish guy he was during the first half of last season, and even though iZombie as a show seems less interested in romance than it has before, this feels like a natural development for Ravi and Peyton's characters and their relationship at the midway point of this season.
And about halfway through Season 4 is where we are at the end of "My Really Fair Lady," which is why this hour is filled with so many moments that push this season's main stories forward, both on the personal side of things (Ravi and Peyton) and the larger, more political side (Blaine coming face-to-face with Angus and his congregation). While not every storyline has fully crystallized for me yet (I'm still uneasy about Angus's transition to preacher/prophet and the direction the show has taken Clive and Bozzio's romance), iZombie's characters are still the show's greatest strengths, and as long as they remain true to who they are, I'm willing to give whatever journeys they're on this season a couple more episodes to fully find their groove.
Other thoughts:
Clive is an L.A. Confidential fan. Just another reason to love his character.
Also, on a more serious note, what do you make of Bozzio overhearing Clive's conversation with Michelle? Do you think that will lead to her encouraging him to go out and meet people in new, different ways, or will it cause her to reconsider their open-relationship as a whole and possibly break up with him? Given Dale's expression during that scene, I'm leaning towards the latter option.
We learn a little bit more about Levon in this week's episode. He tells Liv that he's a filmmaker and mentions a friend of his that's outside of New Seattle, but Liv cuts him off before he can explain any more about it.
Cocky, funny Blaine is always a treat but I think vulnerable Blaine might be my favorite version of the character. David Anders is absolutely electric during Blaine's confrontation with Angus, especially when he refers to his father as a "child-abusing" SOB before being pulled away by members of Angus's congregation.
I love everything about Johnny Frost and his embarrassing comments about Sharon.
Favorite comic-book title card of the week: "Heist, Heist Baby."
"With you, I'm sure."
"All better?" "Yeah, getting there."
"Are we good or do we need that in a wide?"
"What does Andy Serkis have to do to get an Oscar?"
What did everyone else think about this week's episode of iZombie? Comment below and let me know.
[Photo credit: Daniel Power/The CW]
iZombie Season 4 Episode 6 Review: "My Really Fair Lady"
Summary
Liv tries to rally Mama Leone's team while on the brain of a musical theatre performer in an excellent episode of iZombie.