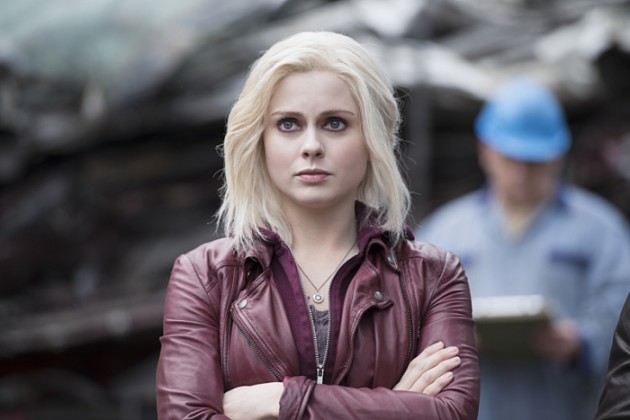 Well that was a boring finale, wasn't it? That's what I've loved about this first season of iZombie: nothing ever happens.
Obviously, I'm joking, because, oh man, what an action-packed episode of television "Blaine's World" was. The show's writers were able to accomplish a lot in just an hour, and somehow, nothing felt rushed or crammed. In fact, it all played out pretty perfectly due to the strong character work that has been done throughout this fantastic first season. Everyone (aside from Peyton, who was MIA in the finale) saw their Season 1 arc come to some type of a conclusion, but none of them was as effective or emotionally affecting as Liv's.
Even though being a zombie has given Liv a new lease on life, a second chance she could have never expected to have, her condition has also caused so many problems throughout iZombie's first season. She does the best she can with what she is, but she's never grown to enjoy being a zombie like Blaine; it's the life she has now, and she's made the most of it, helping to solve crimes as a type of penance almost for the fact that she's forced to eat brains to survive.
But it's not a life that Liv would ever wish on someone else, as we're continuously shown throughout "Blaine's World." That's why Liv works so hard to stop Max Rager, whose CEO doesn't care if he creates more zombies as long as his product sells, and it's also why she is so desperate to go back to her human self that she almost uses Ravi's untested (on humans at least) cure on herself. Liv understands the challenges people face and the compromises they have to make when they become zombies, and she wants to escape them all, all the suffering and the pain, which is what makes the final moments of "Blaine's World" so damn tragic.
Liv can't help save her brother because her blood is tainted and infected, and she can't explain to her mom that it's because she is a zombie. The endless cycle of lies and fake excuses must continue for Liv, because she was both selfish and selfless. Instead of waiting like Ravi says to, she takes the cure with her for her face-off against Blaine, and when she sees what he's done to Major, she stabs Blaine with the cure, knowing that he'll suffer whether he dies or becomes a human–Liv indulges her vengeful side. But Liv also embraces her selfless side when she gives Major the last bit of the cure, allowing for him to live (or die) how he wants; sure, this action comes after Liv selfishly turns Major into a zombie, but it reinforces her character's main traits: kindness and compassion.
In many ways, the final shot of iZombie's first season is a poetic ending to these first 13 episodes and a perfect mirror to where we began in the pilot. The first images we see in iZombie are of Liv, working in the hospital, doing her best to save a stranger's life; she knows exactly what she's doing. But now? Liv's back in the hospital and she's helpless when it comes to saving the life of not a stranger but her brother, who lies on the operating table, bloodied and dying.
The truth is that Liv can't prevent herself from hurting those she loves most; she lies and covers things up and makes choices for them, all out of a sense of protection. But she's not helping her friends or family at all; instead, she's pushing them away and causing them pain, and the only people that Liv can truly provide aid to anymore are the bodies that find their way into the morgue.
Other thoughts:
– Liv is still probably my favorite character on the show, but Major is now a very close second, especially after this episode. His takedown of all the zombies at the Meat Cute was so satisfying to watch for him as a character, and it was also just a straight-up awesome action sequence, made even better because it was set to the sounds of "Der Kommissar."
– Something else that was also great: Major using the grenade on Julien. "Walk away from this." I literally cheered and applauded after Robert Buckley delivered that line.
– Steven Weber is so good as the Max Rager CEO Vaughn. With everyone now knowing about the company's cover-up, thanks to Liv and Clive, I hope Weber has an even bigger role in Season 2.
– Clive being suspicious of Major is definitely not a good thing, but it may end up with him also finding out about zombies next season, which I'm looking forward to seeing happen.
– So Blaine appears to be human now. I wonder what role he'll play in the second season, because there's no way iZombie's not bringing David Anders back.
– One minor thing that would have made this episode just a little bit better (and it's already pretty perfect): Liv having spent more time onscreen with her brother throughout Season 1. If the connection between the two of them had been slightly more developed, the ending would have packed an even greater emotional punch.
– Rose McIver, as always, was excellent in this episode. She didn't overplay the snarkiness after Liv ate Theresa's brains, and she was an absolute powerhouse in the emotional scenes with Ravi, Major, and Liv's mother at the very end.
– "Nice ball sack." – Liv to Ravi
– "Why'd I stop using birth control?"- Major about what Blaine's mom would always say
– This was such a great season of TV. Definitely up there as one of the best first seasons of any show I've ever seen.
– And that's a wrap on iZombie Season 1. Thanks to everyone who has read, shared, and/or commented on these reviews. I greatly appreciate it. This is quickly becoming of my favorite shows to write about (and quite possibly my favorite show on The CW), and I can't wait to dive into Season 2 when it premieres this fall!
What did everyone else think of the season finale of iZombie? Did you love it, or did it leave you wanting more? Comment below and let me know.
[Photo credit: Diyah Pera/The CW]