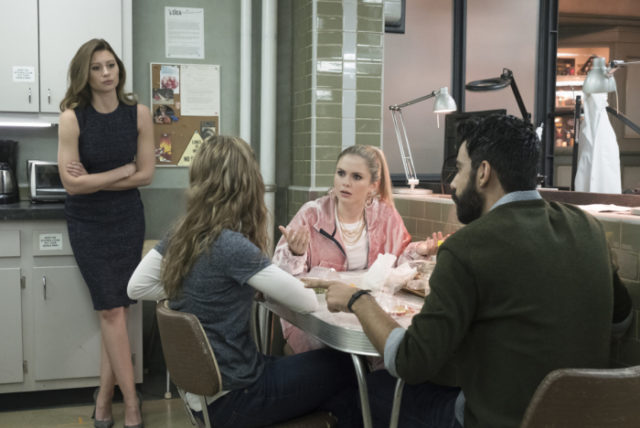 If you had told me at the beginning of iZombie Season 4 that there would be an episode featuring Liv on rapper brain and it would be the most forgettable part of the entire hour, I wouldn't have believed you. However, that turns out to be the case in this week's iZombie, which is hilariously titled "Mac-Liv-Moore." There's so many other entertaining and exciting things happening, from Clive and Ravi's game of D&D in the precinct to Blaine and Don E. murdering Baracus to prove to the dark web that the cure they have works, that Liv dressed in a sparkling pink jumpsuit, spitting rhymes about her work in the morgue or how Major has disappointed her, almost fades into the background.
Like many of Season 4's installments, "Mac-Liv-Moore" is a busy episode of iZombie, and in many ways, it has to be, as major developments signal a change in direction with only four episodes left this season. The two most important of these new storylines have to be Ravi learning about Isobel and Liv's role as the new Mama Leone and Blaine and Don E. auctioning off vials of the cure as part of a real-estate scheme Blaine has cooked up. Similar to how Peyton responded to Liv's illegal work in "Chivalry Is Dead," Ravi isn't angry at his friend but more concerned about what could happen to her. He was standing next to Liv when Mama Leone met her fate at the guillotine, and that image of her zombie skull being crushed has clearly stayed with him. Ravi hates that Liv's risking her life, even if it's for a cause that he believes in (shown by him volunteering to scratch Isobel himself when he discovers that she's sick), but he also respects her and Isobel's decisions enough to not fight against them too much. He understands the value in what they are doing, and even if he doesn't want to admit it, Ravi knows that what they're doing is worth the chances they are taking, just like last season when he went undercover with the zombie-hate group–these are issues that are greater than him and his friends. Like Peyton, Ravi appears to be a new recruit on Liv's team by the end of the episode, as he promises to study Isobel to see if her immunity is the secret to creating a true zombie vaccine.
And let's hope that Ravi has some success with his work with Isobel, because right now, the people who possess the only existing vials of the previous cure are murdering criminals that are selling the vaccine for millions of dollars. iZombie showed that Blaine was the one who had stolen the cure from Ravi back in Season 3 near the start of this season, but since that reveal happened, the series hasn't done too much with it. In many ways, it's been the show's ace-in-the-hole, and I'm much happier to see this plot thread revisited than I was to see other stories from Season 3, such as the criminal activities of Stacey Boss, reappear in recent weeks.
Unlike many of Blaine's past plans, his scheme involving the cure directly affects all of our main characters. By selling the cure, he's robbing Liv, Major, and Bozzio of a chance to regain their humanity (which would be especially helpful for Bozzio given her and Clive's current romantic troubles, which only get more complicated when Clive kisses Michelle in this week's episode). He also stole the cure from Ravi, who created it, and to prove that the cure works, he kills Baracus, Peyton's boss and the mayor, thus making her New Seattle's deputy mayor for the time being. Not since iZombie Season 1, when Blaine was killing the innocent kids that Major was mentoring, have his crimes felt so personal, and the fact that so many of the show's major players have so much invested in what Blaine and Don E. are trying to pull of with this massive sale indicates that we'll have quite the thrilling conclusion to Season 4, although it will be hard to top the two-part finales of the past two seasons.
But before we get to this season's finale, we still have three more episodes to explore this new Blaine and Don E. storyline and, more importantly, dig deeper into the other major conflicts that have been established so far in Season 4. Now that Chase Graves knows about Angus's church, when will the congregation and members of Fillmore Graves finally collide? Or will they even clash at all, given that Chase Graves seems to be slowly but surely being cut out of his own organization? Will Major take a stand against Chase Graves, or will he continue fulfilling orders even if he thinks they're wrong, such as turning Cane into a zombie after he's been beaten to a bloody pulp and is begging for him not to? Will Clive and Bozzio be able to figure out their relationship problems, or are they destined for a break-up now that Michelle appears to be more of a real romantic option for Clive? Will Liv and the remnants of Mama Leone's group avoid being caught by New Seattle authorities? And is Isobel somehow the key to all of this?
I can't wait to see it all unfold, especially with the new wrinkles that "Mac-Liv-Moore" has added to these stories. Let's just hope the remaining episodes of iZombie Season 4 are as strong as this one.
Other thoughts:
Do we think Peyton's role as mayor will stick? If it does, that sets up a really compelling story for her for a potential Season 5, especially since she's a human who would be running what's essentially a zombie city. Something tells me that she wouldn't let Fillmore Graves control New Seattle as much as they do right now.
Everyone who reads my reviews knows how much I LOVE Clive and Bozzio together, but I'd be lying if I said that Clive and Michelle's flirty back-and-forth didn't make me smile. I am SO conflicted, you guys. Help me.
In my review of last week's episode, I complained when Clive didn't get as excited about LARPing as he did about D&D. Thankfully, the writers heard my cries of sadness and give us Clive, Ravi, Jimmy, and Vampire Steve all playing the game together in a couple of hilarious scenes during "Mac-Liv-Moore," although I do feel slightly bad for Major, who is left out of the game.
The highlight of the D&D story, though, is easily Clive doing the voice for Lady Priscilla. Whenever Malcolm Goodwin gets to go big with comedy, he kills it.
Liv's raps are a ton of fun, even the somewhat more serious one that plays at the end of the episode, but perhaps the most interesting part of Rapper Liv is that she confronts Major about his recent behavior and his allegiance to Fillmore Graves. Major pushes back against her before Peyton tells the two of them to stop fighting, saying that they love each other and have been through worse.
Better rap name: "Dirty Rain," "Lil Drizzle," or "The Precipitation Collaboration"? It's got to be the last one for me.
"Maybe you should lean back in the chair and do the Mr. Burns thing with your hands."
"I'm out there catching a murderer." "I catch a murderer every week."
"What is good?" "On my grind, you know. Getting that schmoney."
"Have fun getting jiggy with it."
What did everyone else think about this week's episode of iZombie? Comment below and let me know.
[Photo credit: Katie Yu/The CW]
iZombie Season 4 Episode 9 Review: "Mac-Liv-Moore"
Summary
New Seattle is forced to go on lock-down when a zombie serial killer escapes prison, and Blaine and Don E. start a new business together in a great episode of iZombie.