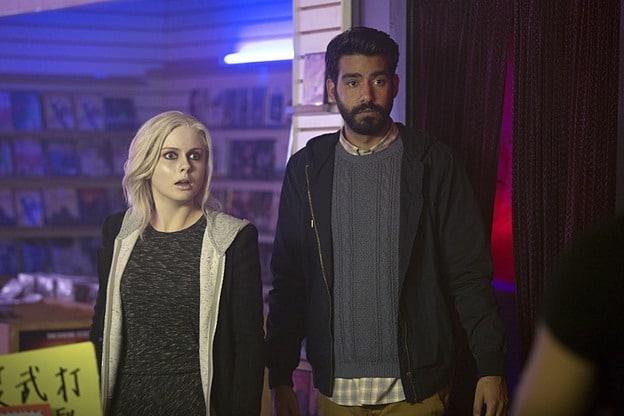 After four episodes, iZombie has found its rhythm as a series, and it's one that works well for the show. Each episode, for right now anyway, follows a pretty standard structure: Liv eats brains of a murder victim, has visions and acquires new skills/personality traits, and then helps Clive solve a crime. It's a supernatural twist on a procedural, but it doesn't get old or tired because of the strength of the show's performances, the wittiness of the dialogue, and just how much plain fun iZombie has with its premise and characters.
While last week's episode of iZombie had Liv confronting her own dark side, this time she's worried that Clive is the one who is hiding his dangerous past, after she has visions that make him appear to be a dirty cop working with the Blue Cobra crime gang. Injecting some more tension into Liv and Clive's relationship was a solid decision by the iZombie writers. With how well the two of them get along and work together, it's easy to forget sometimes that Clive is actually, you know, a real cop, and between last week's episode, which saw him weary to go up against other officers in the department based solely on information from Liv's visions, and last night's episode, iZombie is reminding us the of the real life stakes of Clive's job, even if he is someone who can buy into Liv being a psychic that helps him with cases.
But how much longer can Clive really believe that? As we've been shown throughout the series' first four episodes, this is a guy that is a smart and clever detective, someone who is clearly very good at his job. Can iZombie really expect us to think that Clive won't begin to figure out the truth about Liv sooner rather than later? He's already begun to notice how some things about her behavior don't add up, and I just hope that the show doesn't make sacrifice Clive's in order to serve the plot.
And speaking of said plot, while the case-of-the-week parts of iZombie are definitely fun, especially because they give Rose McIver something new to play every week, I'm already ready for the series to dive fully into this season's overarching story involving Blaine becoming the city's zombie crime lord. We get some more information on exactly what his operations involve this week, as he's the only big seller of brains in the city and is overcharging his fellow zombies (most of whom he has turned) in order to make a profit. However, while he's turning more and more people into zombies (we see that he has an entire freezer full of frozen members of the undead), he's also killing countless innocents to get the brains he needs; the latest victim, shown at the end of last night's episode, is Jerome, whose disappearance has already caused Major to begin questioning things.
With so much potential ahead , it's easy to want iZombie to jump right into the bigger story of the season, especially because it seems like it will involve all of the series' principal characters and have at least one (if not more) of them discovering Liv's secret. For now though, case-of-the-week episodes like "Liv and Let Clive," ones that do a good job of showing us something new about a character, such as Clive's background, and connecting that thematically with what Liv is going through, are strong and satisfying enough for me to continue enjoying the show. Let's just hope they're the appetizer for the meatier main course that is to come in the later part of the iZombie's first season.
Other thoughts:
– Although it was a little bit of stretch, I'm okay with the show having Ravi and Major become roommates. It allows for Major to at least somewhat organically remain in the series, and it also provides Liv and Ravi with a new set to share scenes, some place that isn't the morgue.
– Liv Moore is quickly becoming my favorite character on TV. Her personality, along with the way Rose McIver plays her, is just the best.
– For a second, since there was only about 10 minutes left in the episode, I was worried iZombie was going to give Liv Kung Fu abilities and not let her actually use them, and I'm not going to lie, if that had been the case, it would have really affected the way I scored this episode.
– So Liv has a brother? Was he mentioned before? Whether he was or wasn't, Evan seems like a cool recurring character to have on the show, although he needs to dial back his creepiness a little bit when it comes to Peyton.
– "Liv and Let Clive" is a fantastic episode title. Man, I really, really like everything about this show.
– "Her life is like the whore-y version of the movie Memento."
What did everyone else think about last night's episode of iZombie?
[Photo via The CW]