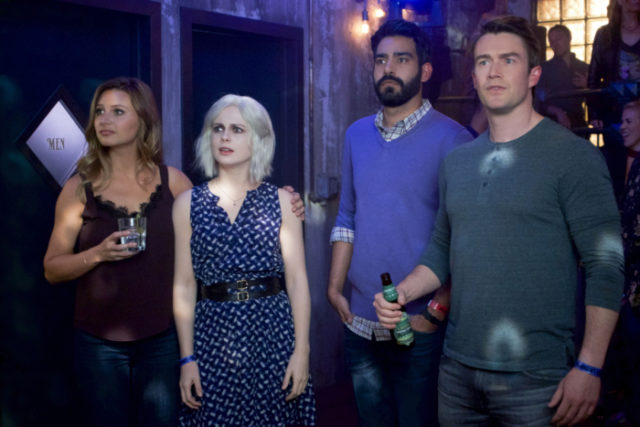 The first half of "Brainless in Seattle" perfectly encapsulates the various different genres that iZombie operates in on a weekly basis. In last week's episode, there was comedy, drama, and even a bit of horror, and while the second half of this two-parter, "Brainless in Seattle, Part 2," doesn't provide the darker, gorier moments that "Part 1" does, it still delivers on that strong balance of humor and heart, resulting in another busy but satisfying episode of iZombie Season 4.
After a quick scene featuring a couple of Fillmore Graves guards roughing up a homeless zombie teen, which sets the stage for Angus's rallying cries against the mercenary group later on in the episode, the hour picks up pretty much right where last week left off: Liv, still feeling the effects of hopeless romantic brain, sits in the car with Clive on a stakeout as the two of them hope that Bruce returns to the incinerator so they can catch him red-handed. Soon after, the pair include Ravi in their plan, as he poses as an Englishman trying to escape Seattle and return home. Their plan ultimately gets Bruce to come out of hiding and meet with Ravi, but before the serial killer can harm everyone's favorite doctor, Clive and the SWAT team jump in and arrest him with Liv pointing to the burn marks on Bruce's hands as clear evidence of how he disposed of his murder victims. The plot wraps up perhaps a little too neatly, but the quick, simple resolution doesn't rob this week's story of its many standout moments, which mostly stem from the rom-com brain Liv remains on and how it continues to impact her interactions with the other characters, particularly Clive.
There are plenty of laughs in Liv and Clive's scenes together in "Brainless in Seattle, Part 2," whether it's him joking about a Colin Firth sighting during their stakeout or Liv setting up a "mug-cute" between Clive and the department's new detective, Michelle. However, both Malcolm Goodwin and Rose McIver have to use their dramatic chops as well during this week's episode, especially when Clive initially gets angry with Liv for prying into his and Bozzio's relationship, telling her it's none of her business no matter what brain she is on, and when Liv finally breaks down and tells him the truth about seeing Bozzio with another guy. After Liv reveals what she saw, Clive opens up to his friend and partner, admitting that he and Dale are in an open relationship, and even though he's not okay with the situation, he's willing to go along with it for now because of how much he loves her. It's a vulnerable moment for Clive, who usually keeps his honest thoughts to himself, concealing them under a hilarious reaction look or a clever one-liner. In this moment, though, he shares his real feelings with Liv because he now understands that all of her ill-advised actions and intrusive comments were coming from a good place, a place that she's also been in before when she and Major first tried dating again back in Season 2. From Clive's words and expressions in this scene, it's clear that this open-relationship arrangement with Bozzio is not going to last forever, and he'll have to be forthcoming with her about his feelings concerning it sooner rather than later. Until he speaks with Dale, though, I hope we get more scenes of Clive confiding in Liv and asking for her advice because, as I mentioned above, she's been in this situation before, and although not every relationship is the same, she can be a sounding board for Clive that no one else can be. Plus, iZombie fans love Liv and Clive's dynamic not just because they banter back and forth as partners but also because they deeply care about each other as friends; if he leans on her during this time of need with Bozzio, that further illustrates the importance of their friendship.
And really, the importance of friendship ends up being the prevailing theme of tonight's iZombie, just like it is in some of the best rom-coms. Ravi and Peyton accompany Liv to another human/zombie night at The Scratching Post, and the three of them run into Major, who was slipped wrestler blue brain by his recruits (allowing Robert Buckley to do his best "Macho Man" Randy Savage impression). At first, Liv leaves her friends behind in pursuit of her new crush, Tim (whose presence this time around is set to Sixpence None the Richer's "Kiss Me"). But after a quick conversation with Major at the bar, during which he admits that he hates how the two of them left things and tells her that he wants to be friends again, she soon realizes that Tim isn't all she's imagined him to be (his being a zombie supremacist and having the stupid last name of "Timmerson" also helps Liv realize this). Liv ditches her "dream guy" and reunites with her friends for a zombie/human dance-off; it's another excellent instance of Liv embracing her true self despite the influence of the brain, and it's also a sequence that's as fun as it sounds, especially because it involves Ravi doing his best "Thriller" dance. Just as important as the action Liv takes, though, are the words she says in voice-over, dismissing any potential romances and calling her friends her "soul mates," a sweet moment that feels earned, even if Liv's reconciliation with Major (like their friends-with-benefits hookup) is a bit rushed, because of how powerful the history between all of these characters is.
In three seasons-plus, iZombie has demonstrated that each of these individuals has strengths and flaws but, ultimately, they're all at their best when they're united as a team. And frankly, iZombie is at its best when it just lets these characters have fun together and be by each other's sides without any unnecessary romantic drama. Liv's final lines here seem like a declaration from both her and the show that relationship melodrama will be a thing of the past and that more entertaining adventures with these four friends are what lie ahead. And even if that's not the case, even if there are some bumps in the road (which I expect there will be), that will be fine, too, because those conflicts will be a result of larger, more significant problems, such as Chase Graves having captured Mama Leone. How will that impact Liv and Major's friendship in upcoming episodes? I'm guessing it won't be good, but for one night at least, they just get to be dancing goofballs with Ravi and Peyton, jumping around without a care in the world. Life's never usually that simple on iZombie, and I expect things to get much more complicated very soon. But I'm also glad "Brainless in Seattle, Part 2" embraces its rom-com roots and gives us a happy ending to its story, even if it's one that we know won't last forever.
Other thoughts:
One of the best moments from tonight's episode that I forgot to mention above is Liv and Mama Leone's conversation, which not only fills us in on Mama Leone's backstory but also does a really fantastic job at illustrating how similar she and Liv are. They were both motivated to be heroes because they felt the need for something more in their lives–they needed to be of use in some greater way. It also turns out that Blaine's villainous actions served as the catalyst for both of them, as Mama Leone first turned against him once she realized he was killing kids and was slightly defeated by him after he had her husband killed. I am excited to learn more about Mama Leone in the coming weeks, as I assume Chase Graves will take his time interrogating her now that she's finally in his clutches.
Blaine, of course, is the person who tracks down Mama Leone, but his best moments of the episode come courtesy of the loose-lips brain he's eaten, which gets him to admit to Don E. that he sleeps naked in bed at night and that he's never truly been happy, not even as a child. It also leads to David Anders hilariously delivering these two lines to a customer at Blaine's restaurant: "Well, I am the head of a huge criminal enterprise" and "Now I have to do a terrible thing to a nice old lady."
Angus's congregation is rallying against Fillmore Graves and all of its soldiers, with Tucker, the zombie that Jordan created two weeks ago, being the newest member of his zombie supremacist church. It appears that, along with the refugee crisis, Angus's church versus Fillmore Graves will be the other major conflict of Season 4. Does that make you excited? Honestly, I'm still very much on the fence about this whole storyline.
I could watch an entire episode of Liv and Ravi going back and forth in their fake British accents. Clive would also be there, commenting on their work, telling Ravi that he chews the scenery too much when he acts.
I also now want to refer to Ravi as "Pickles" in all future iZombie reviews.
I'm not sure I've ever laughed harder at an iZombie episode than when "Truly Madly Deeply" played as Liv finally found the Vanilla Extract.
"You remember that adorable little chocolate store from Chocolat? It's not that."
"Maybe Michelle can help you work through it." "Too soon."
"Tim Timmerson? No thank you."
"And if these are my soulmates, I might just be the luckiest girl in the world."
What did everyone else think about this week's episode of iZombie? Did you enjoy this two-parter as much as I did? Do you want to see more of them from the show in the future? Comment below and let me know.
[Photo credit: Shane Harvey/ The CW]
iZombie Season 4 Episode 4 Review: "Brainless in Seattle, Part 2"
Summary
Liv, Clive, and Ravi work together to track down a serial killer, and Blaine closes in on Mama Leone in another terrific episode of iZombie.