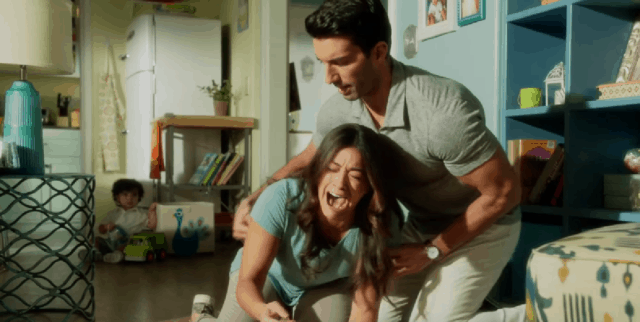 The 2016-2017 year was very busy for television! At times it was tough to keep up with, but we at TVOvermind were able to manage. What's more, we've come together to discuss the best, the worst, and the wacky that happened this year. The biggest challenge for a show is to be able to surprise viewers. Given the intrusiveness of social media, it is incredibly difficult to keep viewers in the dark about twists, and the smart ones can usually see some things coming. So when we see something on our screens that completely blows us away, we give credit where credit is due. Here are our picks for the biggest OMG moments of the year.
Jasef Wisener – Angela Rance's True Identity (The Exorcist)
I'm a huge horror fan, and The Exorcist, while not one of my personal favorites, is one of the most important horror movies in film history. Everything about the film has helped to define horror for the past 40 years, and any fan of the genre would be able to talk in-depth about its story and characters. When the TV series was announced, it was under the assumption that it would be a modern re-imagining of the story. The first episode, however, hinted that there was a stronger connection to the franchise than we thought. Mid-way through the season, the huge reveal of Angela Rance's true identity took place, and it completely changed the game. All of a sudden, The Exorcist went from a great standalone series to the exact franchise continuation that horror aficionados have longed for, and it stands out as one of the single best moments of the season.
Araceli Aviles – Michael's Death (Jane the Virgin)/Bonnie kills Perry (Big Little Lies)
Not to sound overconfident, but by now I've become pretty good at sussing out what twists television writers lay out. If given enough hints, you can at least make a fair guess. There were very few twists this year that I didn't see coming, or at least consider as a possibility. But let me put out two major factors that most people don't always consider for this type of category. It's not necessarily the reveal itself, or more specifically, the 'what' which is the most shocking when it comes to twist. 'Who' and 'when' play a huge role as well. Given the Jane the Virgin's Season 2 finale, I guessed that somewhere down the line Michael wasn't going to survive; I just didn't see it coming when it did. The same goes for that killer finale Big Little Lies doled out. Without looking at spoiler from the book, it was plain as day that Perry had to go. Once Celeste stopped living in denial about the extent of her husband's abuse, especially when she realized she was not her husband's only victim, it was clear someone was going to send Perry head first down those stairs. I just never dreamed in a million years that it would be the on-looker who was in no way involved in the situation other than to defend another woman who needed it.
Nick Hogan – Bad Place Twist (The Good Place)
There are very few moments on TV nowadays that genuinely shock me, so when The Good Place revealed that Eleanor, Jason, Tahani, and Chidi were ALL in "The Bad Place" and subject to a psychological experiment by Michael, my jaw nearly hit the floor. To spend the entire season watching a show under one premise, and then having that ripped from under you in the final episode was absolutely stunning. A few twists caught me by surprise this year, but none so sweeping and game-changing as this one.
Blaise Hopkins – The Reveal of Zombies (iZombie)
iZombie has been a criminally underrated show on the CW, and honestly is a consistently top 2 DCTV show on the network. Season two came to a close with some crazy moments that were immediately addressed in season 3. Between Clive last season and now the rest of the world this season, more and more people are learning that Zombies do exist. iZombie has been continuously surprising throughout it's third season in how much is revealed to people. There have been tons of shocks along the way that have made the show super exciting!
*Shout out to Agents of S.H.I.E.L.D. though, which is a very close second for A) Ghost Rider and anything he did, and B) Hydra World in the Framework.
Tiffany Chang – Savitar Barry (The Flash)
I know it's not the real Barry, but it was shocking nonetheless. I had thought it would be Zoom under that armor and I was convinced that it was. Though when the big reveal finally arrived, my eyes were as wide as dinner plates. Also, the whole switcheroo thing Savitar Barry pulled at STAR Labs was pretty OMG as well.
Chris King – The Good Place Is Actually the Bad Place (The Good Place)
Maybe other people saw this twist coming, but I could not believe it when The Good Place was revealed to be The Bad Place in The Good Place's season finale. I've re-watched some Season 1 episodes since, and you can definitely see the clues that the show's writers left for viewers. However, when I first tuned in to watch that finale, I was totally surprised and absolutely delighted. I can't wait to see where the series goes in Season 2.
Do you agree with our shock at this season's best and biggest OMG moments? Hit the comments if you have your own.
Save
Tell us what's wrong with this post? How could we improve it? :)
Let us improve this post!