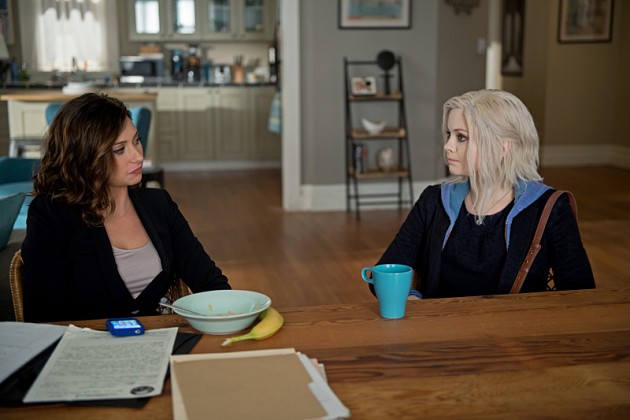 Every week, when I review iZombie, I feel like I'm saying the same things over and over again. That's not a knock on the show; actually, it's more of compliment. iZombie has been so consistent and confident in its characters, pacing, and the stories that it's telling that each episode continues to impress me more and more. This is a young show that knows what it wants to be, and it does it well.
Last night's episode, "Dead Air," was another solid hour. While the case of the week was almost insultingly predictable (I called that the killer was Jane as soon as she came on screen, as I'm sure many other viewers did as well), "Dead Air" was filled with movement for many of the show's relationships and for the central story of the season.
Liv and Lowell continue to be a fun pair to watch. Rose McIver and Bradley James have tremendous onscreen chemistry, and the scenes between the two of them just pop, whether Liv and Lowell are talking, dancing, or sleeping together. However, even though it was dismissed by Lowell as being a side effect of the brains that she ate, it felt right that Liv would question whether their connection was more than something physical. Despite Liv's best efforts to live in the moment and enjoy life (a message that iZombie is starting to get a little repetitive in expressing), it's completely believable that spending time with Major, who still represents the most important part of her old life, would cause her to reflect on their relationship and how different it was than what she and Lowell have.
And although that difference, for romantic purposes, could be a very good thing, Liv's feelings here should also act as a sign that maybe there needs to be more balance between her new life and her old life. In order to be fully happy, perhaps she has to embrace her spontaneous side and her inner control freak; too much of either could very well bring her back to the dark place she was at the beginning of the series.
However, while Liv may be reflecting on who she used to be, Major is becoming someone else entirely. After spending a night in jail, where he was mercilessly beaten by his fellow inmates, learning that the kids he was trying to save are, in fact, dead, and losing his job due to his arrest, Major is more determined than ever to uncover the truth about what is going on, and while that may lead ultimately lead him to some dangerous places, his search for answers remains one of iZombie's most compelling stories.
Major's arc this season is both interesting and affecting, because, similar to Liv, he's doing these things not for himself but for others. Just as Liv is trying to help honor and give peace to the dead by solving their murders, Major is also trying to ensure that his kids' deaths aren't in vain, and that he can put an end to whatever is going on before it gets worse. And that's why him buying a gun at the end of the episode doesn't seem stupid or reckless but, in some way, noble; knowing that the police will no longer look into this case, he's taking matters into his own hands, essentially becoming Seattle's zombie-hunting vigilante, and it's making for some great TV.
And with Liv's official confirmation that Blaine is the one behind the missing kids (and that Lowell is one of his customers), the odds are greater than ever that she and Major are headed on a collision course, as the two of them unknowingly try to stop the same threat. That's what makes me think that, as great as iZombie has been so far, its best days are still ahead of it. Five more episodes to go in Season 1, and something tells me that I'll have a lot of new things to say about the show in the weeks to come.
Other thoughts:
– Just going to put it out there: I think Ravi and Peyton would make an incredibly entertaining pair. Is it the most organic way to continue to merge Ravi and Liv's lives together? Not really, but it's still better than the convoluted reasons for why Ravi and Major became roommates. Plus, it'll give Aly Michalka some more stuff to do and pull Peyton into the show's main story sooner rather than later.
– Also, as sad and shocking as it was to see Ravi get bitten by the zombie rat in the episode's closing moments, there's no way iZombie is turning him into a zombie, too. My prediction: when he tried to cure the rat, he unknowingly made it so that the virus couldn't be spread to anyone else through bites or scratches. Or maybe I'm wrong, and next week he'll be getting as pale as Liv.
– It was confirmed in this episode that Clive's boss is definitely working with Blaine, which is another neat way that the iZombie writers have tied seemingly disparate plotlines together, and it makes it much more likely that Clive will find out about Liv before the season is over.
– And speaking of Clive, although Liv prying into his personal life was used for comedic purposes in this episode (and it certainly was funny), I hope we do learn more about him and what his life is like outside of the office sometime soon.
– Biggest laugh of the night for me: Liv's "The Lannisters send their regards." The fact that she's a Game of Thrones fan makes her even more awesome.
What did everyone else think about last night's episode of iZombie?
[Photo credit: Diyah Pera/The CW]