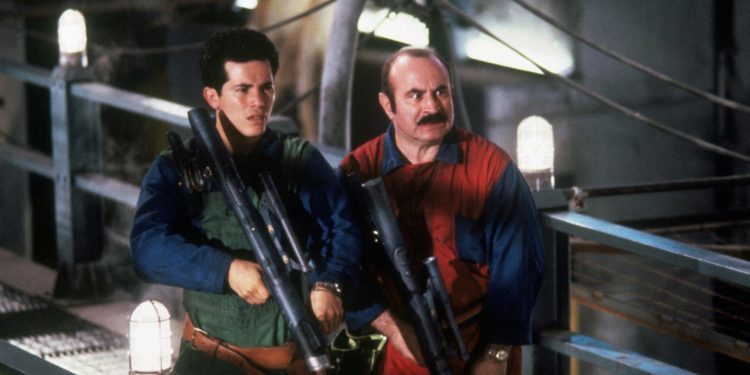 In a surprise announcement, Nintendo and Illumination have confirmed that a Super Mario Bros animated movie is set to make its way into theaters on December 21, 2022. The cast is stacked with A-list celebrities: Chris Pratt (Mario), Anya Taylor-Joy (Princess Peach), Charlie Day (Luigi), Jack Black (Bowser), Keegan-Michael Key (Toad), Seth Rogen (Donkey Kong), Fred Armisen (Chanky Kong), Kevin Michael Richardson (Kamek), and Sebastian Maniscalco (Spike). It's been over decade since the live-action mess that made its way to the big screen. Thankfully, the filmmakers were wise to make an animated feature as one of the core mistakes made by the 1993 feature was that it was a live-action adaptation. However, as proven by the Rachet & Clank and Final Fantasy movies, even an animated video game adaption can still turn out terrible. With that in mind, this article will address the problems that the upcoming Super Mario Bros. film needs to avoid.
A Cohesive and Narrative Story
Obviously, every film needs a cohesive and narrative story, so while this reasoning isn't hard to figure out, the big issue regarding the Super Mario Bros. video game is that most of them lack a story that can easily be translated into a film or television series. Is it possible to make an excellent Super Mario Bros movie? Of course! Phil Lord and Chris Miller managed to make one of the greatest animated films of all time, The Lego Movie, and that popular toy has even less of a story than Super Mario Bros. Given the fact that this is an animated feature, the filmmakers have a chance to go wild and create something original and highly creative. Of course, the key is to capture the spirit of the Super Mario world and its colorful cast of characters. Not everything needs to translated from its video game counterpart; however, Mario shouldn't be some Italian gangster. It would be great if Nintendo and Illumination got Phil and Chris on board as the writing/directing pair would excel at making this animated feature; however, whoever steps into the role of creating this upcoming Super Mario film just needs to understand how to carefully craft their story involving these iconic video game characters.
Catering to Just the Fans of the Original Video Games
Fan service is a great way to get into the good graces of the video game players who have the knowledge of said product; however, too much pandering to the fans can turn away movie casuals. The executives and filmmakers for the upcoming film shouldn't expect that everyone watching the animated film will know and understand everything about the world of Super Mario. The filmmakers don't need to hold the audience's hand and explain every single detail in the Mario universe; however, it's the key elements of the Super Mario games happen to make it into the film then it should be clear to the movie goers. A video game adaptation that's dosed with references and easy eggs can actually distract from the overall plot and more importantly, slow down the pacing of said film. In a way, it's like a Michael Bay film that's usually plastered with action porn. It takes away the opportunity to properly build characters and create genuine tension because Bay tends to use the action to forward his stories. This can also happen if the filmmakers rely too much on giving into fan service. Mario isn't exactly a three-dimension character, so if the filmmakers managed to perfectly capture the personality and notable quotes of the video icon without trying to add layers to Mario, he'll end up being a hallow and bland protagonist despite being faithful to the video game icon's notable traits.
Crafting Caricatures Inside of Characters
As I previously stated, there's not a lot of depth to the Super Mario characters. I touched on not making the mistake of basing the animated feature off the traits that made Mario such an icon, but that statement rings true with the core cast of characters as well. I get that this will likely be geared towards a younger audience, but so is Toy Story, The Incredibles, Zootopia, The Lego Movie, and dozens and dozens of other animated classics that wasn't mentioned. What's the journey that Mario is going on? How will he grow as a human being? What stops him from getting what he wants? The film doesn't have to be complicated or have some thought-provoking political message. The themes of Toy Story is about friendship and tolerance. Creativity and Individualism is the core message of The Lego Movie. It's a Super Mario film, so no one should be expecting the movie to be some profound film that has you thinking differently about life, but it does need to be more than just Mario and friends.
Tell us what's wrong with this post? How could we improve it? :)
Let us improve this post!