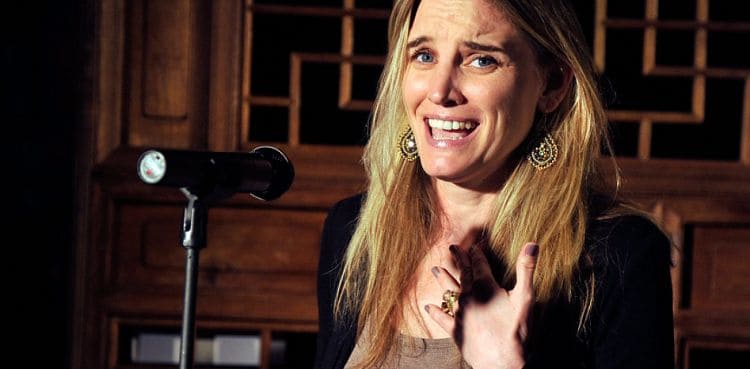 Most people recognize Isabel Gillies from her time spent playing the role of Kathy Stabler on the hit show, "Law & Order: SVU," but some recognize her from her photo on the back of her book. She's more than just an actress. She's an author, she's a mother, she's a wife, and a daughter, and a friend. She's a woman who has a lot to say, and she decided to say it through her writing – which has become a huge success. Her fans adore her, but everyone is always looking for just a bit more information about the lovely actress. Who is she and what is she doing with her life?
1. She's a 70s Girl
Before there was social media, there was a time when cell phones did not exist. Not that they didn't have email or text messaging capabilities, or that they didn't log in to the internet every 3 seconds – they literally did not exist. You had to sit down and watch your favorite shows when they aired every week. If you weren't sitting there, you didn't get to see them. You had to get your news from the television or the newspaper, and your fashion advice? It came straight from the magazines – that's the only place you'd get candid celebrity photos. It was an amazing time to grow up, and Isabel Gillies got more of that good childhood and young adulthood time than I did. She was born on February 9, 1970, not that she looks it.
2. She's A New Yorker
It almost seems as if no one can really say that they are a true New Yorker anymore. Not that they don't live there and consider themselves a New Yorker, but it just happens that not many people can say they were born there and grew up there. She can. She was born in New York City.
3. She Struggled as a Child
Though she attended some wonderful schools as a child, she did not have it easy. She is severely dyslexic, which makes reading and comprehending just about anything difficult. However, she managed to work through it and continue to reach higher in school.
4. She's a College Graduate
You might think she didn't bother with college because of her severe dyslexia, but she wasn't about to let that struggle get in the way of her life. She graduated from NYU as a film student with her very own BFA. She didn't let her struggles stop her, and she didn't give up despite the difficulties she faced in her studies.
5. She Was Kathy Stabler for 12 Years
It's a long time to play one character, but she did it. She spent her time from 1999 until 2011 playing the role of Kathy, and she grew a massive fanbase as a result. It is still her biggest role to date, and it's one of those roles that will always stick with her. It's the one that she will find following her forever.
6. She is an Author x4
She's not authored just one book. In fact, she's authored four of them. Her first book is one she wrote in 2009. It's her memoir, and it details her life and how she finally chose to leave New York City. It was to follow a man – though she was married to the man at the time, so that doesn't make it such a tragic story.
6. She Divorced that Man
Her first husband is the man she chose to leave the city for. She followed him to Ohio. He's a professor of English at a college there. Oberlin College is where he works. She left the city for a much slower lifestyle there when she was married to DeSales Harrison, but their marriage only lasted six years. they wed in 1999 and divorced in 2005.
7. She's Remarried
Two years after she finalized her divorce, she married her second – and current – husband. His name is Peter Lattman, and he's a New Yorker, too. In fact, he's an editor at the New York Times. They currently live in the city and they remain exceptionally private.
8. She Doesn't Summer in New York
While so many people do summer in the Hamptons, she and her husband do not. They choose to get away from it all a bit further away. Their summer home is located in Maine in a little town called Islesboro.
9. She's Private
Despite the fact that she is happy to discuss her life with the world in her books, she's not one who is overly open about her current marriage, her kids, or what her family is like in the privacy of their own lives. It's a fine line she's living.
10. She Doesn't Love Social Media Reactions
When she returned to the role of Kathy Stabler in 2021, she was not entirely thrilled with the reaction. Being on set with her former coworkers and friends and the production company was amazing, but she never really worked on the show when the social media aspect was big. She didn't get to see every single thing the world had to say about her, or their mean comments and critiques, and she doesn't entirely love the reaction. It's a fair assessment.