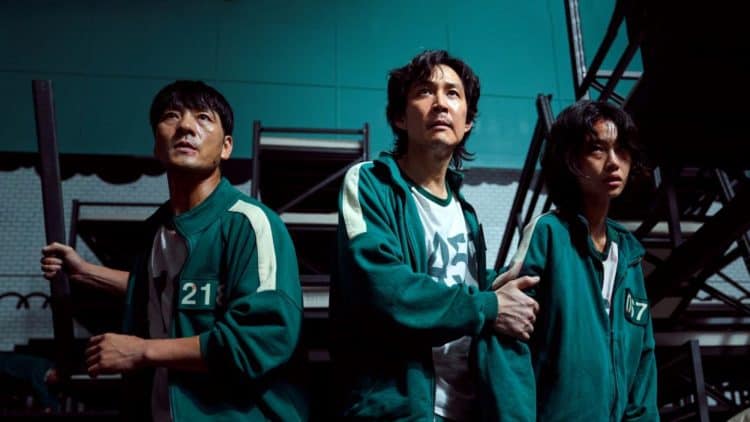 So, it's easy to say that Squid Game was the biggest surprise of 2021. The series revolves around Seong Gi-Hun and 455 players who are so deep in debt that their lives are pretty much worthless. The players compete in a series of deadly children's games for the chance to win 45.6 billion cash prizes. Basically, a serialized version of Battle Royale and Hunger Games, the show rocked the television landscape in late 2021 as it was genuinely a compelling series featuring a great cast of characters and strong set-pieces. Despite becoming the most-watched show on the streaming site, with over a billion views across 90 countries, Netflix surprisingly didn't greenlight a second season even though the final episode set up for another chapter in the ongoing saga.
However, Netflix CEO Ted Sarandos confirmed during the fourth-quarter earnings call that a season two of Squid Game was officially in the works, with Lee Jung-jae confirmed to return as Seong Gi-Hun. The news of another season isn't quite shocking; however, Sarandos expanded on the fact that a whole universe for the South Korean drama has just begun. He never goes into details about an overall universe centering around the Squid Game, so it's not exactly clear the type of shows or stories creator Hwang Dong-hyuk have in store outside of the original Squid Game show. Again, it's not a surprise that Netflix is striking while the iron is hot. Squid Game was the biggest show of 2021 as it brought a lot of chatter that many shows didn't; however, is it a good idea to create a Squid Game universe? In truth, Squid Game was likely lighting in a bottle moment that probably won't strike twice in the next season. Of course, I'm not a fortune teller so Squid Game's popularity could actually grow and outshine the viewership number of season one, but from a business standpoint, it's understandable why Netflix is trying to milk this cash cow dry. Squid Game does have a chance to expand itself in different forms of media. Hell, I'm surprised a video game hasn't been announced. It actually would be cool to play a Squid Game type game. Nevertheless, while it makes sense to try to capitalize off the success, I don't feel there's a demand out there for an expanded world of the popular South Korean drama.
Is it possible to create multiple spin-offs of Squid Game? Actually, yes. Personally, I think the best way to go about this option is a character driven type series that could follow the Front Man of the Squid Game, Byung-hun. We can see his worldview and why he thinks treating poor humans as cattle is entertaining. We can also get expanded backstories on Oh Il-Nam (player 1) and his sick obsession with brutality and mayhem. Or even more intimate and detailed stories about Sang-woo, Sae-byeok, or Jang Deok-su. The great thing that about Squid Game is that there are plenty of interesting characters to narrow down a central focus on. However, the key thing about this situation is that these shows shouldn't involve the Squid Game itself. If we're following lives of these characters before they enter the game then obviously it won't be however, my concern is that the creator may think that the spin-offs need the game itself. It would be overkill if the universe had multiple stories about the annual game. The best way to explore the game without it coming across as overkill is to follow the perspective of one of the faceless men in the series. That allows us to understand the world a bit better because it's truly a fascinating one. But there's a reason why Battle Royale II: Requiem and the Hunger Games sequel pale in comparison to the first film: the central focus remains on the game itself, which gets tedious over time. A Squid Game season two is a bit murky at this point and continuing to focus on the game itself could end up being a costly mistake. The idea of a Squid Game universe can work as the world is intriguing and the characters are interesting enough that having an entire season on their story could make for a compelling and thought-provoking watch. As I explained, spin-offs that only focus on the game is pointless and oversaturation. It would wise to for Hwang Dong-hyuk to focus on the second season first. Should the creator craft another great season then the expanded work will likely be a worthwhile addition to the South Korean drama.