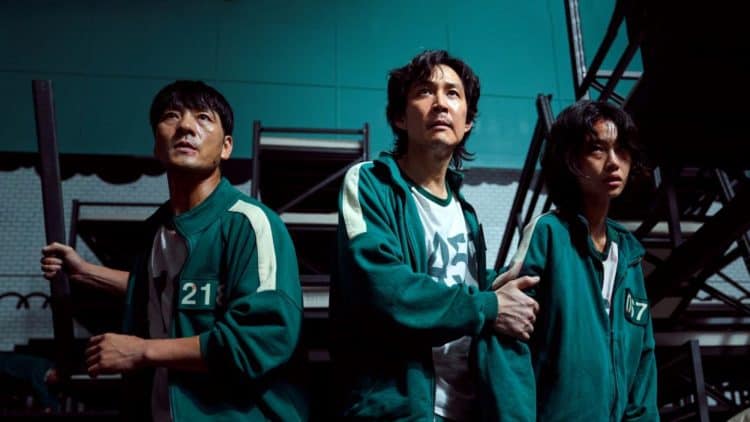 Late in 2021, Netflix's Squid Game became an international sensation and the popular Netflix exclusive became the most-watched show on the streaming site. The premise of Squid Game is simple, 500 people, who are massively in debt, compete for a cash prize that is worth billions of dollars. The twist? The players eliminated would result in death. The thrilling Netflix show made us squirm, cry, and bite our nails throughout its jam-packed nine episodes. This list will examine the five best characters of the series and highlight what makes each of the Squid Game characters unique and special.
Oh Il-nam
"Do you know what someone with no money has in common with someone with too much money? Living is no fun for them. If you have too much money, no matter what you buy, eat, and drink, everything gets boring in the end." Quotes like these were easter eggs that gave away the twist of Oh Il-nam being one of the masterminds of Squid Game. Eagle Eye viewers noticed subtle times such as the old man's bizarre excitement in Red Light, Green Light; however, what the writers did so well was make him such a sympathetic character that no one truly suspected that he was one of the rich men behind this heinous game. Oh Il-nam is the definition of a charming thief: he's a genuine nice guy throughout the series until you learn that's he's just a sick, and demented old man who gets his kicks out of the murderous games. He's the ultimate two face, and this yo-yoing with our emotions is an example of masterful writing from Hwang Dong-hyuk; however, the tremendous performance from O Yeongsu should not be understated.
Kang Sae-byeok
Kang Sae-byeok starts out of one of the more mysterious/unlikeable characters. She steals Seong Gi-hun's betting ticket and she has ties to gangster Jang Deok-su. However, episode six finally gave us an opportunity to understand her character better and the stoic and closed off competitor showcased a different side we haven't seen from her yet. Kang Sae-byeok is cunning, smart, but not afraid to be vulnerable if necessary. What makes her such a strong great character is that the mountains of layers that helps us connect with the Kang Sae-byeok. She's been hardened by the cruel world outside, but she's really a person with a heart of gold who's doing the Squid Game to help out her family. Just like every character on this list, Hwang Dong-hyuk does an excellent job of organically revealing vital information about her life, but actress Jung Ho-Yeon brings her character to life with her grounded and strong performance.
Han Mi-nyeo
Telling Jang Deok-su, "I need you to know…you've got such a tiny d**k." before their murder-suicide is a boss way to go out. Unlike the other two characters, Han Mi-nyeo's motivations were loud and clear: She's willingly to do anything to win. However, her backstory is what arguably make her interesting. We don't know anything about her other than she's a mother of a child, but is she telling the truth? Or is this more of her lies to garner sympathy? It's interesting that she's one of the central characters of the series and yet we never saw her life back at home in episode two, Hell. Either way, Han Mi-nyeo provided a nice juxtaposition compared to the other characters and highlighted the array of personalities within Squid Game. No one ever believed that she would emerge victorious; however, that didn't make her journey throughout the series less fun.
Ali Abdul
Arguably the most sympathetic character on the show. Ali's story of coming from Pakistan to take care of his wife and one year old son is nothing new; however, the character is such a likeable presence throughout the series that it's hard to not connect with him. He could've easily let Seong Gi-hun die in Red Light, Green Light, but opted to save him despite the fact that Gi-hun is his competitor. His death in episode six was one of the harder ones to take. Wisely, Sang-woo takes advantage of the less educated Abdul, but it was extremely hard to watch him be so gullible and trusting in a game that also requires smarts. Hwang Dong-hyuk made the right decision in starting off Sang-woo's villainous turn by using Abdul as a scapegoat. While it wasn't fun to see him being manipulated so easily, that sequence provided a strong moment of character development.
Seong Gi-hun
Last, but certainly not least, our main hero of the story. Seong Gi-hun is painted as a likeable man who doesn't always make the best choices possible. However, his refusal to take the money that he needs in exchange for never seeing his daughter and the self-less reasoning behind entering the Squid Game makes him an endearing character. The added wrinkle of Gi-hun never spending the money was a nice touch as it highlighted the notion that money doesn't buy you happiness. Actor Lee Jung-jae's charisma and energy helps carry Squid Game smoothly. We're able to feel sadness, pain, and minor glimpses of joy because of how well written of a protagonist he is. He's not the clean-cut good guy in this entire series, but his flawlessness only highlights just how human he truly is.
Tell us what's wrong with this post? How could we improve it? :)
Let us improve this post!