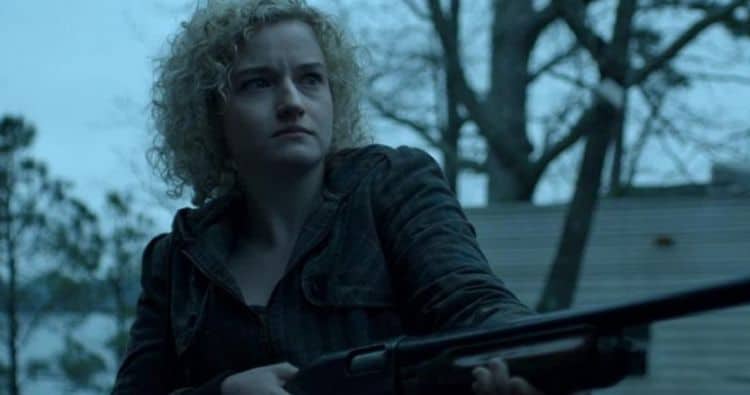 The hit Netflix crime drama, Ozark, has introduced us to a new form of criminality. The story follows the Byrde family, whose stable suburban lifestyle suddenly takes a turn for the worse after the family patriarch and financial advisor, Marty, portrayed by Jason Bateman (Horrible Bosses), gets entangled in a money laundering scheme gone wrong, and ends up having to relocate his entire family to the Lake of Ozarks region in central Missouri in order to set up an even bigger money laundering operation to make up for his past missteps. The series has surprised us time and again with its cliffhangers and unexpected twists and turns. It's an understatement to say that we never know what will happen next. We have also bore witness to a couple of surprising deaths during the past three seasons of the show. This makes it all the more difficult to get invested on certain characters, as you'll never know when their impending end will be. Here are five of the most shocking deaths in the series:
5. Camino Del Rio aka "Del"
Del was the ruthless lieutenant for the Navarro drug cartel. He was the front who wreaked havoc and made sure that Marty and company were sticking to their agreement. His presence in the show evoked a sense of dread and fear from both onscreen characters and viewers. This is the reason why his sudden death was a surprise to many. Marty has finally managed to convince local heroin producers and some of the series' antagonists, Jacob Snell, portrayed by Peter Mullan (My Name is Joe) and his wife, Darlene, portrayed by Lisa Emery (Ed), to invest together in riverboat casino that would make their money laundering operations move more freely. The series was able to establish its unpredictability early on when a racial slur from Del led to his tragic demise.
4. Russ and Boyd Langmore
The notorious Langmore family were known to be small-time criminals from Ozarks. The money laundering operations of the Byrdes overshadowed their petty crimes, and made them aspire for more. Two of the Langmore brothers, Russ and Boyd, portrayed by Marc Menchaca (Reparation) and Christopher James Baker (Stargirl), respectively, were at the forefront of the plan to steal the Byrde's cartel cash stash. The Langmore brothers could have learned a thing or two from the infamous story of Icarus. They flew too close to the sun, and got burned (literally and figuratively) in the process. The brothers met their untimely demise by getting electrocuted even before they were able to proceed with their plan to kill Marty and steal his money. The big twist happened when it was revealed that the Langmore's own niece, Ruth, portrayed by Julia Garner (We Are What We Are), was the one who betrayed her uncles, and ended up siding with Marty.
3. Jacob Snell
It was hard to imagine the Snell's without Jacob. He became a main figurehead in the series who could either help the Byrde family or add to the growing list of complications in their lives. He and Darlene made a dynamic duo that was hard to take down. Imagine the surprise of the show's viewers when Darlene turns against Jacob after decades long of marriage and partnership after she was unhappy about his decisions which involved the Byrde family. She goes on to murder him by poisoning him with cyanide. This character development in the series was monumental, and meant more roadblocks ahead for the Byrdes.
2. Ben Davis
One of the most heartbreaking deaths scenes in the series was the one of Ben Davis, portrayed by Tom Pelphrey (Iron Fist), the younger brother of Marty's wife, Wendy, portrayed by Laura Linney (The Big C). Ben suffered from mental health issues, and had erratic tendencies. It also did not help that he found out about the Byrde family's illegal operations and ties with the cartel. A life of crime can really change one's perspective. Marty and his family stepped into this unknown world with crippling fear and uncertainty, which were then replaced with brutality and difficult decisions that they had to make. There was no turning back for Wendy when she chose the safety of her own family before her brother's life. Ben was soon executed in a hit ordered by Wendy after she gave his whereabouts to the members of the cartel. It was one less person to worry about, but whose loss would have an everlasting impact.
1. Helen Pierce
One of the Navarro cartel's most trusted members was their attorney, Hellen Pierce, portrayed by Janet McTeer (Damages). She did the dirty work for the cartel, and was always precise in her decisions. She was one tough cookie to crack, and whose death scene was literally one of the biggest cliffhangers in the series. Helen accompanied Marty and Wendy to the home of cartel leader, Omar Navarro, portrayed by Felix Solis (The Family). A few seconds after exchanging their hello's, Helen was quickly taken down by one of Omar's henchmen. It was a brutal shot to the head, which also serves as a fierce reminder for Marty and Wendy whenever they think of double crossing the cartel. Turns out, Helen made the mistake of filing to hide her true identity from her family, which was a big no-no to the cartel. Marty and Wendy may have upped their positions as employees of the cartel, but it's only a matter of time before the catch of these special privileges are revealed. If there's one lesson that binge-watching Ozark has taught us, it's that no one is really indispensable.
Tell us what's wrong with this post? How could we improve it? :)
Let us improve this post!