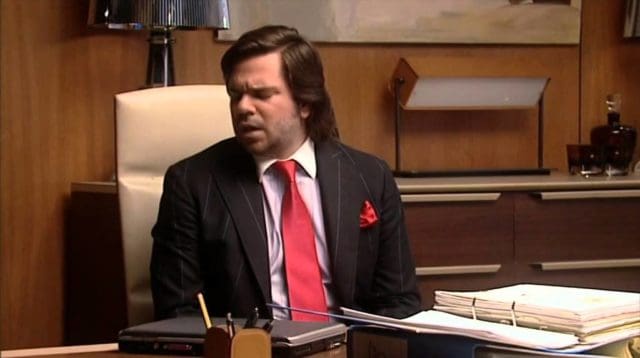 Douglas Reynholm is both the head and the owner of Reynholm Industries in The IT Crowd. His success is less a result of his own capabilities and more a result of him having been born to the right parents, which has contributed to his host of unpleasant tendencies. Regardless, Douglas is one of the most popular characters on The IT Crowd, which is perhaps unsurprising considering the critical role of dark humor in British comedic sensibilities.
Here are five things that you may or may not have known about Douglas Reynholm:
His Family Name Is Not a Real Family Name
Considering the sheer range of family names out there, it might come as a surprise to learn that Reynholm is not a real family name that sees common use. Instead, it seems probable that the writer Graham Linehan came up with the family name for the sake of rhyming Douglas's father Denholm's personal name with Reynholm. Speaking of which, it is interesting to note that Denholm is a real name with both English and Scottish origins, having started out as "Valley Island" and "Scottish Village" in those respective locations.
His Father Shared Some of His Unpleasant Tendencies
Douglas's father Denholm was not as bad as his son, but it is clear that he shared some of the same tendencies. After all, Denholm died because he committed suicide by walking out of a window to fall 30 stories to the ground after having learned that the police had uncovered irregularities in his pension fund. In this matter, Douglas is much the same as Denholm, seeing as how he has misused the pension fund as well.
Might Have Murdered His First Wife
Whenever someone mentions a rumor about Douglas, he assumes that it is a rumor about him killing his first wife Melissa. Given that he seems terrified of being convicted for said crime as well as his normal behavior, there could well be something to it.
His Stepmother and Second Wife Are Played By the Same Actress
Both Douglas's stepmother Barbara and his second wife Victoria are played by the same actress Belinda Stewart-Wilson. It remains to be seen whether there is a reason for this casting choice beyond the inherent ickiness of the situation, but it is interesting to note that Barbara's situation after the funeral for Denholm remains unknown while Victoria had been missing for years and years before turning out with no recollection of what had happened to her in the meantime.
3-Year Consecutive Award Winner

Given Douglas's behavior, it should come as no surprise to learn that he has a lot of critics in The IT Crowd's setting. This can be seen in how he has won ****head of the Year in three consecutive years, which is the result of one of his employees Jen recording his behavior and then nominating him by sending in the evidence to the committee responsible for making the selection. Unsurprisingly, Douglas did not take his dubious award all that well, even if it is well-deserved.
Tell us what's wrong with this post? How could we improve it? :)
Let us improve this post!