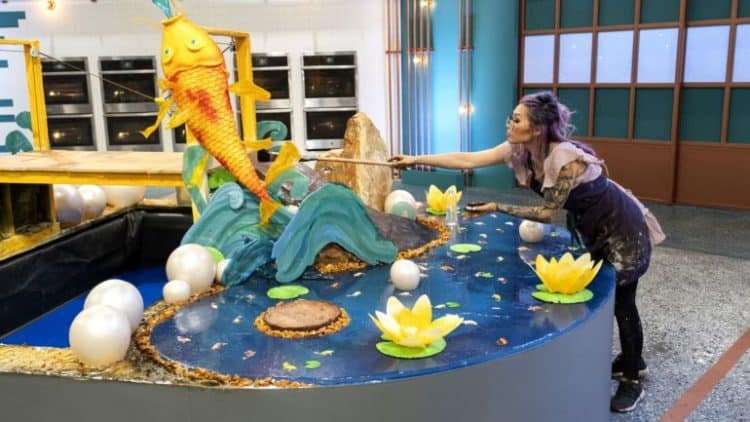 Baking shows like "The Great British Baking Show" always showed ordinary people making dishes that maybe those of us at home couldn't make…but we felt like if we tried just a little more, we could do it. But Netflix's newest baking show – "Baking Impossible" – shows creations that are way more unachievable. That's because the show pairs one baker and one engineer together, to make things that are not only edible and delicious, but that function in other ways, too. They might make an edible boat that really floats, or a baked skyscraper that holds up to an earthquake, or a mini-golf course made entirely of dessert foods.
There are nine teams of "Bakineers" who compete against each other. Each two-person team (baker and engineer) have to work together to make their outlandish creations…and before the start of the competition none of the teammates have met each other. They not only have to collaborate on their assignments, they have to get acquainted and find their groove fast to work together! Each week, the teams have a new challenge and have to create baked goods to meet the requirements that week. After the challenge is completed, the baked food is also judged based on normal baking show criteria like tastiness and creativity with the flavors. So the food has to be both hearty and good tasting. The winners at the end of the season will be awarded $100,000.
The show will have two premieres – the first batch of shows will be released on Netflix on October 6 and the second batch on October 13, so you can watch to get in the mood for some serious holiday baking. "Baking Impossible" is hosted by Justin Willman, who created and stars in "Magic For Humans" (also on Netflix) and hosted "Cupcake Wars." The people who will be judging the teams each week are Great British Baking Show finalist and aerospace engineer Andrew Smyth, astrophysicist Dr. Hakeen Oluseyi, and award-winning chef Joanne Chang. If you need a baking fix before "Baking Impossible" premieres, here are a few other baking shows to hold you over.
1. The Great British Baking Show
The Great British Baking Show is one of the most popular shows ever in the genre, and plenty of people turn to it as comfort television on a bad day. On the show, amateur home bakers compete against each other each week and face various challenges to demonstrate their baking abilities. One person is eliminated each week until a winner is declared.
You can watch "The Great British Baking Show" on Netflix.
2. Cupcake Wars
The host of "Baking Impossible" previously hosted another baking show, so he's getting pretty good at this. "Cupcake Wars" pits four top cupcake bakers against each other in three different challenges until only one cupcake master remains. Candace Nelson, who owns Sprinkles Cupcakes, and Florian Bellanger, who co-owns online macaron company MadMac are the judges, along with a weekly guest judge.
You can watch "Cupcake Wars" on the Food Network or Amazon Prime.
3. Cake Boss
"Cake Boss" follows Buddy Valastro, who is master baker at Carlo's City Hall Bake Shop in Hoboken, New Jersey. He manages a team of people including his mother, four sisters, and a variety of other family members while they work to make Carlo's Bake Shop known around the country.
You can watch "Cake Boss" on TLC, or stream it on Amazon Prime, Hulu Plus, or Discovery+.
4. Nailed It
If you're looking for something to make you feel better about your own baking, this show will do it. It takes home bakers of questionable abilities, hands them complicated cakes and other desserts, and has them replicate the creations. The person who comes closest wins $10,000.
You can watch "Nailed It" on Netflix.
5. Kids Baking Championship
These kids put most of us to shame when it comes to baking. On the show, eight kid bakers compete to become the Kids Baking Champion. You'll laugh, you'll cry along with a few disappointed kids, you'll get sucked in to binge-watching.
You can watch "Kids Baking Championship" on Hulu Plus, Discover+, and Amazon Prime.
6. Nadiya Bakes
Nadiya Hussain is a former Great British Baking Show champion. She now has her own show, where she travels all over Great Britain visiting the country's best bakeries and sharing her own recipes for sweet treats.
You can watch "Nadiya Bakes" on Netflix. The Great British Baking Show
Tell us what's wrong with this post? How could we improve it? :)
Let us improve this post!