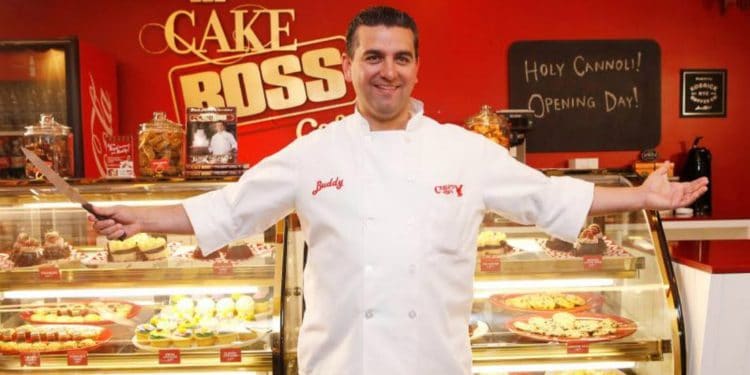 Buddy Valastro, better known as the Cake Boss, is the type of self-made man that a lot of people look up to, and yet there's another side of him that we don't always get to see since it doesn't make it to the camera. He's pretty demanding as a boss, but that's understandable since he charges so much for his cake and has a very high-end clientele that demands perfection. Buddy's already pretty hard on himself since he doesn't enjoy sending out low-quality cakes and has even had to deal with one or two people that have dared to come into his bakery and tell him what was going to happen. When it comes to his business Buddy is the top guy, the absolute end of the line when it comes time to make decisions and head off in one direction or the other. That's why he's the boss after all.
Here are a few things you might not have known about him.
10. He had a cameo in Bridesmaids.
It wasn't much more than his hands that were shown but it was him. He's been largely a TV personality since the show started and has stuck to what he does best and what he knows. But he does have the personality to really make a play for the movies, at least in cameos.
9. He owns more than just Carlo's Bakery.
Buddy has bakeries all over the US and several outside of it since he's been expanding now for years. While a few of them seem to have caused him a few problems now and again he's made it work and at this point each and every place that is under his name is doing very well.
8. He's been on multiple shows.
As it was already stated he's been a TV personality for a while now and The Next Great Baker was one such show that he was featured prominently on since the winner would go on to work in one of Buddy's businesses. That's a great honor actually since it's been seen that Buddy either hires mostly family or those that are so skilled that they can actually impress him, which is kind of a hard thing to do.
7. He started working in his father's bakery when he was 11.
Buddy has been a part of the business for a long time now and learned everything he could from his father and his family when it came to running it. He went from the absolute bottom all the way up so it's easy to see that he knows the function of everything that's in his place and what it takes to keep it running. Plus, having your family working with you kind of helps since you should know what to expect.
6. He partnered with The Pound Bakery, which makes treats for pets.
For several years now Buddy has managed to expand his business in different ways and find new opportunities to keep business flowing and to make a difference in his community and around the world as much as he can.
5. He was arrested in 2014 for a DUI.
It hasn't been all smiles since at one point he did get arrested for a DUI and tried to make it go away by flouting his fame to the officers as well as the court. Just because you're famous however doesn't mean that you're going to be able to get away with anything.
4. He's got a very impressive following on social media.
As you can imagine his followers are in the millions and at that point it really seems like someone that knows what they're doing and is specifically hired on to manage said accounts would be necessary since it seems that Buddy simply has too much to oversee to be stuck on social media all day. Plus, just hearing him talk it doesn't sound like he's the kind of guy that would be stuck on his phone or PC all day.
3. He's lost a lot of weight.
It's true that for a while Buddy had a few extra pounds on him but he's looking pretty good these days since he lost around twenty to thirty pounds or more and has really slimmed down. It's better for his health overall and it's even inspired his baking as he's tried his hand at making healthier delicacies in his shops now.
2. His estimated net worth is around $10 million.
He gets about $80 thousand per episode and has been gaining in his net worth thanks to the success of his many other locations and all the things he's done since the show first went on the air.
1. He dropped out of high school.
This is proof, not great proof but still proof, that you can drop out and still make something of yourself. Honestly it had to be pretty difficult though to make his way up from the beginning to where he's at now, and it seems that he would have at least completed if not furthered his education at this point in life.
It's a fun show to watch, just keep an open mind.