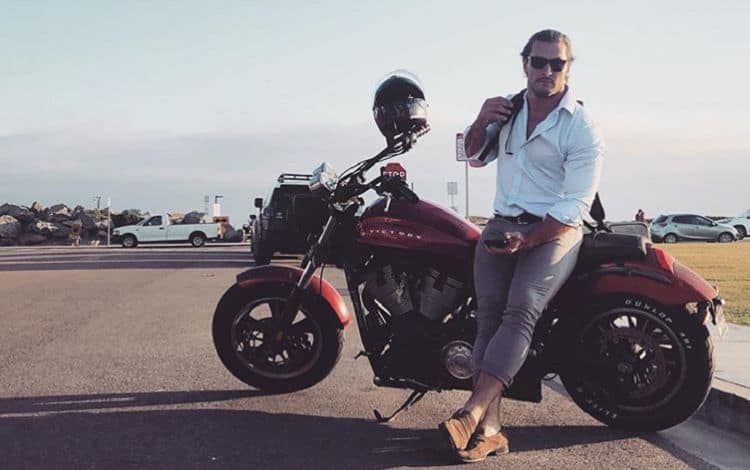 If you're living under a bridge, you might not know much about things like Vanderpump Rules, which is only one of the most famous reality shows on television. The show follows the staff at one of Real Housewives' Lisa Vanderpump in the Beverly Hills version of the show at one of her very successful restaurants. These kids bring the heat. And fans love them. They are dramatic. They are not all that wise in their decision making all the time. They struggle to have adult relationships and friendships that are not filled with drama and bad behavior, and Scheana Shay is one of those girls. She's also a girl who has recently found herself a new boyfriend, and his name is Brock Davies — and it seems everyone wants to get to know him better.
1. He's a Trainer
Not only is he a personal trainer, he also owns a couple of training facilities. He works hard to help his clients develop and maintain the best possible body, and he's proud of that. He's good at it because it's something he is passionate about, and it is something that falls in line with the kind of life he is looking to live. He's into being the kind of man who takes care of himself and makes his life healthy in every aspect, which he also tries to accomplish with his clients.
2. He's Australian
He's not from the states, and he has a wonderful accent. What more do you need to know about him? There's so little that he doesn't do, and he's so good at so many things, and the accent only makes it better. He is actually from New Zealand, but he did move to and spend much of his childhood in the Australian outback before he came to the United States a bit later in his life.
3. He's In Good Shape
That should go without saying as a personal trainer. He's into sports and fitness, but he is also into being the best of the best. He likes to consume a healthy diet and work hard on making sure he is fueling his body with what it needs to survive. He's good at what he does, and that makes it easy for him to maintain such good shape. We wonder if his new lady love is working out in the gym with him now, too. She should because she might have a lot to learn from the man who has so much going for him.
4. They Became Official In Bali
We don't know how long they've been dating since they do seem to want to keep things on the down low, but we do know that they went to Bali together and that is where they made the decision to make things official. That's where she first shared a shot of him — from behind, though — and told the world she was no longer a single lady.
5. Her Friends Like Him
Apparently, he's not like the guys she's dated in the past, including the man she was married to for a while. He's someone who her friends are completely on board with her dating, which is not something that she's dealt with before. Usually, her friends are not into the guys she is dating, but this time is different. She says he treats her how she was meant to be treated, and that makes her friends love him.
6. He Makes Shay Happy
She recently made it clear during an interview that she's never been very happy in her relationships. She knew that there were big issues and that things were not going her way in most of them, but she finally feels very happy for the first time in her life. We think it might mean something pretty big for her to realize that the feeling she has with Brock Davies is not the same feeling she had with every other guy she dated, which is such a big deal.
7. He's Sweet
When it came to their courtship, she was impressed with him from the start because he is such a sweet guy. The first time they met, he sent her flowers. He did little things to show her that he was seriously interested in her and that they would be such a good match. They were a good couple from the start because he was so into pursuing her, and this just worked out well for them.
8. He Played Rugby Professionally
As a younger man, he did the pro sports thing. When he left Australia, he went to both France and England to play the sport professionally. He was a rugby player who did well enough in his career to earn a good living and get some good experience, but it just wasn't what he really wanted to do with his life. He had bigger dreams, and those were not realized.
9. He Hoped to Play for the NFL
He came to the United States in hopes of getting his education, but also to play for the National Football League. He was a walk on for the Colorado State University-Pueblo football team where he played while he went to college. He was affiliated with the New England Patriots for a while, but that career did not pan out as long as he thought that it might, so there is that. He's someone who did realize his dreams and that's a big deal for many people who don't believe it's possible.
10. He's a Father
We don't know a lot about his kids other than that he is a father and that he has two children. We know little else. We don't know with whom he shares his kids. We do know that he has two little ones, a boy and a girl, but we don't know whether or not he was married before. These things will probably come out at some point, but right now the rumors are just that. He's definitely a dad, but we don't know enough else that is actually confirmed to share that.